Preparation
Preheat oven to 400 degrees. Spray the pan with oil. Place shiitakes in baking dish; caps up or down, it makes no difference. Make sure pan is big enough so the mushrooms are not on top of each other; they need air space and breathing room to roast up properly. Toss the mushrooms with the oil, garlic, and salt. Pop the pan in the oven, uncovered, and let bake 10 to 12 minutes. Take them out. Shake the pan a few times. Some of the mushrooms should be starting to get a little golden on the lighter, underneath side of the caps. You will probably need to put them back in for a few more minutes say, 3 to 5 minutes, maybe more if your oven wasnt really hot when you put them in. At least a third of the mushrooms should be starting to color and get a little crunchy. Using the lesser amount of oil, this will happen more quickly. Serve, warm or at room temperature, with an optional decorative sprig of herb. This recipe yields 6 to 8 servings as a starter; however, most people will want two portions. Source: "CHEF DU JOUR - (Show # DJ-9339) - from the TV FOOD NETWORK" S(Formatted for MC5): "07-20-1999 by Joe Comiskey - joecomiskey@netzero.net" Recipe by: Crescent Dragonwagon
Nutrition
View line-by-line Nutrition Insights™: Discover which ingredients contribute the calories/sodium/etc.
---

Serving Size: 1 Serving (76g)
Recipe Makes: 6 servings

---

Calories: 1
Calories from Fat: 1 (100%)

---

Amt Per Serving
% DV

---

Total Fat 0.1g
0 %
Saturated Fat 0g
0 %
Monounsaturated Fat 0.1g
Polyunsanturated Fat 0g
Cholesterol 0mg
0 %
Sodium 0.1mg
0 %
Potassium 0mg
0 %
Total Carbohydrate 0g
0 %
Dietary Fiber 0g
0 %
Sugars, other 0g
Protein 0g
0 %

---

Powered by: USDA Nutrition Database

Disclaimer: Nutrition facts are derived from linked ingredients (shown at left in colored bullets) and may or may not be complete. Always consult a licensed nutritionist or doctor if you have a nutrition-related medical condition.
About Our Nutrition Facts
Calories per serving: 1
Get detailed nutrition information, including item-by-item nutrition insights, so you can see where the calories, carbs, fat, sodium and more come from. Try BigOven Pro for Free for 30 days.
Save Oven-Roasted Shiitake Mushrooms with Garlic And Coarse Salt to your phone
Keep all your recipes with free BigOven membership. Clip recipes, make grocery lists, meal plans and more!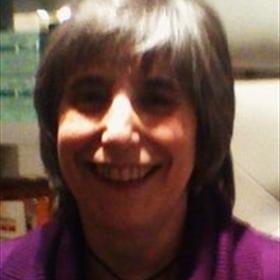 monatemchin
This is the best! I've been making it since Crescent Dragonwagon published "The Passionate Vegetarian". For such an easy dish, it is outrageously good! This recipe alone was worth paying for the entire book, which is chock full of other good veggie recipes.
Get seasonal ideas by email