Preparation
Season tuna with salt and pepper on each side. Combine black and white sesame seeds and roll tuna in mixture. Set aside. In a saucepan simmer shallots, thyme, pepper, bay leaf and white wine. Reduce slowly until dry. Add heavy cream and bring to a boil. Slowly whisk in butter, one piece at a time. Season with salt and pepper, strain, and keep beurre blanc warm. In a large skillet sear tuna, lightly brushed with olive oil, for 2 minutes on each side. Slice into 12 medallions. Serve immediately on serving plates. Drizzle with beurre blanc and wasabi mixed with the rice vinegar. Yield: 4 servings Recipe by: CHEF DU JOUR PHILIPPE CHIN SHOW #DJ9347 Posted to MC-Recipe Digest V1 #632 by "Ed Bauman" on May 31, 97
Nutrition
View line-by-line Nutrition Insights™: Discover which ingredients contribute the calories/sodium/etc.
---

Serving Size: 1 Serving (441g)
Recipe Makes: 1

---

Calories: 1379
Calories from Fat: 1102 (80%)

---

Amt Per Serving
% DV

---

Total Fat 122.5g
163 %
Saturated Fat 67.9g
339 %
Monounsaturated Fat 34g
Polyunsanturated Fat 12.3g
Cholesterol 360.3mg
111 %
Sodium 100.3mg
3 %
Potassium 1237.1mg
33 %
Total Carbohydrate 22.1g
6 %
Dietary Fiber 6.3g
25 %
Sugars, other 15.7g
Protein 49.7g
71 %

---

Powered by: USDA Nutrition Database

Disclaimer: Nutrition facts are derived from linked ingredients (shown at left in colored bullets) and may or may not be complete. Always consult a licensed nutritionist or doctor if you have a nutrition-related medical condition.
About Our Nutrition Facts
Calories per serving: 1379
Get detailed nutrition information, including item-by-item nutrition insights, so you can see where the calories, carbs, fat, sodium and more come from. Try BigOven Pro for Free for 30 days.
Save Sesame Crusted Ahi Tuna and Wasabi Beurre Blanc to your phone
Keep all your recipes with free BigOven membership. Clip recipes, make grocery lists, meal plans and more!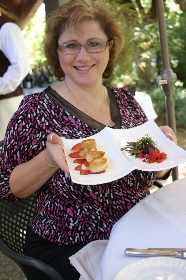 niceNspicy
This was EXCELLENT. I had purchased incredible Tuna at Sprouts. The recipe is BETTER than our local Restaurant (now our previous favorite) at 30.00 a plate! LOVED the sauce but lightened it up with half the butter and Fat Free half and half. Still OUTSTANDING! I did not strain the sauce because I thought the texture was good with the smooth and silky tuna. Served it with Forbidden rice with a bit of sesame oil, rice vinegar, soy and chives mixed in to taste and my lemon roasted Aparagus. SOOO good. I will make it again and again.

Slappy5150
I made this exactly following the recipe. While the last reviewer hit it spot on, the sauce has the most steps. It was very good but will possibly substitute I can't Believe It's not Butter or something else. The recipe calls for a whole stick Which IMO Is way too much unless your Paula Dean!!! Overall good but I sure do miss Maui grade Ahi!!!

SugarBee
The hardest part is the Buerre Blanc (white butter) sauce - but it's the best part too. Not really hard - just lots of steps. It will keep well for amn hour or so before serving - just zap it in m-wave for a few seconds to warm it back up. IMPORTANT!!: barely sear the outside of the fish, just enough to toast the sesame seeds. Keep it VERY rare, or you'll ruin it.... My mother says this is the best thing she's ever put in her mouth in her life, I'm inclined to agree. Side dish suggestions: Steamed broccoli drizzled with hoisin sauce and sticky rice cooked with a few drops of sesame oil.. Simple, elegant and delicious.
Get seasonal ideas by email