Recipe Partners, page 64
3,000+ food bloggers and food-related websites around the world have installed the BigOven Recipe Plugin, enhancing their traffic and making it easy for cooks to save recipes and make grocery lists. If you'd like to save any recipe on one of these sites, simply click the "Save Recipe" button to keep the recipe for later!
Want to add your site? Simply install the free BigOven Recipe Plugin. Your readers will be able to easily save recipes, make grocery lists, and you'll get free exposure in our apps and website. Full credit and link traffic is yours. Read more at our Recipe Plugin for Food Bloggers website. Read Our Pledge to Food Bloggers for more information.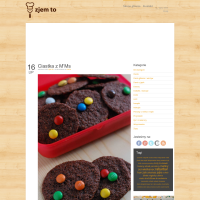 zjem to blog kulinarny, przepisy kulinarne na każdy dzień
zjem to blog kulinarny w którym znajdziesz masę przepisów kulinarnych. Przepisy na makarony, ryby i sałatki. Dania z warzyw i mięs. Potrawy na przyjęcia.
Sample recipe: rolada szpinakowa z łososiem
---