Dal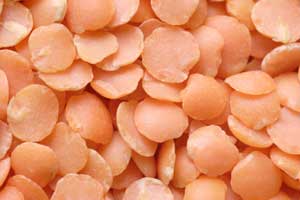 Dal is a standard dish on the Indian table. The name refers to many types of legumes (including red lentils), many of which are fast-cooking.

In , dal refers to any legume (peas, beans, lentils), whether split or whole. Additionally, dal also refers to a finished soup or any dish made with legumes. A "dry dal," is a thicker paste often served as a side dish.
Many wonderful characteristics make dal a favorite choice (and an everyday staple in many Indian homes). It is very high in fiber and protein. Little or no presoaking and speedy cooking are advantages if you're short on time.
You'll find many spellings, including daal, dhaal, dhall, and dhal. They are also called "pulses."
Varieties
The types of dal – and their names – depend on whether they are:
• split or whole
• skinned or unskinned
Popular varieties include:
Massoor dal (split red lentils)
Best used in soups or as a puree to lather on bread. This is the split version of the Massor green lentil (whole). When cooked, the dal turns yellow. Recommended cooking time is no more than 20 minutes. Spelling may vary: masoor, masar, mussoor.
Moong dal (mung beans)
Excellent for dry dal; cooking time is extended to about an hour. They are called green gram beans when whole and with a skin.
Yellow moong dal
Different from moong dal and also known as split mung beans. Best for soups or purees with a lighter texture than the above.
Channa or Chana dal (split baby chickpeas/split yellow peas)
These are meaty and probably used most often in . Perfect for dry dal. A smallish cousin to what many of us know as garbanzo beans (chickpeas). Ground channa is sold as besan flour (gram flour/chickpea flour). Besan uses include deep-frying pakoras (vegetable fritters) and as a binding agent in sweet foods.
Tuvar Dal (split yellow peas)
Another Indian favorite and a major ingredient in sambhar. Also called toor, toovar, and kandhi pappu.
Sabat urad/urad dal (Black gram beans)
Sabat urad is the unskinned version and urad dal is either split with skin or without. Superb for dips and soups, and often roasted and ground for use as a spice. These are also the frequent base for making pappadoms. When possible, select those with skins for stronger flavor.
Buying Tips
• Brown split peas or lentils are commonly found in most supermarkets. Ethnic groceries offer a wide selection of other dal.
• When buying whole dal, ask the grocer if any soaking time is required. Whole mung beans, for instance, will need about half an hour to soak.
• Some dal has an oily coating t