Going Dutch with Our Apple Dutch Baby Recipe
As the old saying goes, "an apple a day keeps the doctor away," so why not smother them in butter and bake them into a gigantic pancake? Have this tasty apple Dutch baby whipped up and on the table in no time to satisfy that slightly sweet craving and add an exciting new recipe to the mix!
What Exactly is a Dutch Baby?
Contrary to popular belief, a dutch baby is not just a small child that comes from Germany or the Netherlands. It's also an incredibly delicious dish that can be prepared for breakfast, brunch, or dessert!
As it turns out, this pancake/crepe crossbreed's name originated in 1942 when the daughter of a Seattle restaurateur mispronounced the German autonym deutsch and said Dutch instead when referring to the German pancake dish. Now that we got the history lesson out of the way, let's get to the good stuff!
The batter that holds this Dutch baby together has a rather thin consistency similar to that of pancake batter. We strongly suggest using an immersion blender or even a food processor to blend all of your batter ingredients together to guarantee they're lump-free. Try resting your batter for at least ten minutes after everything has been blended together smoothly. This resting period will give the flour a chance to absorb the wet ingredients, which will give the Dutch baby an overall better texture and more well-rounded flavor.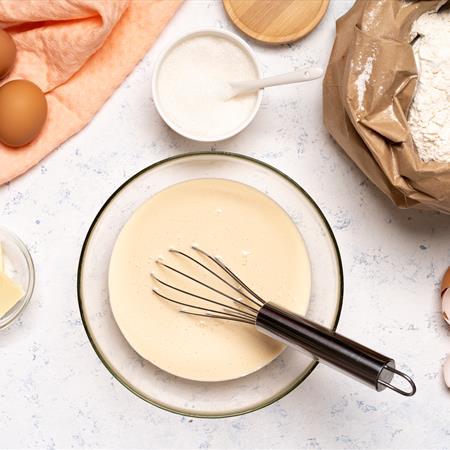 Once you have your skillet nice and hot and bubbling with all the browned butter and apples, pouring this cold batter overtop will create the puffing effect of the pancake and contribute to the highly sought after crispy, caramelized edges.
Similar to a tire with a nail stuck in it, your Dutch baby will deflate shortly after pulling it out of the oven. But no need to worry, this is simply the nature of a Dutch baby. The collapsed center leaves room for your creativity! Feel free to get crazy and garnish with some fresh blueberries and raspberries for a bright color pop!
Don't forget about an optional but delectable cinnamon-maple butter to drizzle over everything for the ultimate finishing touch. Take it to yet another level and add whipped cream and even a dusting of powdered sugar if you're feeling extra over-the-top that day!
Apples
There are thousands of varieties of apples out there. Some are perfect to just pick up and take a bite of or even incorporate into a fresh crisp salad. Others are best cooked in pies, apple sauce, or made into cider. No matter the application, you can find an apple to fit!
For this Dutch baby recipe, we think the pink lady or honey crisp apples work superbly! Pink lady apples, by nature, are refreshing and offer a nice blend of sweetness with a tart finish. This apple variety is innately versatile and can be used for baking, grazing, and even incorporated into the famous Waldorf salad. It really hits all of the right notes to make this Dutch baby truly something special.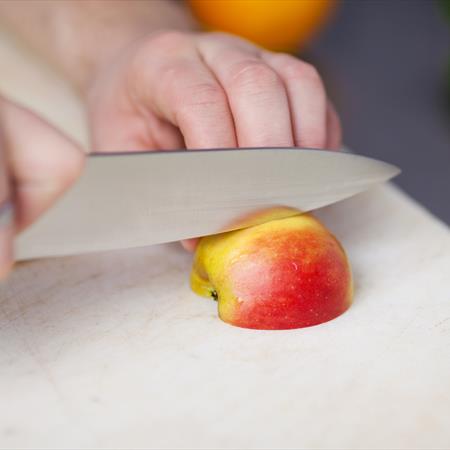 Honeycrisp apples could also be used in this recipe. They're juicy, sweet, and, when eaten raw, have an excellent texture. We prefer the balance of the tart and sweet Pink Lady apples, but the Honeycrisp apples will still yield a great result.
All apples are notorious for oxidizing or turning brown very shortly after cutting them. This not only alters the color of the apple but also the taste. It's best to prep your apples just before you're ready to use them. If you feel you must cut your apples ahead of time, you can briefly store your slices in acidulated water. Simply add a couple of tablespoons of lemon juice to water and immerse the apple slices until you're ready to use them.
Cinnamon-Maple Butter
This optional cinnamon-maple butter is the ultimate accompaniment to this majestic pancake for many reasons. It mirrors the vanilla and cinnamon that are already found in the batter, the maple syrup is a classic pancake pairing, and it provides just the right amount of sweetness to really set everything off and take this dish to the next level.
In lieu of drizzling this brilliant butter over the top of the Dutch baby, you can choose to omit it altogether (but trust us on this, you'll want to have it) or you can serve it on the side for your guests to use at their discretion. When served as part of a brunch or breakfast buffet, it would be nice to give your guests the option of how they'd prefer to top their Dutch baby. It really can be a blank canvas for jams, jellies, nut butters, and so much more!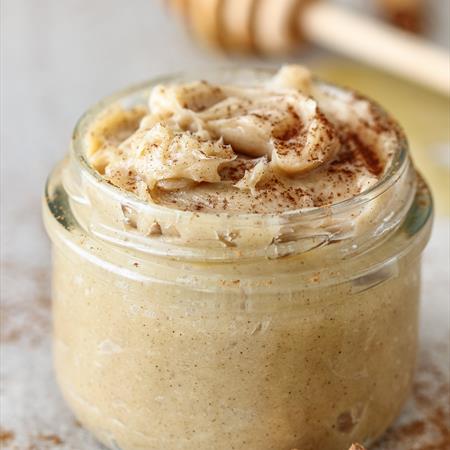 We would refer to our cinnamon-maple butter recipe as a type of compound butter. Compound butter simply put is butter combined with other ingredients, sweet or savory, to accompany different foods. The sky's the limit when it comes to creating different flavorful kinds of butter, so let your imagination run wild. Compound butter also freezes very well. So if you find you have any leftovers you could always pour the melted cinnamon-maple butter into an ice cube tray to freeze for later use.
Cooking & Serving
Bake for 15-20 minutes, or until the Dutch baby puffs and turns golden brown. You want the center to be just set but still custardy. You'll want to check in on your Dutch baby while it's baking, but be sure to peek in while keeping the oven door closed. Opening the oven will collapse your Dutch baby like a sensitive soufflé. Part of its charm is that you and your guests get to witness it fully puffed up before quickly deflating once it's removed from the oven.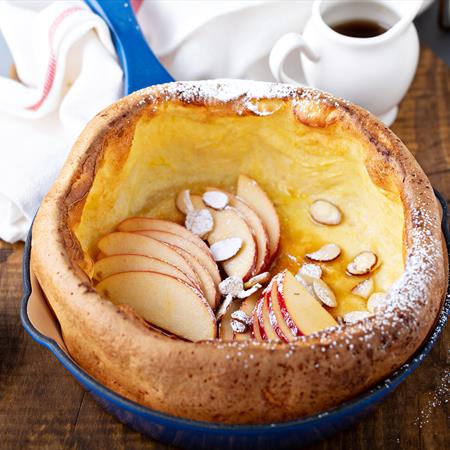 If it's served on its own, this Dutch baby will easily feed four adults. You could also serve it with a full breakfast or brunch buffet with eggs, bacon, fruit, and potatoes, and slice it into small wedges so everyone can enjoy it. It also looks really impressive served up in a cast-iron skillet if you choose to bake it in one!
Try the BigOven Kitchen Original Recipe
Apple Dutch Baby