Apple Juice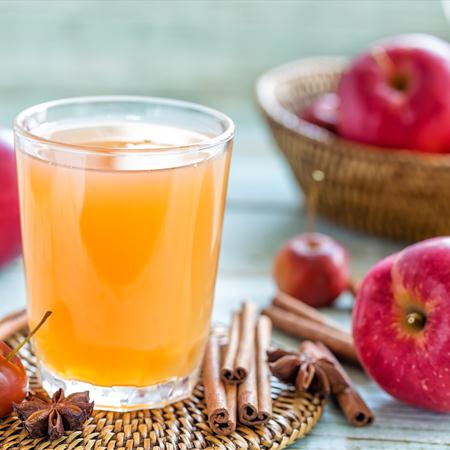 Apple juice can be a flavorful replacement for liquids in many recipes.

Drinking apple juice is a convenient and healthful alternative to consuming "an apple a day." It can replace any liquid called for in many recipes, including muffins, breads, pancakes, and sweet rolls. Use it as a marinade, salad dressing, or dessert topping.
Varieties
Juice and cider are technically the same product in most of North America. Some ciders will contain pulp, while a juice may be "clarified." In most parts of the world, cider refers to a fermented, alcoholic beverage.
Buying Tips
To count as a fruit serving, the label must state 100% juice, which also means there are no added sweeteners. Many products include sugars and other additives and must be identified as "beverage," "drink," or "cocktail." Most juices, especially those on the shelf or in the freezer section, are pasteurized or heat-treated, but, if not, will be marked accordingly.
Concentrated juices are reconstituted with water. They're considered pure juice that is equal to a full fruit serving. Specifically, they will be "apple juice made from concentrate," and "reconstituted apple juice." "Sparkling" juices are carbonated.
Storage Tips
Products bought off the shelf can be kept unopened and unrefrigerated for about six months. They will retain better flavor if refrigerated. Once opened, they should be refrigerated and used within a few days. Age will cause fermenting to begin.
Refrigerate juices that are purchased cold. For best safety practices, juice should not be left on the counter for serving longer than a few minutes.
Usage Tips
• Apple juice makes a great ham glaze.
• Thicken the juice by adding cornstarch in a saucepan over low heat. Use as a topping for ice cream, pound cake, and waffles.

Try one of our favorite apple juice recipes:
Applesauce-Stuffed Tenderloin
Ken's Bread Pudding
Chilled Banana Custard