Beet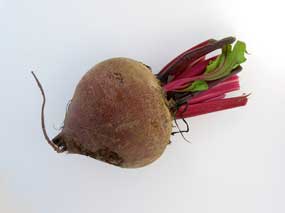 As root vegetables, beets are served raw or cooked in a variety of ways. The leafy tops are also favored in salads and steamed as a side dish for meats.

Beets are root vegetables (closely related to sugar beets and chard) that most of us associate with the beautiful purple-maroon hue that bleeds.
They're not as earthy in taste as turnips or radishes, and provide color and plenty of nutrients and antioxidants, whether raw or cooked. Prepare like other root vegetables (baked, steamed, etc.) or shred peeled, raw bulbs for salads.
Varieties
• Red beets (Detroit/Detroit Dark Red) are the common market variety available year-round. During peak growing seasons (summer-fall in the ), local growers will offer regional and heirloom varieties. Look for goldens, whites, and the unique chiogga, which has striped inner rings similar to a candy cane.
• Also referred to as "beetroots."
Buying Tips
• Baby beets are more tender and sweeter than mature bulbs.
• Any bulb larger than a tennis ball may be tough, even when cooked.
• Skin should feel smooth and firm.
• Fresh, unwilted beet leaves can be prepared in the same way as spinach and are more nutritious than the bulb.
Storage Tips
• Remove leaves by cutting stem about one inch from base and store separately from the root. Wrap in a damp paper towel, place in a plastic bag, and use within 3-4 days.
• Store bulbs loosely in a plastic bag in the refrigerator and use within 2 weeks.
Usage Tips
• Wash just before using.
• To prevent flavor loss and keep some of the red beet color when cooking, leave stem and outer skin intact. Remove both before serving.
• If the water turns red during boiling, reduce and use as an all-natural food coloring.
• After cooking, remove the skins of baby beets by rubbing with a dry paper towel.
• When preparing red beets cover all surfaces, protect clothing, and wear gloves to prevent staining.


Try one of our favorite beet recipes:
Beet Gratin
Chocolate Beet Cake
Red-Beet Salad