Bisquick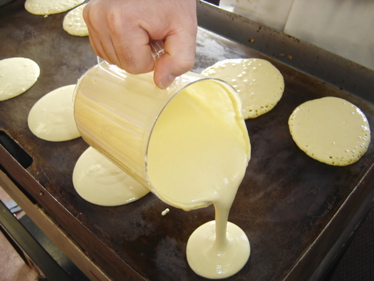 Pancakes, pizzas and pot pies, oh my. The convenience of Bisquick revolutionized home baking when it hit the market back in 1930.
Bisquick is the brand name of an all-purpose baking mix manufactured by General Mills' Betty Crocker. A simple pre-mix of
flour
,
shortening
,
baking soda
and salt, it revolutionized home baking when it was first introduced in 1930.
History
According to General Mills, the product was developed after one of their sales executives took a train trip and was served a plate of delicious, oven-hot
biscuits
only moments after sitting down in the dining car. Curiosity led him to the train's chef who showed him an ice chest where he stored a batter of lard, flour,
baking powder
and salt that he had mixed earlier.
The executive took this idea back to a chemist at General Mills, where secrecy surrounded the creation of the proper blend of ingredients. Bisquick soon became the first-ever baking mix on the market and the technologies used to make it were later used to develop cake mixes.
Usage Tips
Originally intended to be "the perfect biscuit maker," over the years cooks and bakers have found a multitude of ways to take advantage of Bisquick's convenience. There are entire cookbooks devoted to its use, with recipes for everything from pancakes and pizza crust to chicken pot pie and beef cassoulet. If you have some on hand, try mixing it with
paprika
, salt and
pepper
to create a delicious coating for oven-baked chicken.
Measuring Tips
Do not
sift
. Spoon into a dry-ingredient measuring cup and level with a knife.
Storage Tips
To maintain freshness, refrigerate after opening.
Substitution Tips
Ingredients:
1 cup flour
1 1/2 teaspoons baking powder
1/4 teaspoon salt
1 tablespoon shortening (Crisco) or butter

Instructions:
Mix dry ingredients together in a small bowl.
Cut in shortening / butter using a pastry blender.
Makes 1 cup Bisquick equivalent.


Try one of our favorite Bisquick recipes:
Beer Biscuits #1
Bisquick Sausage
Artichoke and Sun-Dried Tomato Scones