Blender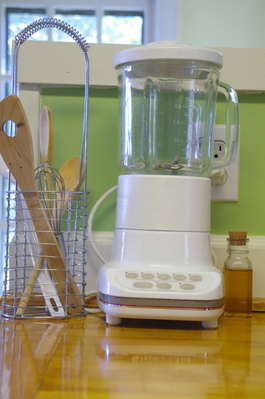 Stephen Poplawski invented the first bottom-blade container blender in 1922. He used it to mix soda fountain drinks.

This essential small kitchen appliance helps trim preparation time by
blending
, chopping and puréeing foods in an instant. A typical stationary upright blender has a removable glass container with short, rotating blades at the bottom. The container fits on top of a base that houses an internal electric motor to turn the blades and an external push-button control pad to adjust the speed.
History
The invention of the blender is credited to Racine, Wisconsin businessman Stephen Poplawski. In 1922, he created the first blender with spinning blades at the bottom, using it to make soda fountain drinks.
In 1935, Fred Osius, a founder of the Hamilton Beach Manufacturing Company, improved on Poplawski's idea and began marketing his blender with famous band leader Fred Waring. In addition to whipping up frozen drinks at home, the "Waring Blender" turned out to be an important new tool in hospitals. Dr. Jonas Salk used it to develop the vaccine for polio.
Usage Tips
When it comes to using your blender, the culinary possibilities are endless. In addition to crushing ice and mixing
milkshakes
and
smoothies
, blenders can be used to make fresh salsas, classic
vinaigrettes
, creamy soups and velvety sauces. A few quick pulses can smooth out lumpy gravy, turn day-old bread into
bread crumbs
or cookies into a delicious pie crust. You can also chop nuts and vegetables or grind your own
coffee
, spices and superfine
sugar
that will instantly dissolve in a cup of tea.
For best results:


• Blend large quantities of food in several small batches for better control.
• In general, cut foods into 1/2- to 1-inch pieces before adding.
• When chopping
herbs
,
garlic
,
bread crumbs
, nuts, etc., make sure the container and blades are completely dry.
• To ensure your ingredients will be uniformly mixed, add liquid ingredients first.

Try one of our favorite blender recipes:
Frozen Peach Sunset
Warming Cream of Spinach Soup
Grilled Fish with Brazilian Garlic Marinade