Creme fraiche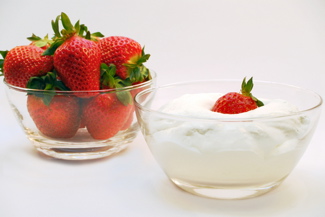 Creme fraiche is a classic topping for fresh fruit, cobblers and puddings. It can also be stirred into simmering soups and sauces without fear of curdling.

This thickened French
cream
has a rich, velvety texture and a slightly tangy, nutty flavor. It's often used as a topping for fruit,
applesauce
,
cobbler
or
pudding
, and it's also employed as a thickener in sauces. Loved by cooks, crème fraiche doesn't curdle or separate when boiled, and it has a longer shelf life than double cream.
Varieties
In France, where it is a specialty, crème fraiche is made from unpasteurized cream that contains "friendly" bacteria to thicken it naturally. The best crème fraiche comes from a strictly controlled area of Normandy, which is famous for its rich, luscious dairy products. When you open a container of "real" crème fraiche, it has a telltale creamy-yellow color.
In the U.S., all commercial cream is
pasteurized
.
Buttermilk
and
sour cream
are added as agents to ferment the crème fraiche to the proper consistency. You may find that each brand tastes a little different, since there is no set standard for butterfat content. Full-fat crème fraiche ranges from 30-40%, while some brands may also offer half-fat varieties.
Buying Tips
Crème fraiche is available at gourmet food shops and some supermarkets. Check the date on the package to make sure it's fresh.
While pre-made crème fraiche is convenient, it can be rather expensive, especially when it's so simple to
make your own
. The only ingredients needed are heavy whipping cream and buttermilk (or sour cream).
Storage Tips
Refrigerate in an airtight container and use within 10 days.
Usage Tips
• Flavor crème fraiche by stirring in fresh
herbs
,
horseradish
,
crystallized ginger
or
honey
.
• Add a spoonful to soups and sauces.
• Drizzle over grilled vegetables, salads,
crab cakes
and
latkes
.
• Serve with
caviar
and
smoked salmon
.
• Sauté crème fraiche with
shallots
and dry
white wine
for a delicious, all-purpose sauce.
• To make a frosting, beat crème fraiche with granulated
sugar
until stiff peaks form.
• When making at home, use pasteurized heavy whipping cream instead of ultra pasteurized (which will take much longer to thicken).
Substitution Tips
Crema
, a topping used in Spanish and Latin American cooking, is a good substitute.

Try one of our favorite