Crouton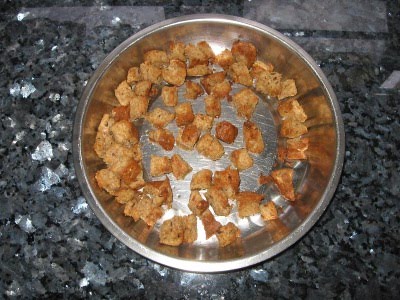 Croutons are a crunchy accompaniment for all kinds of salads, especially the classic Caesar.

These small pieces or cubes of bread are sautéed, baked, toasted or fried until crisp and golden. They make a crunchy accompaniment for soups, salads and vegetables, and are often used as a base for poultry
stuffing
.
Varieties and Buying Tips
At the supermarket you'll find packaged croutons in either plain or seasoned varieties (such as
onion
,
garlic
, cheese or
herb
). They are also available in sizes and shapes ranging from small, square cubes and small, round wafers to restaurant-style croutons, which are larger and flatter.
Homemade croutons
are fresher and often better-tasting than store-bought, and they're quite simple to prepare.
Storage Tips
Store homemade croutons in an airtight plastic bag at room temperature for up to one week. They can also be frozen for up to six months. For store-bought croutons, mind the date and storage instructions on the package.
Usage Tips
• Homemade croutons can be made from any bread, but sourdough, Italian and French loaves work best. Leave the crusts on, or cut off.
• Use canapé or cookie cutters to make croutons in decorative shapes.
• Float croutons on your favorite
tomato
,
onion
,
minestrone
or chilled
gazpacho
soups.
• Toss with all kinds of salads, from
Caesar
to
spinach
to
panzanella
.
• Make a savory
casserole
or sweet
bread pudding
.
• Make stuffing for your
holiday turkey
or
oven-roasted chicken
.

Try one of our favorite crouton recipes:
Roasted Pumpkin Soup with Roasted Garlic & Black Pepper Crouton
Thyme Au Gratin Potatoes
Herbed Italian Cocktail Mix