All About Monkey Bread – the Kids' Favorite Treat
Monkey bread is such a fun dessert that is sure to be your kids' new favorite (and make adults feel like kids again!). It's made up of small pieces of dough so you can pull it apart with your hands to eat it, no fork or knife required.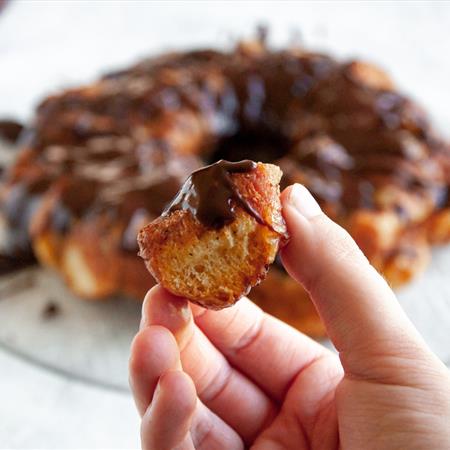 You can serve monkey bread in place of a birthday cake or just as a fun afternoon treat! Since our new monkey bread recipe uses doughnuts as the dough, it's like a giant mound of chocolate glazed doughnut holes, which makes it a fun option for brunch. But, with all that chocolate and sugar, it's equally perfect for dessert.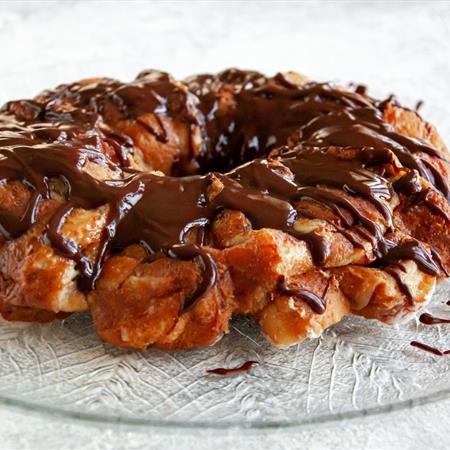 What is Monkey Bread, Anyway?
Monkey bread has many variations, but what makes it monkey bread is that it's pull-apart dough formed into a cake or loaf pan. It's made by taking some sort of dough, portioning it into bite-sized pieces, and often rolling the pieces in butter or some sort of sugar or spice mixture. The pieces are then nestled together in a baking pan and baked to form a pull-apart cake or loaf. The aptly named monkey bread refers to the pull-apart aspect of eating this treat.
The origins of monkey bread are not totally clear. While it became popular in the United States in the 1950s, there is a traditional Hungarian dessert very similar to monkey bread that dates back to the 1800s. Hungarian coffee cake, translated literally to "golden dumplings," is made from a yeasted dough portioned into dumpling shapes that are dipped in melted butter and baked into the shape of a ring cake.
The first monkey bread recipes were actually savory or neutral in flavor. Rather than rolling and cinnamon-sugar and topping with a glaze, they were made from a rich bread dough similar to dinner rolls and served with jam on the side. Today there are many variations of monkey bread that are popular in the United States – both sweet and savory!
The Dough
You can use many different types of dough to make monkey bread. Biscuit dough is common, as many people opt for canned biscuit dough for an easy-to-make version of this confection. Sweet, rich bread doughs like challah or brioche are another popular choice, reminiscent of cinnamon rolls.
For our monkey bread, we chose to use doughnuts as the base. We use glazed doughnuts and top them with a chocolate glaze, but you can use whatever type of doughnut and glaze you prefer. If you're a chocolate lover, try making this recipe with chocolate doughnuts!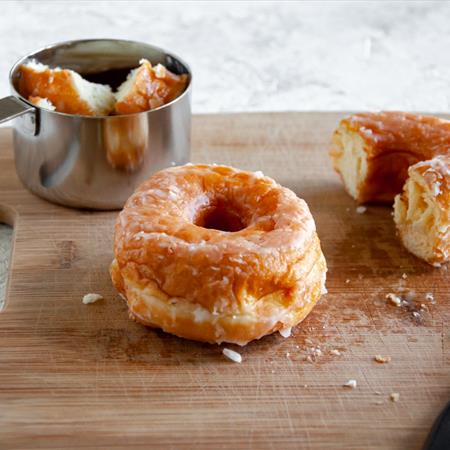 To make this recipe, you cut the doughnuts (which are already cooked) into bite-sized pieces before adding them to the pan and coating with a batter similar to French toast batter. This is what binds the doughnut pieces together and makes it reminiscent of a bread pudding.
When cutting the doughnuts, use a serrated bread knife to cut them to avoid smooshing them and keep them nice and fluffy. This recipe is perfect for leftover doughnuts that are a bit stale. Just like with French toast or bread pudding, using a slightly stale bread allows it to better absorb the batter and yields a better texture at the end. As an option, you can also use doughnut holes for this recipe instead of cutting up full doughnuts.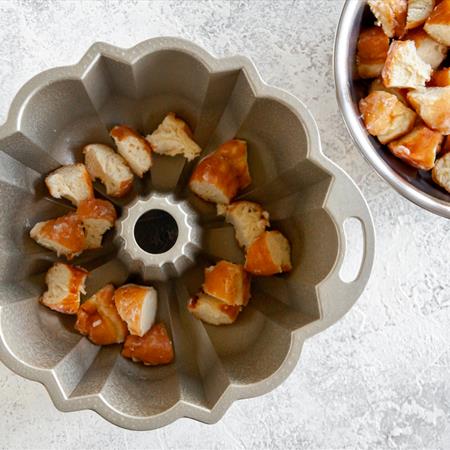 The Assembly
When you add the doughnut pieces or balls of dough to the pan, make sure to spray the pan liberally with nonstick spray first. Since you're going to have to invert the pan to serve, you want to make sure it comes out in one piece. If it ends up sticking though, you can easily form it back together—monkey bread is very forgiving that way, compared to a traditional Bundt cake. The best part about monkey bread is that it's meant to be a little messy.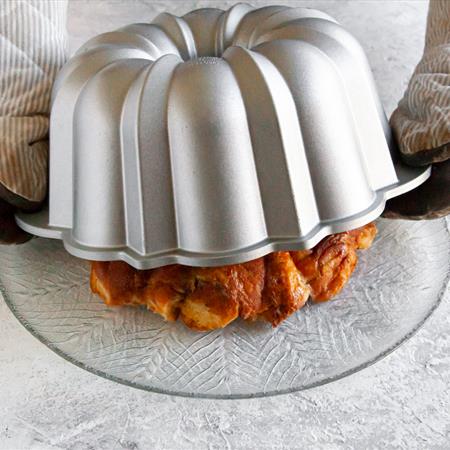 If you're following our doughnut monkey bread recipe, we're essentially making a French toast batter to coat the doughnuts to hold them together. So here's a few tips when dealing with French toast batter. First, try adding the spices to a little bit of milk first and whisking to combine before adding the other ingredients. Cinnamon repels liquid, which is why it often sits on the top of the batter and doesn't evenly distribute. It mixes more evenly in milk because of the fat molecules, so it helps to mix with the milk first before adding the other liquids.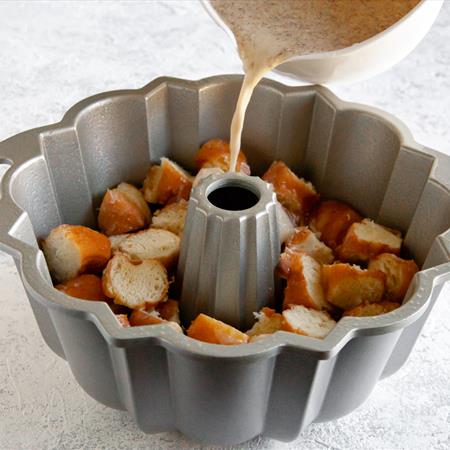 Another tip for this recipe is making sure the melted butter is fully cooled before adding to the batter. If it's too hot, it could potentially cook the eggs a little bit leaving you with scrambled eggs.
On the other hand, it also helps if the other ingredients like milk, eggs, and cream are closer to room temp when you add them to the batter. If they are ice cold, the butter may start to solidify on contact leaving you with tiny shreds of butter in the batter. This isn't as much of an issue since it will melt again in the oven. But to obtain a silky-smooth batter, it helps if all the ingredients are roughly room temp.
Lastly, this doughnut monkey bread recipe calls for soaking the bread pieces in the egg mixture for 10 minutes before baking. Don't skip this step! This gives the doughnuts time to absorb the batter which results in a creamy texture throughout.
The Glaze
Our recipe uses a chocolate glaze similar to chocolate glazed doughnuts at your favorite doughnut shop. But, you can use whatever type of glaze you like. If you don't like chocolate, you can do a regular icing glaze for more of a glazed doughnut feel.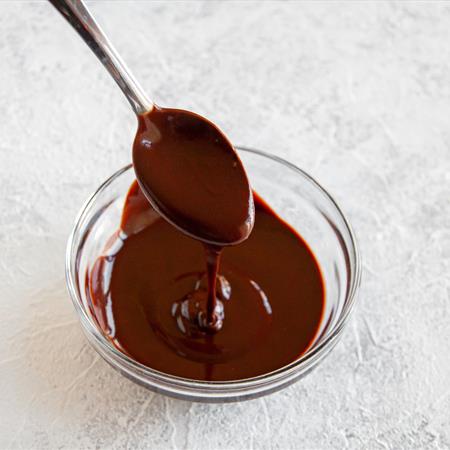 To ensure a smooth glaze, patience is key. When chocolate is heated too quickly, it can become grainy or burnt. For that reason, you should microwave the chocolate in 30-second increments, stirring in between, to avoid overheating.
Alternatively, you can melt chocolate on the stovetop over a double broiler. Melting chocolate over direct heat is sometimes too intense and can cause the chocolate to burn. So, heating it over a simmering water bath helps to gently heat the chocolate. This is a great option if you don't have a microwave.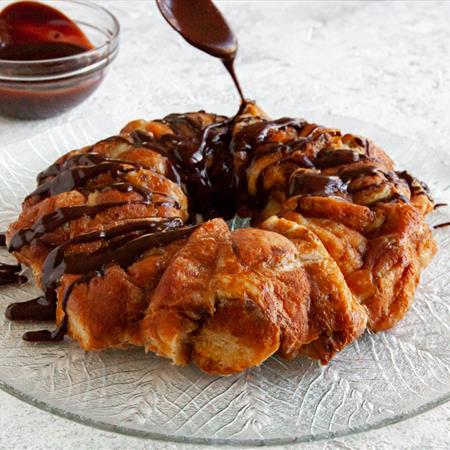 Variations
As we alluded to earlier, there are no rules for monkey bread! There are so many variations to try when you mix and match the doughnuts and the glaze. Here are some ideas to change up the original chocolate-glazed doughnut monkey bread recipe:
Double chocolate – use the same recipe, using chocolate doughnuts.
Cinnamon sugar – use cinnamon-sugar doughnuts or roll the doughnut pieces in cinnamon sugar. Omit the glaze, and dust with powdered sugar instead.
Pumpkin spice – use pumpkin doughnuts, omit the glaze, and top with cinnamon-sugar.
Blueberry cake – use blueberry cake doughnuts and a traditional powdered sugar glaze instead of chocolate.
Try the BigOven Kitchen Delectable Original Recipe
Doughnut Monkey Bread