HOLIDAY HOW-TO: 6-INGREDIENT EGGNOG CAKE
'Tis the season to be baking! While visions of sugar plums, fruitcake, and other confections dance in everyone else's head, let this eggnog cake recipe bring you comfort and joy this holiday season. Show up to your next gathering with this eggnog cake and we guarantee that you'll be invited back!
One of the most fascinating things about this recipe is that you do not need to preheat the oven! The cake gets placed into a cold oven similar to the vintage whipping cake that shot to fame on Reddit. Also, there aren't too many eggnog recipes out there that result in a delicious cake. We think you'll really enjoy this one!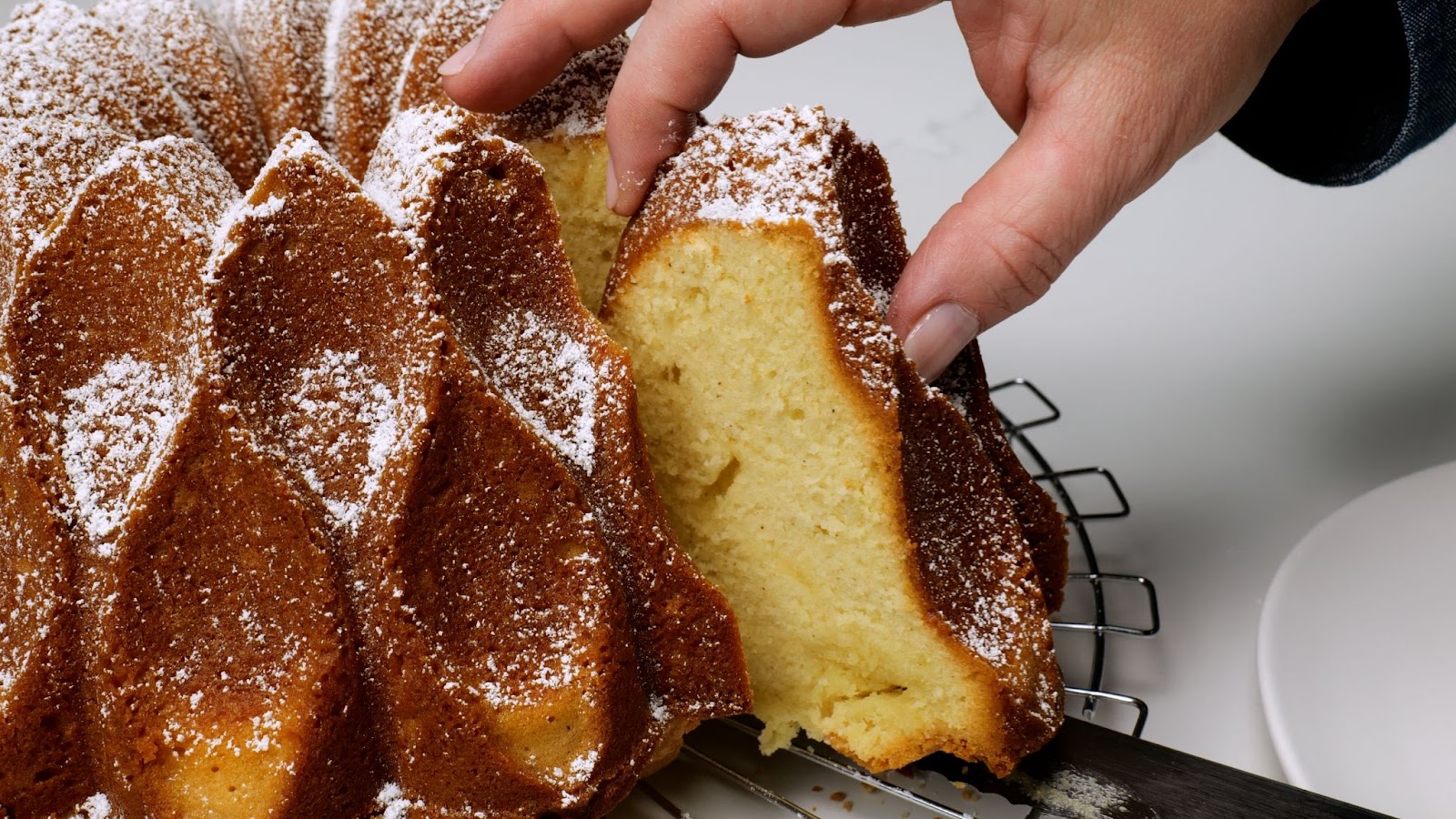 Whip it Good!
There are six simple ingredients in this delicious eggnog cake recipe, and a leavening agent isn't one of them! Since there is no leavening agent like baking powder or baking soda present, it is very important to beat the butter, sugar, and eggs thoroughly to incorporate plenty of air into the cake mixture.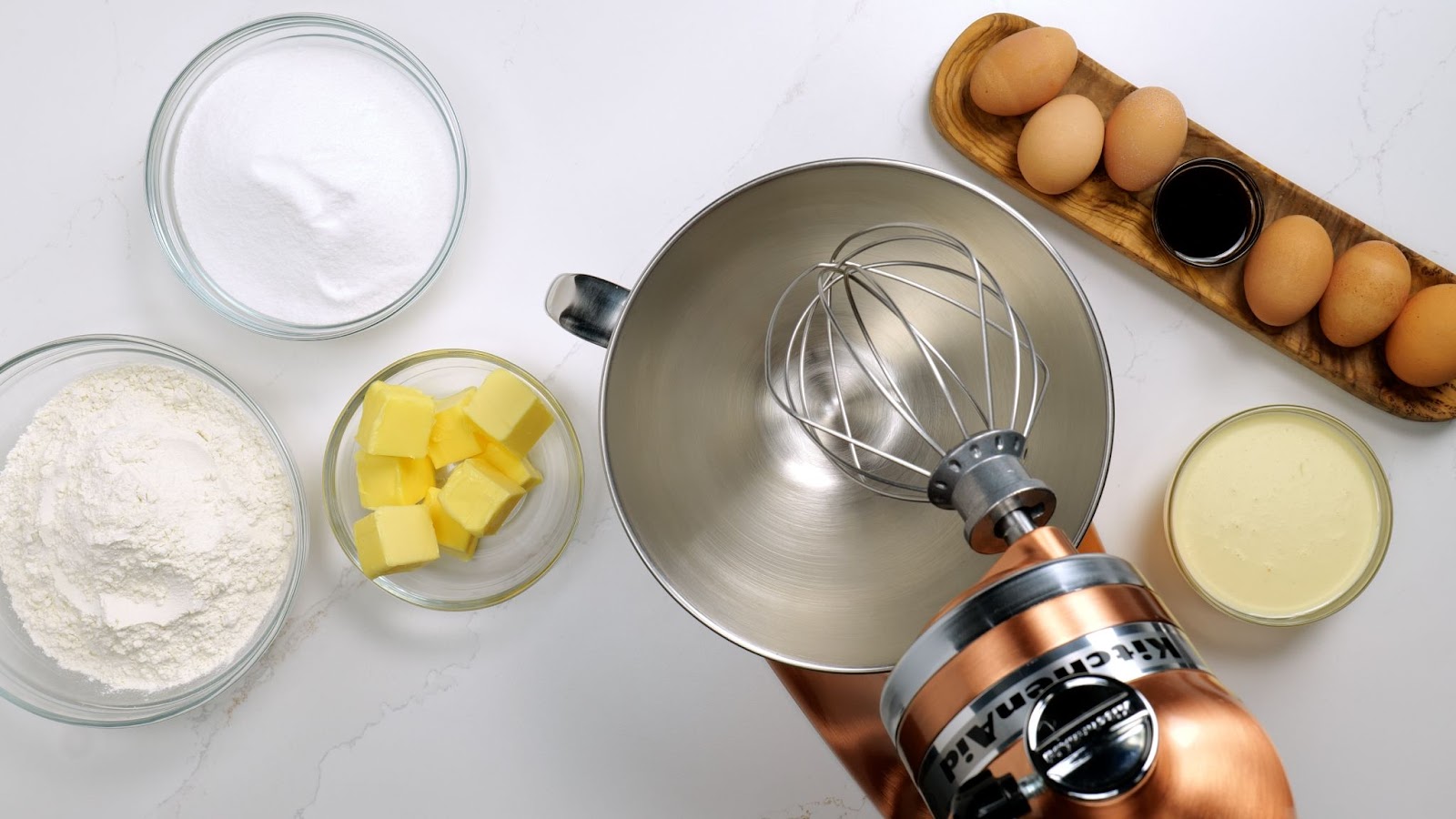 To start, you will be combining the room temperature butter and sugar together thoroughly. This is referred to as the creaming. Creaming the butter and sugar together causes the mixture to become light and airy. The creaming mixing method then calls for the addition of eggs and, finally, alternating sifted flour and a liquid of choice. Everything from cookies to cakes and countless other baked goods start off using this classic mixing method. It's also important for the butter and eggs to be at room temperature when using this method. When those room temperature ingredients combine to form the cake batter, they will smoothly emulsify and trap the necessary air that will expand during baking and result in a lighter, fluffier cake.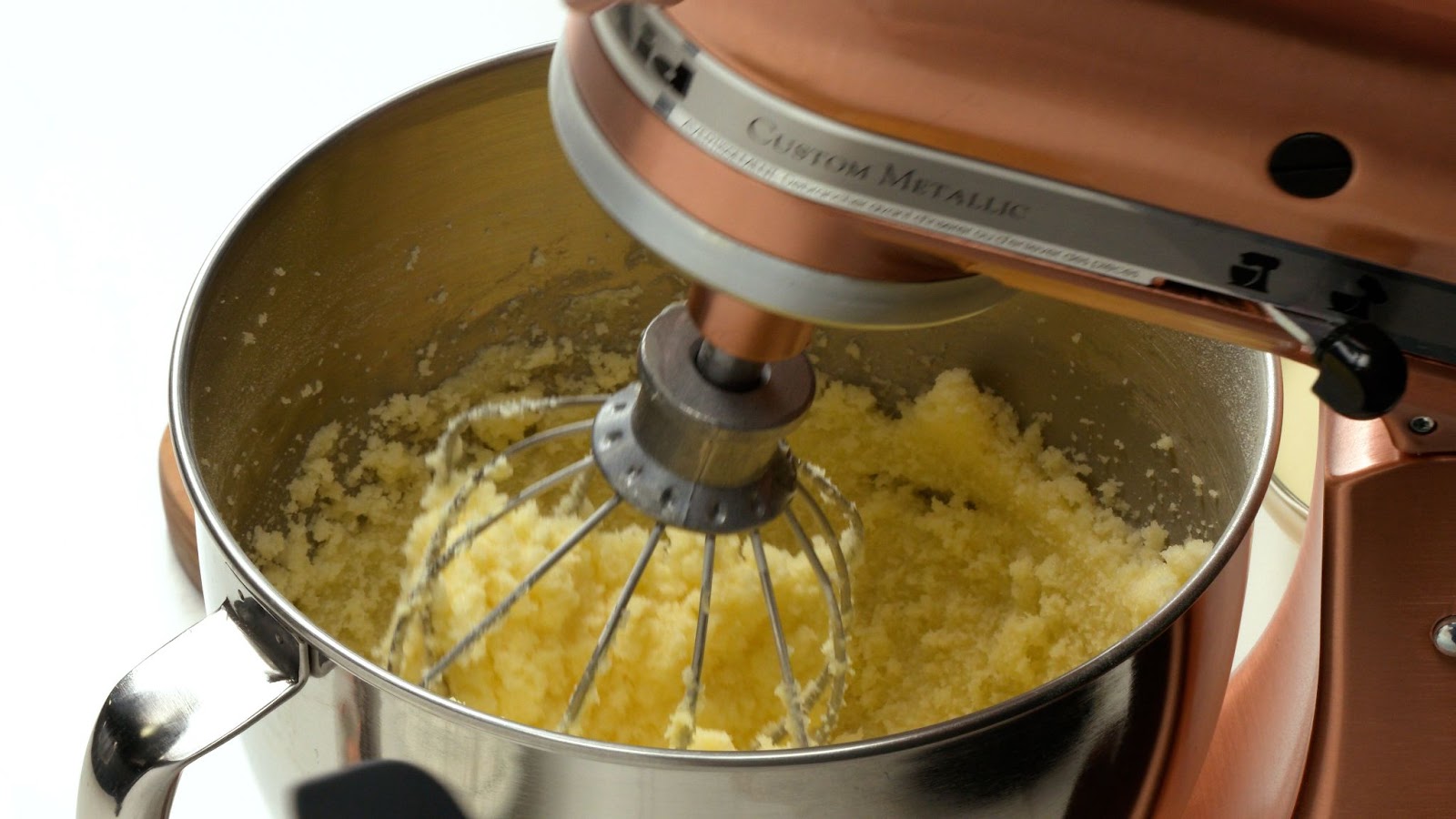 You'll know when the butter and sugar have been properly creamed together as the mixture will take on a pale color and the texture will be light and smooth. This also indicates that an adequate amount of air has been incorporated into the mix. Be sure to scrape down the sides of the bowl as you're creaming the butter and sugar together to ensure that everything gets evenly mixed. When the butter and sugar do not get creamed together properly it can result in a heavy and unpleasant texture.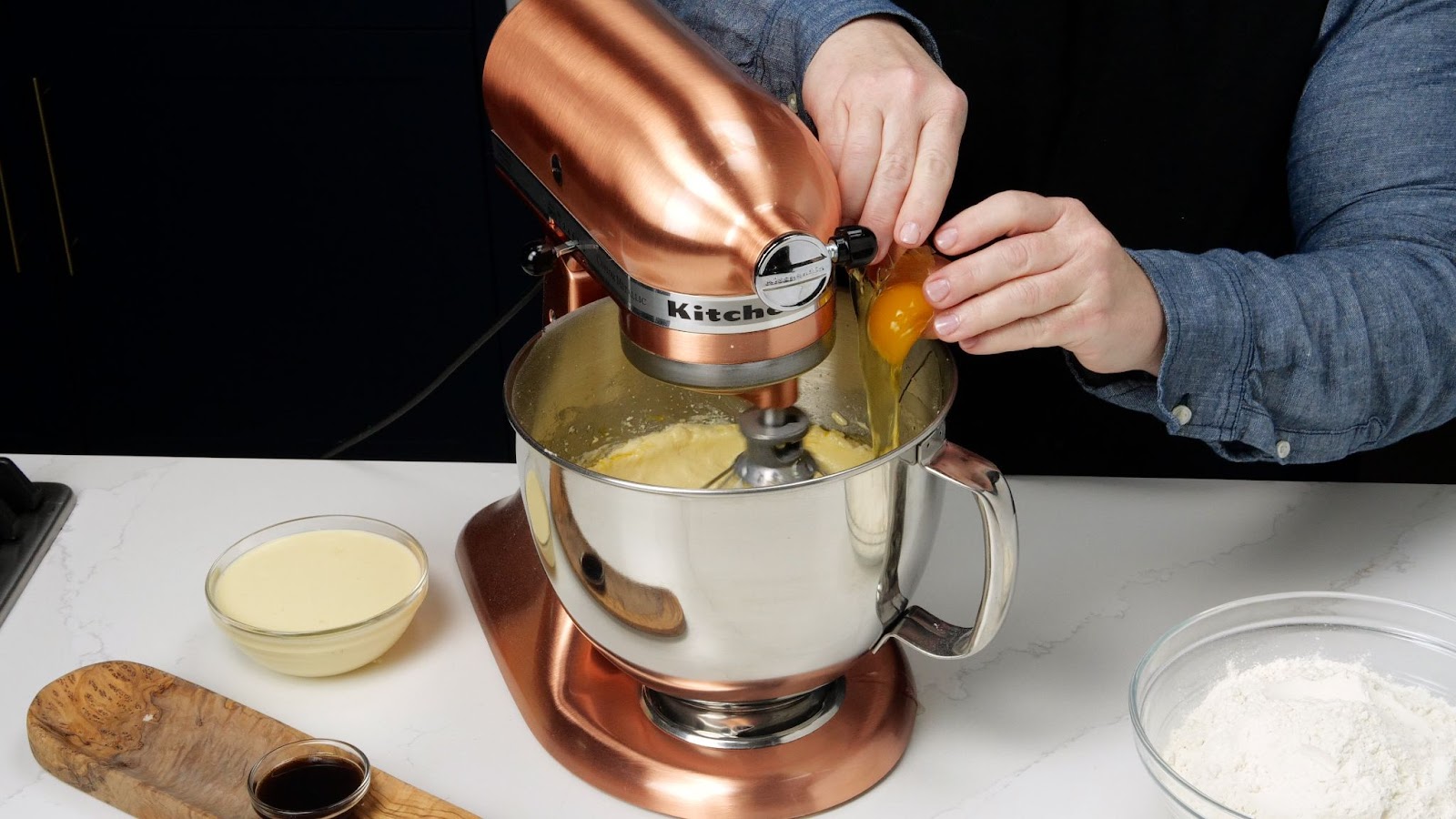 Once the butter and sugar have been correctly creamed it's time for the eggs! Adding the eggs in one at a time is critical to keeping the batter from separating. You will know if your eggs haven't been properly incorporated into the creamed butter and sugar mixture because it will take on a curdled appearance instead of a smooth one. It's important that you continue scraping the bowl throughout the entire process to guarantee everything gets properly incorporated and the batter is smooth.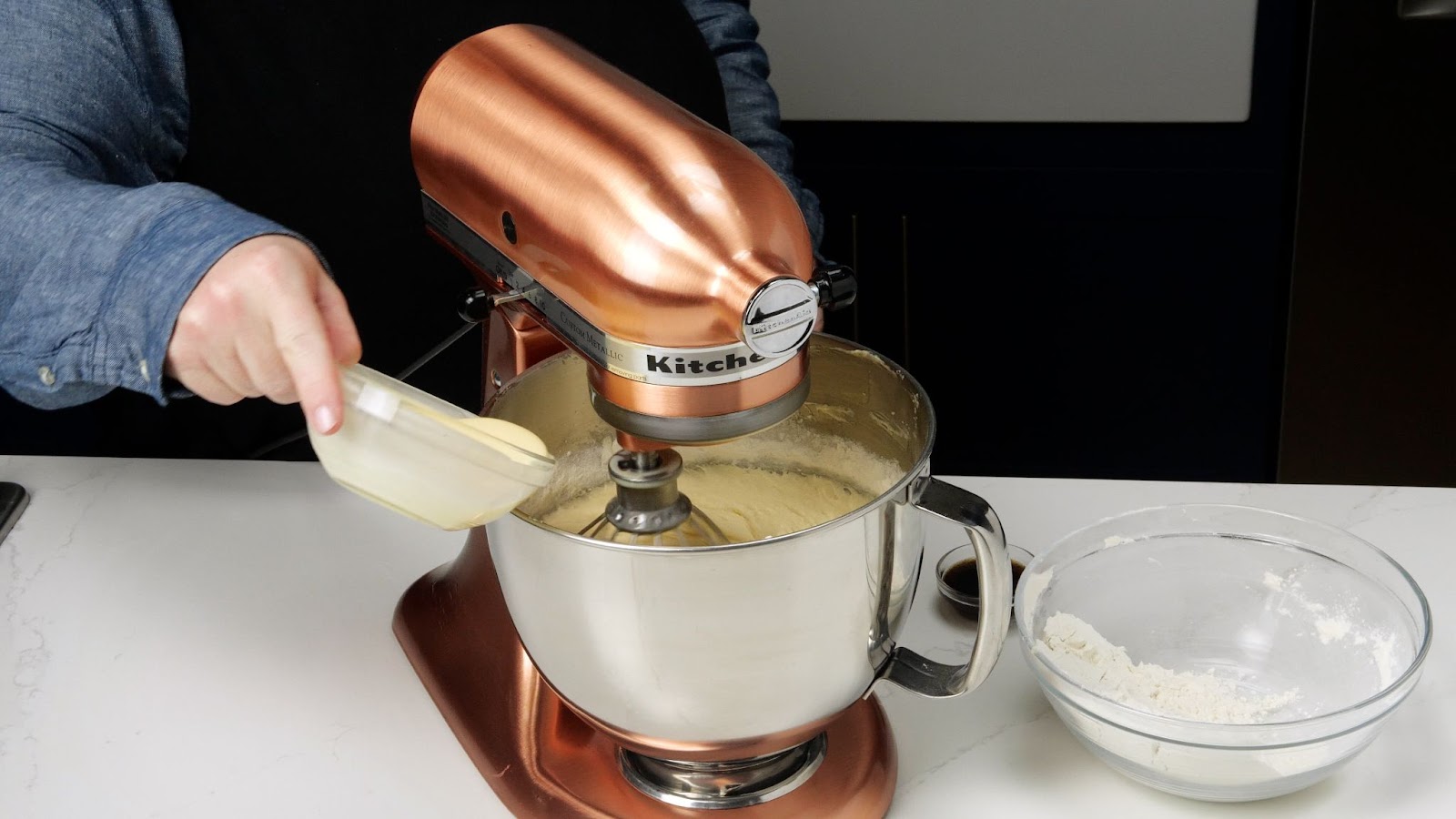 For the final phase of the creaming mixing method, you will be alternating adding the egg nog and the sifted flour. When adding these ingredients, we suggest adding one-third of the flour, then roughly half of the egg nog and mixing until smooth. Keep alternating this way until you have added everything into the batter. It's also extremely crucial that you don't overmix the egg nog cake batter. Too much mixing would cause the gluten in the flour to develop and could lead to a tough batter and a less than desirable final texture for your cake.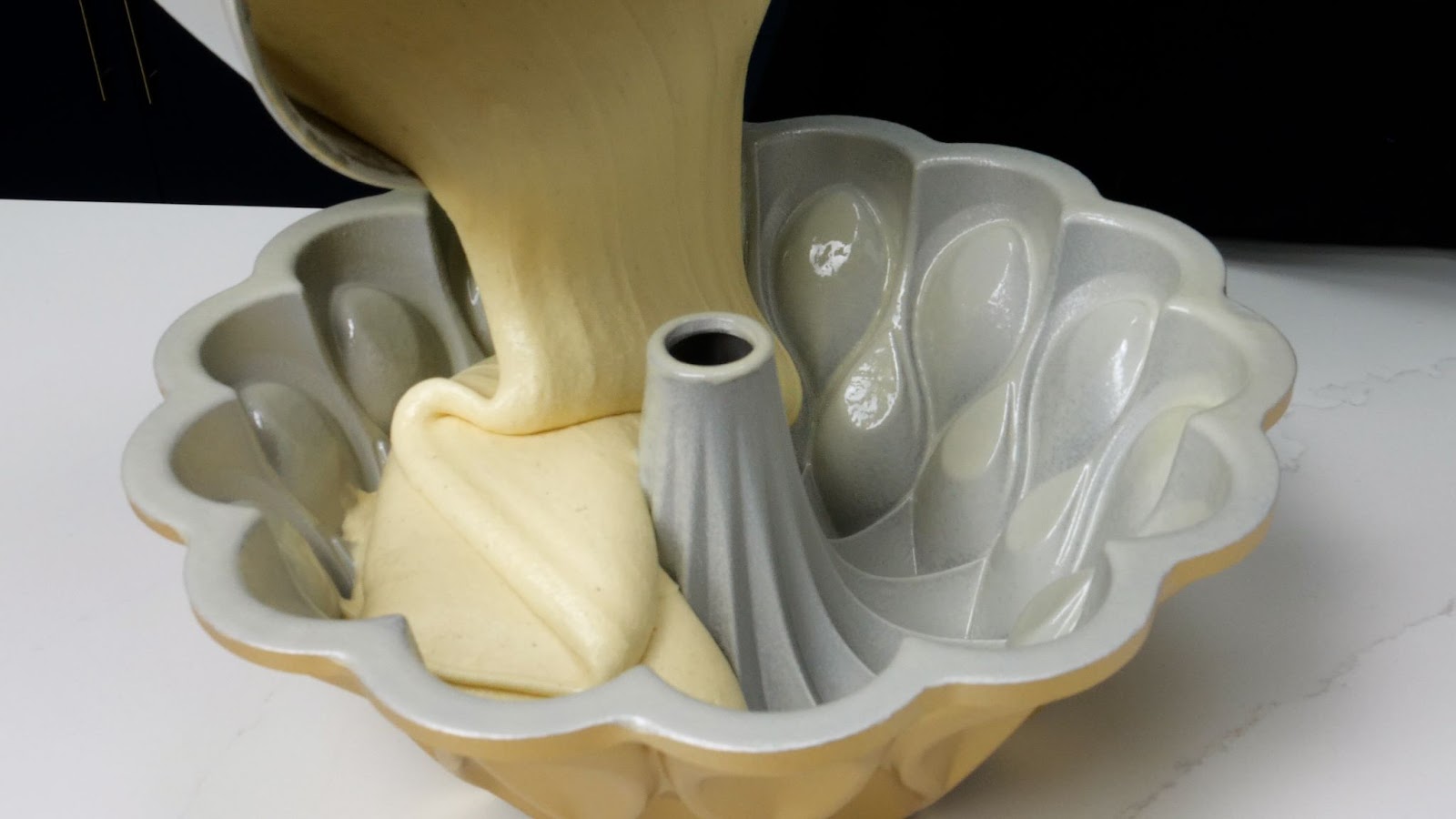 Keeping it Cool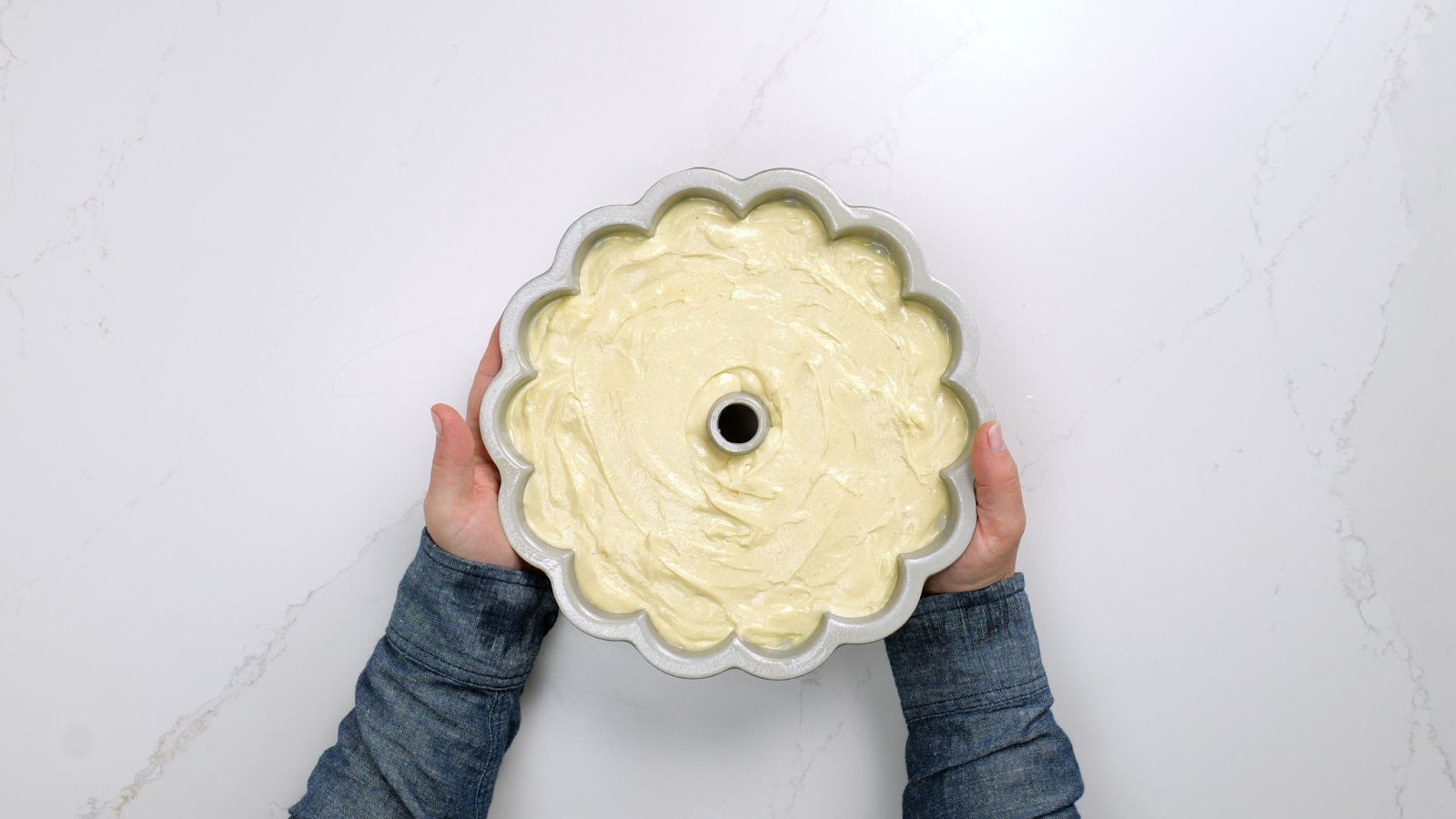 Have you ever heard of putting a cake into a cold oven before? Baking truly is a science and, believe it or not, there is a method to the madness. Trust us, this method is guaranteed to give you the results you're after! Since this eggnog cake is denser than say a baked good like zucchini bread, it takes longer to rise. The purpose behind putting a confection like zucchini bread in a preheated oven is to allow the chemical leaveners to rise quickly for that light, less dense texture. When you start a cake-like ours off in a cold oven, it gives the batter a chance to rise with the temperature of the oven which helps to produce a nicely caramelized golden-brown crust and perfectly cooked center.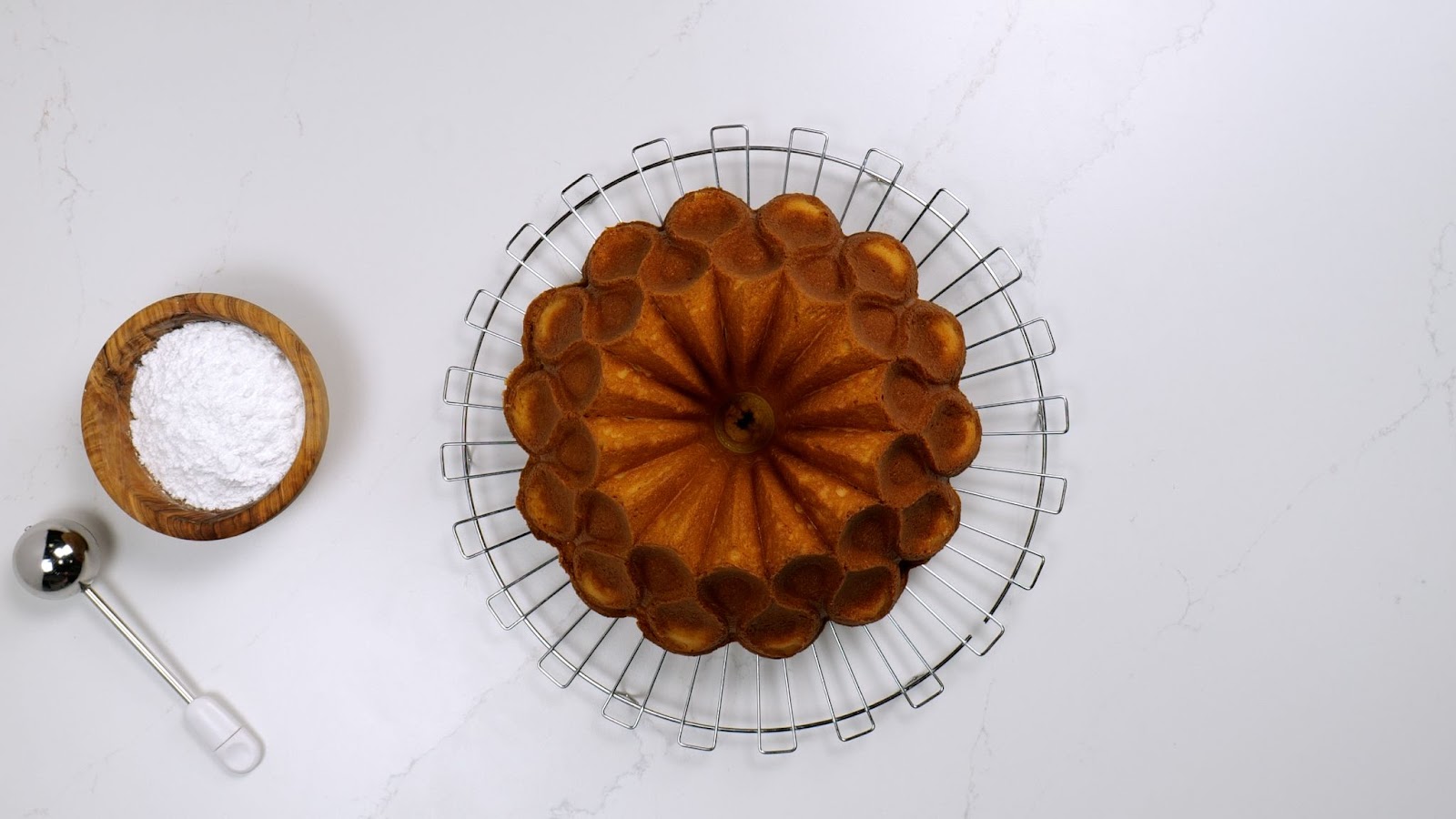 Presentation is Nine-Tenths of the Law
It's all about presentation! When serving this beautiful bundt, it should be put on a pedestal, a cake pedestal that is! Make sure to let this eggnog cake shine and garnish it accordingly. Keep it simple with a dusting of powdered sugar and some fresh fruit, or enhance it with different sauces, toppings, and accouterments to help beautify your bundt.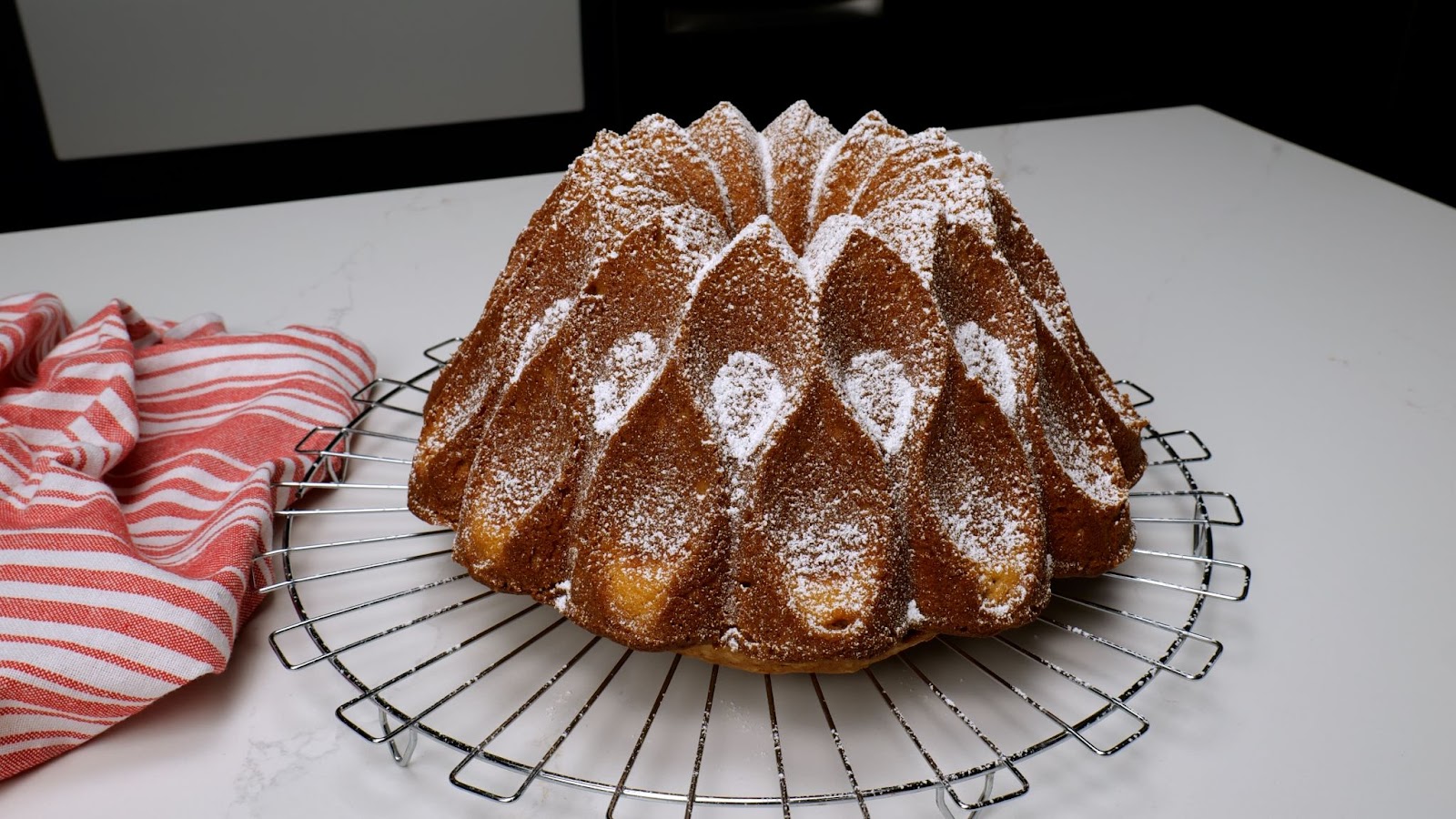 One crowd-pleaser that pairs perfectly with this eggnog cake is homemade whipped cream. You can garnish the top of the cake with it or serve it on the side for your guests to help themselves. A few things to keep in mind when making fresh whipped cream, make sure the cream is cold as well as the bowl that you will be whipping it in. If the cream is too warm and the bowl is warm, it will never whip properly.
Fruit sauces also pair beautifully with this cake and would add a fantastic pop of color! There are two different types of fruit sauces you could choose to make. One is called a coulis which is simply a puréed mixture of fruit that could include anything from raspberries to pineapple, and much more. A compote is the other type of fruit sauce you might want to consider making with this cake. Compotes can be made from frozen, fresh, or even dried fruits, and they are typically chunky in texture as opposed to the smooth coulis.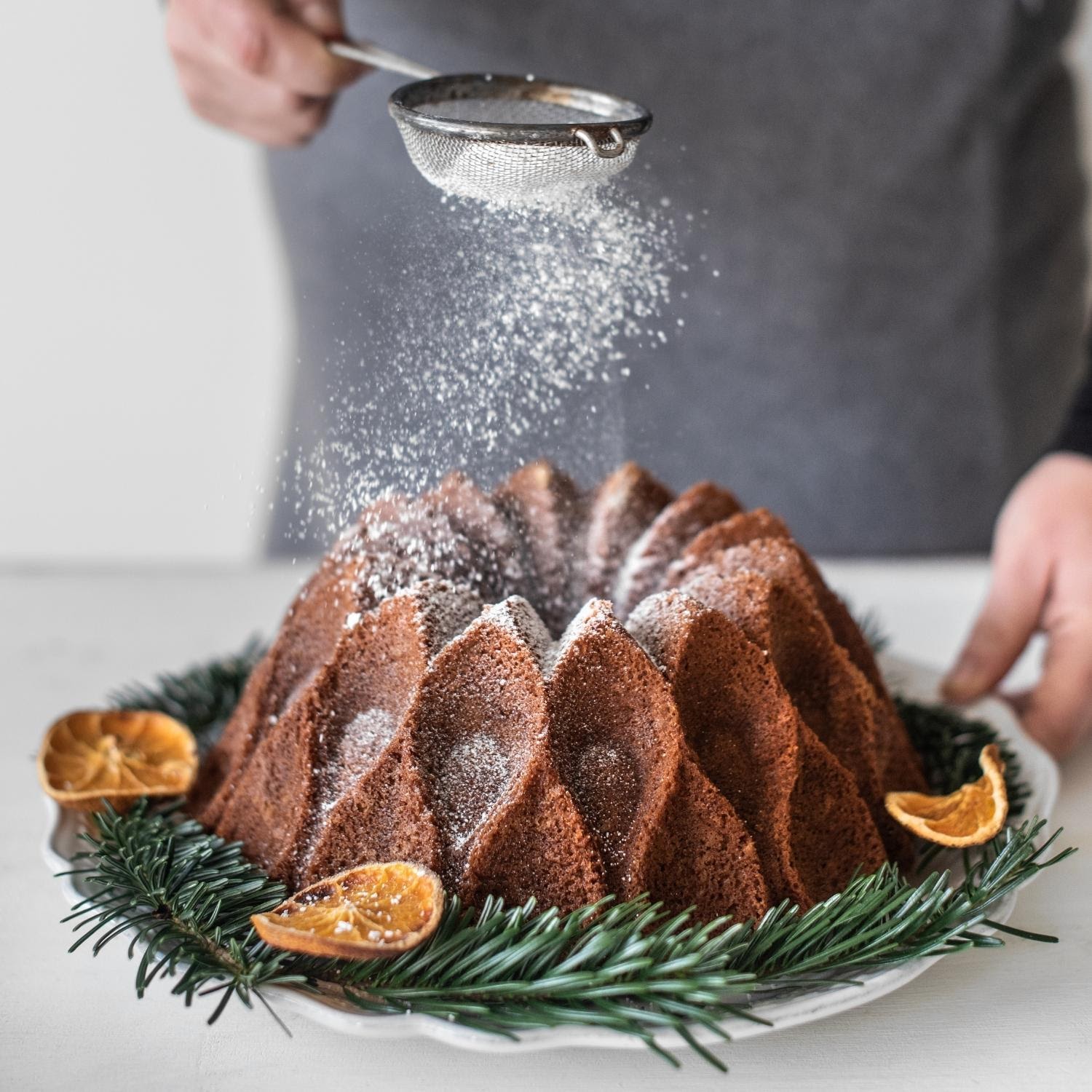 For chocolate lovers out there, a drizzle of ganache is exactly what the doctor ordered. A ganache is simply a blend of chocolate and heavy cream combined in the correct ratio. Depending on the ratio of chocolate to cream, you could have a soft, medium, or hard ganache. You can also choose to make your ganache from dark, milk, or white chocolate depending on your preference.
Tips & Tricks
Loosen the edges of the cake as it comes out of the oven, but allow the cake to cool in the pan for about ten minutes before flipping it onto a cooling rack. We find that letting the cake rest for five minutes right-side up and then an additional five minutes upside down works wonders for stubborn confections.
Impress Your Guests This Holiday Season!
Try our BigOven Kitchen Original Recipe: Eggnog Cake