Italian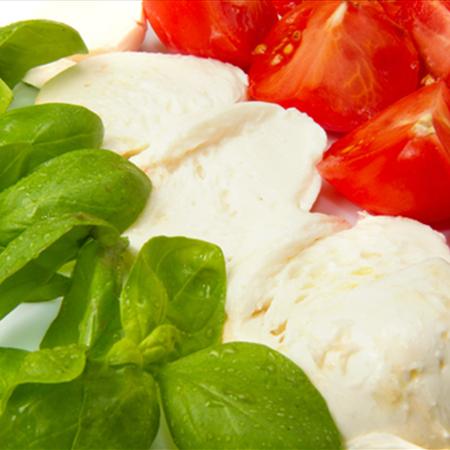 Italian food is often the first ethnic food Americans experience and frequently becomes their favorite cuisine. From the canned raviolis kids gobble up to pizza, spaghetti and meatballs, fettuccine Alfredo, tiramisu and cannoli, Italian recipes probably appeal to more people than any other type and is one of the easiest cuisines to duplicate in your home kitchen.
Antipasto and Other Starters
Nothing whets your guests' appetites better than an antipasto platter. Antipasto, which translates to English as "before the meal," can be plain or fancy and typically includes a selection of meats, cheeses, vegetables, and bread. Find a good Italian deli that carries a good selection of Italian salami and cheeses along with a variety of home-cured olives, roasted or pickled vegetables, and bread, breadsticks, and crackers. Arrange them on a platter and voila – you have a perfect opening course. Bruschetta is also a good Italian appetizer and can be simply topped with garlic, fresh tomato slices, and basil leaves or you can give it more flavor by adding marinated artichoke hearts or crumbled Italian sausage. Caprese salad made with fresh mozzarella, tomato, and fresh basil is an elegant starter course or, if you want a more casual opener, make homemade pizza and cut it into bite size pieces.
Zesty Italian Soups
Although minestrone is the traditional Italian soup served at many restaurants, wedding soup is gaining in popularity. It makes an elegant presentation but is easy to prepare with homemade or store-bought chicken broth, spinach or kale, shredded chicken breast, tiny meatballs, and a couple of beaten eggs stirred in right before serving, with ample amounts of freshly grated Parmesan on top. Tortellini or gnocchi soup is a hearty first course and if you want to make soup the main dish, prepare a hearty cioppino with shrimp, crab, mussels and cod. Serve thick slices of crusty Italian bread with the soups to sop up all the goodness at the bottom of the bowl.
Basta Pasta
"Basta pasta!" means "Enough pasta!" in English but you rarely hear the phrase because pasta is so well loved…and many people just can't get enough. Dried and fresh pasta is available in many shapes and sizes, either plain and or filled with meat or cheese mixtures to make tortellini and ravioli. It's delicious simply dressed with melted butter, chopped Italian parsley, sliced, lightly sautéed garlic, salt, and freshly ground pepper or tossed with traditional tomato based pasta sauce or a creamy cheese sauce such as Alfredo. Basil-based pesto sauces are tasty tossed with thin, strand pastas such as angel hair, cappellini, and vermicelli.