All You Knead to Know About Perfect Pierogies!
Poland has added many wonderful things to the world -- from Chopin's music to the work of Madam Curie, but there is one that universally brings joy to all: pierogies! Pierogies are dumplings made of unleavened dough and stuffed with your selection of savory or sweet mixtures, though they are most commonly filled with potatoes. One might think the proof is in the stuffing, but it's really how you prepare the dough.
Take a Krakow These Pierogi Tips!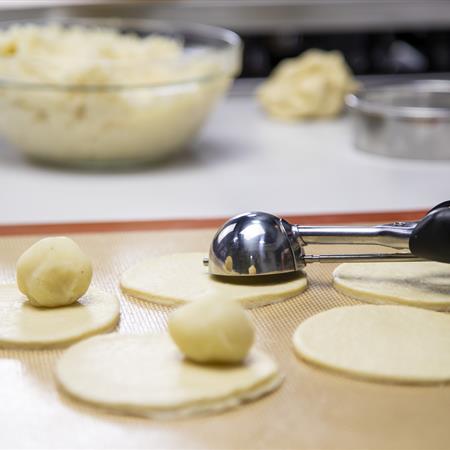 1. When making Pierogies, it's first important that you prepare the filling -- whether it be a sweet or savory one. This is vital since the dough, once ready, is delicate and will need to move quickly. Having pre-made filling allows for their immediate addition to the pot once filled and folded.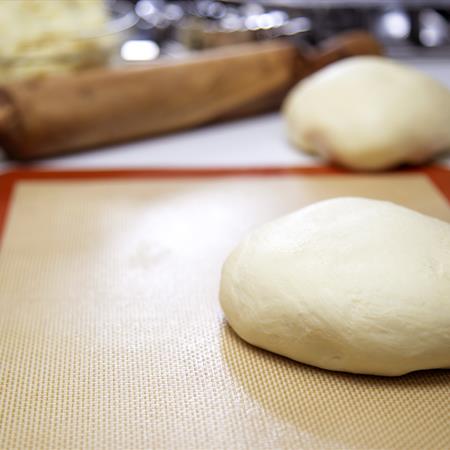 2. Keep it consistent. Consistency in pierogi dough is important for the outcome of a perfect pierogi. If it's too thin, your pierogies will cook apart during the boil. But, if the dough's too thick, the dumpling won't cook through. So, to achieve the perfect dough, beware of how it's reacting as you roll it out. It's a fairly forgiving dough, so if it's too sticky, add more flour, but if it's too dry, introduce warm water in small increments.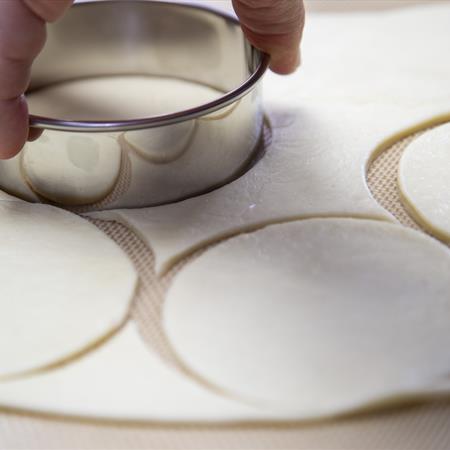 3. To create the perfect pierogi half-moon shape, no special tools are needed. Simply take a drinking glass and press it into your dough. This gives you a decent sized pierogi and a uniform shape for the whole batch!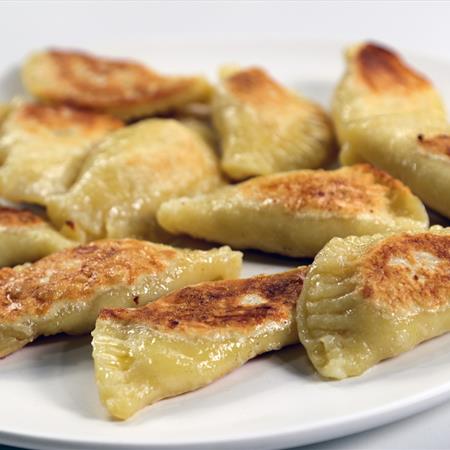 4. Once in the desired shape and filled, it's time to place them in the pot. In this part, you must correctly place each pierogi in and only add a few at a time to give each its proper cook time and space to breathe. The dumplings will rise to the top and float once they have cooked through.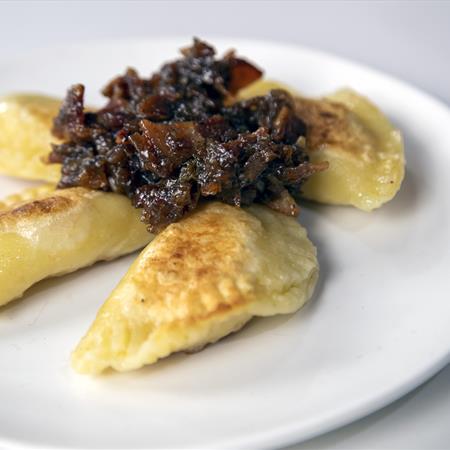 5. If you'd like to polish off this dish in a non-traditional way, try heating a pan, adding oil and onions to saute your newly boiled dumplings. This adds a crispy and tasty edge to an already delicious recipe! Or, for the ultimate indulgence, add a dollop of our sweet-and-savory bacon jam." Taste buds will sing. Get the BigOven Kitchen-approved recipe below.
Homemade Pierogies with Bacon Jam