How to Make the Perfect Crunchwrap at Home
The crunchwrap, made famous by Taco Bell, is a delicious handheld creation made by taking a flour tortilla and filling it with all sorts of goodies like seasoned ground beef, creamy cheese sauce, lettuce and tomato, and a crispy tostada shell. People love it because you get that crunch from the tostada but without the mess of crumbs that inevitably comes with eating a hard taco. It's the best of both worlds if you ask us!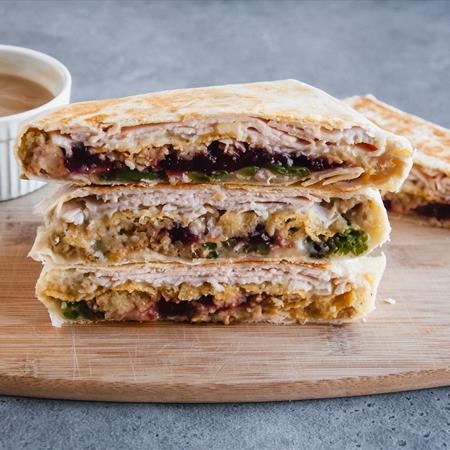 Here at Big Oven, we love a good copycat recipe with a creative spin. So, we took the idea of a crunchwrap and developed a recipe that incorporates all the flavors of Thanksgiving dinner. So, instead of making a typical Mexican-inspired crunchwrap, you can make use of your Thanksgiving leftovers in a fun and delicious way. But, whatever kind of crunchwrap you want to make, these tips and tricks will still help you out.
How to Prep the Ingredients
1. Warm Up Your Fillings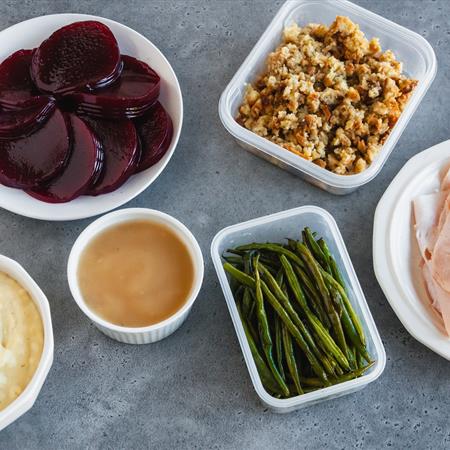 When making crunchwraps, you'll want to heat up all the individual fillings that you want warm when you eat it. For example, there's no need to heat up the lettuce and tomato or the tostadas. And, in the case of our Thanksgiving Crunchwrap, you can leave the cranberry sauce cold.
However, ingredients that you want warm like the turkey, mashed potatoes, green beans, etc., should be reheated prior to forming the crunchwraps. The fillings don't need to be hot necessarily, but they should be warm or at least room temp. That way, you don't need to worry so much about heating everything through and can focus just on the golden-brown color of the exterior.
2. Use Freshly Grated Cheese
If possible, we recommend grating the cheese yourself rather than using pre-grated cheese. The reason for this is that pre-grated cheese contains anti-caking agents. They are there to keep the cheese from clumping up, but they also affect its ability to melt smoothly.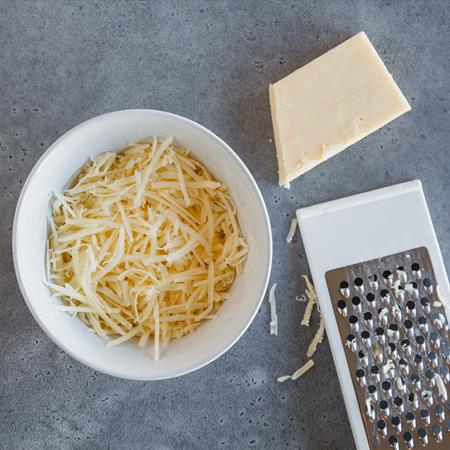 When you go to assemble the crunchwraps, we instruct you to put the cheese on the very top layer. After you fold the crunchwrap, you'll add it to the pan seam side down to hold it together. So, this way the cheese layer will be closer to the direct heat of the stovetop so it's sure to be melty when you bite into it.
3. Don't Forget the Crunch
The tostada is what makes the crunchwrap! If you can't find tostadas, you can use something similar to get that crunchy texture. For instance, corn tortilla chips are a perfect substitute for corn tostadas since they are pretty much the same thing just in a different shape.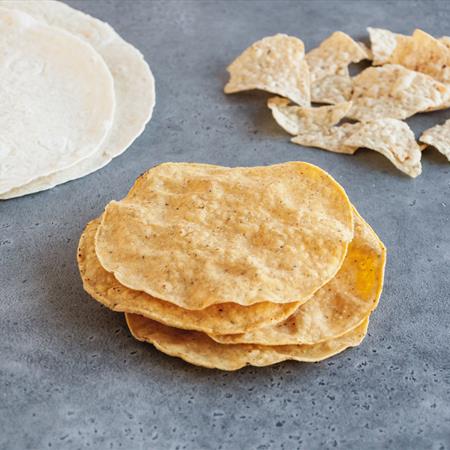 4. Serve with a Dipping Sauce
Crunchwraps are the perfect vessel for a dipping sauce, so we always like to serve them with a sauce that complements the flavors of the filling. In this case, we use warm gravy for dipping. A cranberry aioli would also be a good option! For Mexican crunchwraps, we prefer to serve them with an array of salsas, queso, and sour cream.
How to Fill & Fold Crunchwraps
Assembling a crunchwrap is not as difficult as one might think! The basic method is to place the fillings in the center of the tortilla, then fold the tortilla in on itself, creating pleats around the center. They actually sell specialty tortillas now that are shaped specifically for making crunch wraps, with four parts protruding out from the center to use as the overlapping folds. However, you can use any large burrito-style flour tortilla to make a crunchwrap. Using this folding technique, it will have the same effect.
One thing that helps make the tortillas more pliable is warming them by lightly steaming them. When the tortillas are more pliable, they are less likely to tear and create a mess. You can do this using a steamer setup if you have one large enough to accommodate large tortillas, but it's easy to do in the microwave as well. Simply wrap a small stack of tortillas between dampened paper towels and microwave for about 20 seconds.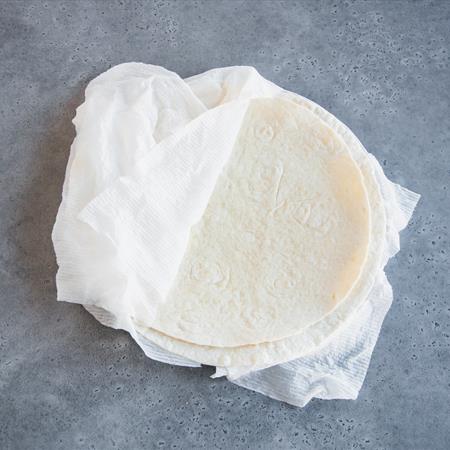 Now this part is difficult—try your best not to overstuff the crunchwraps. The ratio is important to the final outcome and it will get harder to fold and flip the more fillings you add. If you do happen to overstuff slightly and have trouble folding it, you can place another piece of tortilla on top of the cheese and fillings. This way, when you go to fold it, if the sides don't completely overlap it's okay—the filling will still be contained.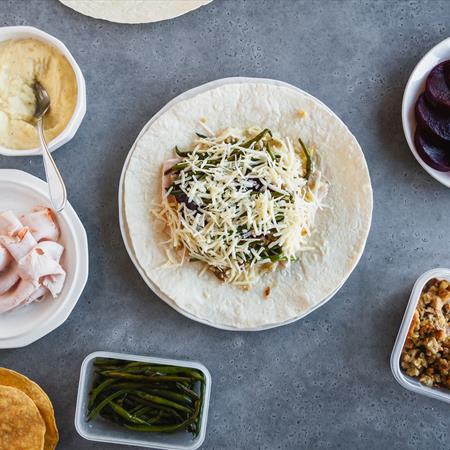 After you've filled and folded your crunchwrap, you'll have to quickly invert it pleat-side down onto a greased nonstick pan, and then be patient. You don't want to move the crunchwrap at this point until the bottom is well browned and set in place so the fillings don't spill out when you go to flip it. Then, continue to cook until it's browned on both sides, and serve warm.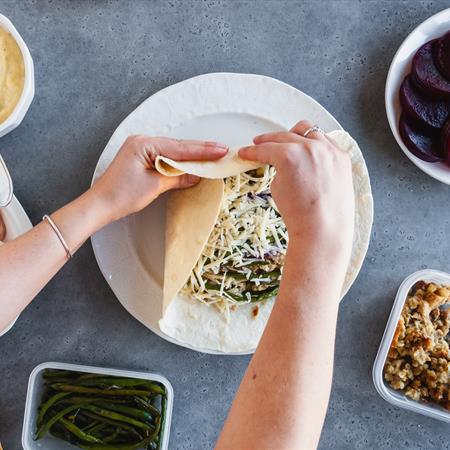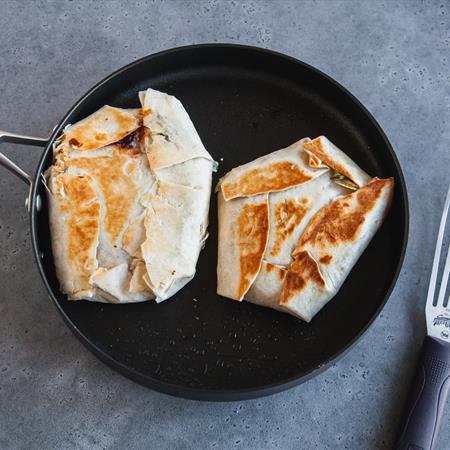 Variations
Now that you have the basic knowledge of what a crunchwrap is and how to assemble it, you can use your imagination to create a bunch of different types of crunchwraps. Aim for nutritional balance – try to include a protein, cheese or dairy component, and a couple of different vegetables. We try to include a variety of color and textures in the fillings.
After you try out the Leftover Thanksgiving Crunchwrap, use these same tips to try a more traditional Mexican style crunchwrap with your choice of meat, beans, salsa, peppers and onions. Then, try looking to your favorite sandwiches for inspiration. Reubens, Cubans, and club sandwiches would all make excellent contenders to be turned into crunchwraps.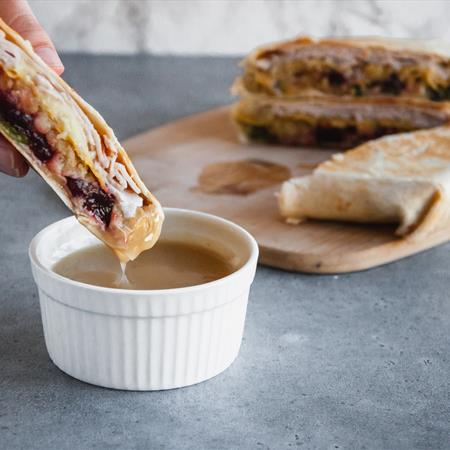 This crunchwrap recipe is the best kind of recipe that isn't really a recipe at all! You don't really need exact ingredients or amounts to make this recipe work. Tailor it to your preferences, use whatever ingredients you have on hand, and have fun with it!
Watch the BigOven Kitchen's version of
Thanksgiving Crunchwrap Supreme