Marjoram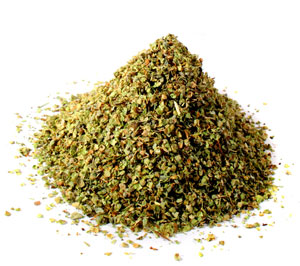 Use marjoram in savory dishes. It pairs well with other herbs, including the famed Herbes de Provence.

Marjoram is a delicate
herb
that is a frequent companion to
basil
,
garlic
, and
thyme
. It is used more in savory dishes, as it does not pair as well with many sweets. Historically, it has been a widespread plant used for cooking in the and surrounding regions.
Varieties
The name marjoram can be a bit confusing. It is a member of the mint family and in the genus Origanum. It is also known as sweet marjoram (O. majorana or Majorana hortensis). "Wild" marjoram is actually oregano. These two have distinctively different flavors, but are similar in appearance.
This species is also called "knotted" marjoram. Other varieties may be called "pot" (Sicilian or hardy) marjoram, and Greek (winter) marjoram.
Buying Tips
Avoid plants with wilted stems and leaves or those with yellowed or drying leaf edges. Fresh bunches may be difficult to find in produce sections, but marjoram is an easy-to-grow herb. Provide plenty of sun and moist soil. Keep indoors for year-round use.
Storage Tips
Refrigerate in a sealed plastic bag along with a wet paper towel for best results. Freeze fresh leaves for later use. Remove the stems and chop if desired.
Dried marjoram can be stored for several months. Keep in an airtight jar away from heat and light.
Usage Tips
• Marjoram is a great additive for marinades or dry rubs. The crushed leaves release antioxidants, which retard bacterial growth.
• Add finely chopped leaves to olive oil for salad or mix with butter for an aromatic spread.
• Marjoram enhances tomato-based sauces as well as soups and stews.
• Season pasta dishes with a sprinkling of marjoram just before serving.
• Do not let fresh marjoram heat for long, as the flavor will be destroyed.
Substitution Tips
• Thyme, summer savory, or basil
• Oregano, if used in lesser quantity


Try one of our favorite marjoram recipes:
Marinated Cucumbers
Cheesy Spaghetti Squash
Beef Barley Stew

Suggested Pairings

Beans, cheese, cottage cheese, eggs, pasta, pork, poultry, seafood, tomatoes, veal, vegetables