Marsala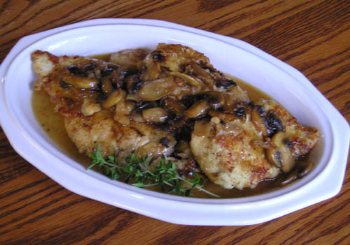 The most popular Marsala recipe is Chicken Marsala—flour-coated breast halves braised in wine, olive oil, mushrooms and spices.
Made from Sicilian grapes, Marsala is a famous Italian wine fortified with brandy to convert the sugar into a higher alcohol content. Rich and smoky in flavor, it's produced in secco (dry), semisecco (semisweet) and dolce (sweet) styles. The dry variety is often served as an aperitif or used to flavor poultry, meat and vegetable dishes, while semisweet and sweet Marsalas are best served with dessert.
Varieties
Marsala is available in different hues depending on the type of grapes used to produce it. Marsalas oro (gold) and ambra (amber) are made with white grape varietals such as Grillo, Catarrato, Inzolia and Domaschino. Marsala rubino (ruby) is made from darker-skinned grapes such as Pignatello, Calabrese, Nerello Mascalese or Nero d'Avola.

Marsala Speciali (also called Cremevo) is a flavored wine made with 80% Marsala plus other ingredients like eggs or coffee.
Grades
Marsala is graded according to its quality level and time it has been aged:

Fine (the lowest level)—at least 17% alcohol and 1 year wood aging.

Superiore—at least 18% alcohol and 2 years wood aging.

Superiore Riserva (also Giaribaldi Dolce-GD, London Particular-LP, or Superior Old Marsala-SOM)—at least 4 years wood aging.

Vergine (the highest quality)—at least 5 years wood aging. Vergine stravechhio or riserva must be aged a minimum of 10 years.
Buying Tips
Beware of commercial "Marsala Cooking Wines" sold in your supermarket's condiment aisle—they're less expensive for a reason. Made with thin, cheap base wines, food coloring and loads of salt, they're unpalatable as a beverage. And that breaks our cooking with wine rule of thumb: never cook with a wine you wouldn't be happy to drink.
Usage Tips
• Offer Marsala as an aperitif between the first and second courses of a meal.

• Serve chilled along with Parmesan, Roquefort, Gorgonzola or other spicy cheeses.

• Add to your risotto recipe or make a Marsala sauce for your chicken breast or veal.

• Whip up a traditional Italian zabaglione custard for dessert.
Substitution Tips
Amontillado sherry can be used in place of dry Marsala in most recipes.


Try one of our favorite marsala recipes:
BJ's Chicken Marsala