Nonreactive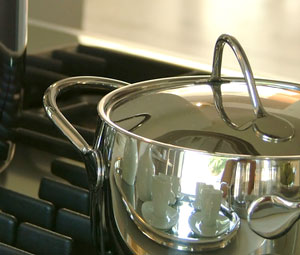 Stainless steel is the most popular type of nonreactive cookware, but many other materials will serve a wide range of cooking styles and needs.
The term nonreactive means the cookware you are using will prevent negative interaction with the food inside. Specifically, cast iron, unlined copper, and aluminum react with some foods to increase the leaching of metals that will affect the taste.
Acidic, alkaline, and sulfurous foods will be affected or damaged – in color and/or flavor – unless they are prepared in an appropriate container.
Nonreactive cookware choices are unlimited and suited to any budget. That is not to say you have to pitch that favorite cast iron skillet. It still has great uses, too - just not with certain foods.
Varieties:
• Enameled Cast Iron – as long as it is in pristine shape (no chipping), this cookware is a terrific heat conductor. Like typical cast iron, however, it takes longer to reach the desired temperature. It's also versatile: you can take it from stovetop to oven and even create sauces or gravies after the poultry or meat is removed.
• Stainless Steel – safe to use for all foods and one of the most popular selections on the market. It conducts heat poorly unless combined with other materials.
• Clad Cookware/Anodized Aluminum – with an aluminum core, these products are excellent heat conductors and safe to use for all foods. They also boast superior nonstick properties.
• Glass and Ceramics – avoid older products, or those purchased outside the . They may contain lead or cadmium.

• Nonstick (Teflon-style) – more professional chefs are including a few pieces for fish and other delicate foods. Low-end products should not be used over prolonged high heat.
• Bamboo – a natural and sustainable resource, especially for steamers. Does not react with foods when used for its intended purpose.
Buying Tips
You may want to own a range of nonreactive cookware to meet everyday needs. Be careful when choosing sets; it's easy to end up with pots or pans that are never used.
A nonstick skillet or pot is great for egg dishes, but view lower-priced products as throwaway items. Toss it at the first sign of cracking, nicking, or peeling. In the high end, nonstick coatings promise to be usable with metal utensils.
When purchasing stainless steel, be sure that the bottom incorporates aluminum or copper for increased heat distribution. Choose products with cool-touch handles.
Heavier-gauge cookware will last longer, hold heat