Okra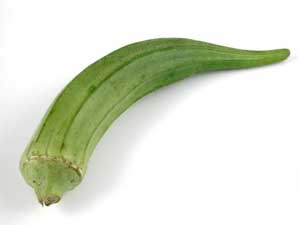 Okra is that interesting green vegetable with fuzz and an interior gel. It pairs well with any tomato-based dish, especially when stewed, but can accompany a range of recipes.

Okra has long been a popular vegetable in the Southern U.S., , the Caribbean, and Middle Eastern countries. It's identified most often as a fuzzy pod with edible seeds that when cut contains a glutinous – or slimy - substance. It is this "gel" that acts as a thickener in such dishes as
gumbo
,
Brunswick stew
, and
pilaus
. Okra is also delicious
fried
,
steamed
, or pickled.
In some regions, okra is known as "lady's fingers," "bindi," or "gumbo."
Buying Tips
Look for younger okra that is no longer than 3-4 inches. Larger, mature pods are extremely tough. Younger pods will also contain less gel. Skin should be medium to bright green with no black spotting.
For year-round use, purchase okra canned or frozen.
Storage Tips
Refrigerate in an open plastic or paper bag for 2-3 days. It has a short shelf life, regardless of freshness.
Okra freezes well, but blanching (2-4 minutes in small quantities) is recommended or the pods may become tough and discolored. For later frying, skip the blanching. Slice and coat in cornmeal.
Usage Tips
• The gel in okra is virtually unavoidable. Searing or steaming the pods before slicing may help.
• When cooked in metal pots, okra can turn gray or even black. It is not a harmful change, but not very appetizing. Use porcelain or heatproof glass.
• Okra pairs especially well with tomatoes and eggplant.
• When cooking whole, remove the stem, but do not cut into the seedbed. As it cooks, the pod will become soft and tender.
• Cornmeal is the preferred coating for frying, although flour works well.
• One pound will yield about two cups of sliced okra.
• When using canned or frozen okra, let thaw or dry on paper towels to remove excess moisture.

Try one of our favorite okra recipes:
Cocktail Okra
Coo-Coo
Spicy Black Bean Soup