Oyster Sauce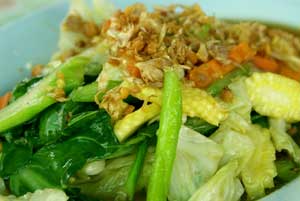 Oyster sauce is a non-fishy condiment and seasoning that is mild in taste and will not overpower most recipes.

Oyster sauce is widely used in Southern Chinese cuisine, specifically in Cantonese recipes. It is not as popular as soy sauce throughout the rest of .

To make the sauce, oysters are boiled, removed, dried, and sold separately. The remaining liquid is then reduced, often with the addition of cornstarch. The thick liquid is darkened with caramel, which makes it a good companion for stir-fried meats, poultry, and vegetables. There is no "fishy" taste or smell.
Varieties and Buying Tips

• Commercial sauces are produced in (including Hong Kong), , and .
• Better brands are well worth the price for quality taste and a higher level of oyster extract. The most economical products will have less oyster reduction and more salt (or MSG), cornstarch, and water. Protein content will reflect the amount of oyster liquid used. A few products contain no MSG.
• Vegetarian sauces are available, typically substituting mushrooms for oysters.
Storage Tips
• An opened bottle, if refrigerated, will last many months.
• Oyster sauce does not freeze well.
Usage Tips
• Combine with olive oil to make a salad dressing or dipping sauce.
• Oyster sauce makes an excellent marinade or seasoning for all seafood.
• Add to vegetable stir-fries.

Try one of our favorite oyster sauce recipes:
Beef Kwangton
Sweet and Sour Pork
Chengtu Chicken-Szechuan