Pizza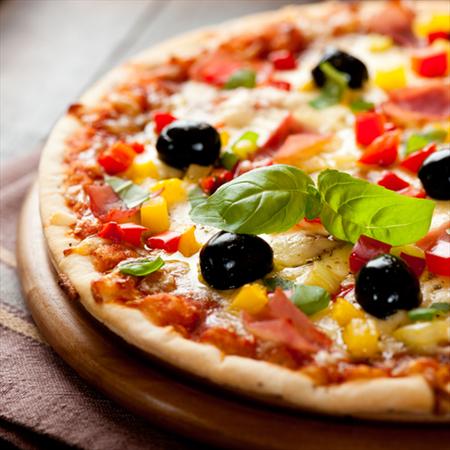 Pizza has come a long way in the past decade, rising from simple cheese topped bread to a gourmet entrée crowned with seafood, roasted vegetables, soft cheeses, and freshly chopped herbs. Crusts for every taste abound, including cracker-thin and crisp, chewy and bubbly, and ones so thick they defy the New York tradition of folding the pie wedge in half before taking the first bite.
Whether you yearn for traditional pizza toppings such as pepperoni and mushroom or crave exotic combinations popularized by chefs such as Wolfgang Puck, making pizza at home is easier than you think and so delectable you will be imagining new flavor combinations before you finish the pie in front of you. From the crust to the toppings, flavorings, and baking methods, pizza is a designer food limited only by your imagination.
Dough – The Rising Star
Although pizza dough is sometimes regarded as little more than an edible plate to hold the bounty on top, with a few embellishments and a bit of patience, it can be elevated to levels that elicit as many compliments as the toppings. Whether you like crust thin enough to see light through, thick, chewy types that give your jaws a workout in every bite, or the kind that provides just enough mouth-resistance to eat it like a delicate hors d'oeuvre, all crusts start with four basic ingredients: flour, yeast, water, and oil. You can spike the crust with fresh or dried herbs, grated cheese, or finely minced enhancements like garlic, peppers, or onions for extra flavor.
Thin, Crisp Crust
For optimum thinness and crunch, mix the dough ingredients by hand or with a stand mixer until you can still see a little bit of flour in the bowl. Let the dough rise for 5 or 6 hours and roll it or stretch it as thinly as possible in the pan. Top and bake it immediately to keep it from rising again and getting thicker.
Chewy, Thin Crust
The secret to this crust is using high gluten flour that produces dough that can withstand kneading and retains its chewy texture when baked. Overworking dough made with regular or bread flour produces a tough crust you have to fight to eat and the toppings end up on the plate or in your lap.
Thick Crust
High gluten flour is best for thick crusts too, as its high protein gives its rise extra body that won't deflate under the weight of toppings. Thick crust pizza is best made in a conventional round pizza pan or on a rimmed baking sheet to support its sturdy, breadstick-like edges.
Deep-Dish Crust
Some would argue if this is actually a "crust" or if this dish even qualifies as a "real" pizza. With origins in Chicago, the cornmeal-laden dough is pressed into the bottom and up the sides of a special deep-dish pizza pan for the second rise and then layered with thick tiers of cheese, canned tomatoes, and meat, along with small amounts of seasonings and optional vegetables.
Tremendous Toppings
Here's where pizza making really gets fun and gives you the opportunity to "own" it. You can stick with traditional toppings to satisfy childhood cravings or please guests with conventional pizza tastes…or you can wander the aisles of the meat, seafood, cheese, and vegetable sections at the supermarket and create a masterpiece worthy of your culinary signature.
Typical Toppings
Many pizza doughs are first spread with a layer of tomato-based pizza or pasta sauce. Italian sausage, pepperoni, and salami are customary pizza meats, often mixed with mushrooms, bell peppers, onions, and garlic.