Sangria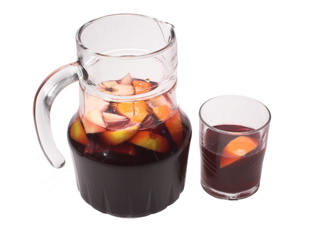 This chilled red wine punch gets its name from the Spanish word sangre, meaning "blood." Modern sangria recipes are made with white and sparkling wines, too.
The name of this refreshing, deep claret colored punch is derived from the Spanish word sangre, meaning "blood." It is traditionally made with red wine, fruit, juice, soda water and sometimes a spirit such as brandy or cognac.
Varieties
More modern sangria recipes include versions made with
white wine
(sangria blanco), exotic fruits and liqueurs such as
Triple Sec
, Grand Marnier or tequila. It can be made in just about any style imaginable, and depending on the mixer, it can be mild to spicy or light and bubbly to rich.
Supermarkets and liquor stores also carry bottled sangria; look for it in the wine section. While convenient, these premixed products often lack the fresh fruit flavor and creativity of a sangria pitcher mixed at home.
History
Known across Europe for hundreds of years, sangria was originally made in Spain with Rioja and other Spanish red wines. In the 1700s and 1800s, a version was made with claret (red wine from Bordeaux), brandy and fruit. Known as Claret Cup Punch, the drink was especially popular at parties.

Sangria was broadly introduced to the U.S. at the 1964 World's Fair in New York. The Spanish area served the wine punch to its visitors and it's been a popular drink around the world ever since.

Mixing Tips
• Use a good quality wine and let it chill in the refrigerator overnight.
• Use an authentic Spanish Rioja as your base, or be more adventurous and try a sparkling white. Just start with something you like.
Serving Tips
Though the recipes may change, one thing remains the same: sangria is always served chilled over ice.
What a great way to enjoy your favorite wine in the warmer summer months. Pair sangria with Mexican foods
and
appetizers like calamari, spicy meatballs, fried shrimp. It's also great for sipping with bites of Spanish cheeses and olives (think manchego and manzanillos—delicious)!
Try one of our favorite sangria recipes:
Fiesta Sangria
White Wine Sangria Cooler