Sesame Seed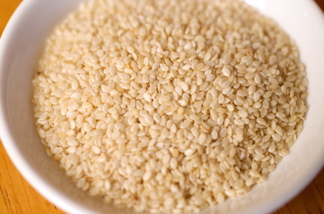 "Open sesame," the famous magic password in "Ali Baba and the Forty Thieves," refers to how sesame seeds quickly burst open from their pods when ripe.

Sesame is the dried, oval-shaped, flat seed of the herb
Sesamum Indicum
. Commonly used in breads, rolls, crackers and salad dressings, sesame has a sweet, nutty aroma and a buttery taste.
When toasted, sesame intensifies to an almost almond or peanut butter-like flavor. It's a key ingredient in a variety of world cuisines, including specialty dishes from
Asia
, the Middle East and the Mediterranean.
History
Thought to be one of the oldest spices known to man, sesame is the first recorded seasoning, dating back to 3000 B.C. Assyria. It was cultivated in Mesopotamia, popular in Greek and Roman cuisine, and eventually brought to the Americas as part of the slave trade. The Africans called it
benne seed
and it subsequently became very popular in Southern cooking.
Varieties and Buying Tips
Sesame seed can be found in the spice aisle at the supermarket and also at natural food stores and Middle Eastern markets, where it's often sold in bulk. The most common variety is a pale, grayish-ivory color, but it also comes in shades of brown, red and black. A favorite of Japanese cooks, black sesame is the most aromatic, with a hearty, slightly bitter flavor.
Storage Tips
All seeds have a relatively high oil content, so they turn rancid quickly. Store your sesame seeds in an airtight container in a cool, dark place for up to three months. Refrigerated, they will keep for up to six months. Sesame seeds can also be frozen up to one year.
Usage Tips
• Add sesame seeds to bread, muffin or cookie batters.
• Sprinkle on steamed broccoli or creamed spinach.
• Toss with buttered noodles.
• Add to
bread crumbs
for coating
chicken
or
pork
.
• Sprinkle over
beef
, chicken or vegetable stir fries.
• Sprinkle on refrigerated biscuits before baking for a homemade touch.
• Mix with
butter
or
mayonnaise
and spread onto sandwiches.
• Enhance the flavor of sesame seeds by toasting them in a dry skillet over medium heat. Stir frequently until they turn golden brown (about five minutes).
Nutrition Notes
Sesame seeds are a good source of
protein
,
manganese
,
copper
,
calcium
, magnesium,
iron
, phosphorous, vitamin B1, zinc and
fiber
.

Try one of our favorite sesame seed recipes:
Sesame Scallops
Steve's Chicken Stir Fry
French Beans with Sesame Dressing


Pairing Suggestions
asparagus, beef, breads, broccoli, chicken, eggplant, fish, green beans, greens, lamb, mushrooms, oranges,