Usher in Fall with These Sheet Pan Maple-Pecan Glazed Pork Chops with Apple
As the fall season approaches and visions of pumpkin spice dance in everyone's heads, we have a different autumnal entree on our minds. This glazed pork chop dish has all the flavors of fall. Cinnamon, nutmeg, maple syrup, and apples all come together in perfect harmony to comfort you on the cooler days ahead.
Cooking pork chops is easier than ever when you're equipped with a sheet pan and an army of delicious ingredients. This succulent pork chop recipe will soon become your new fall favorite.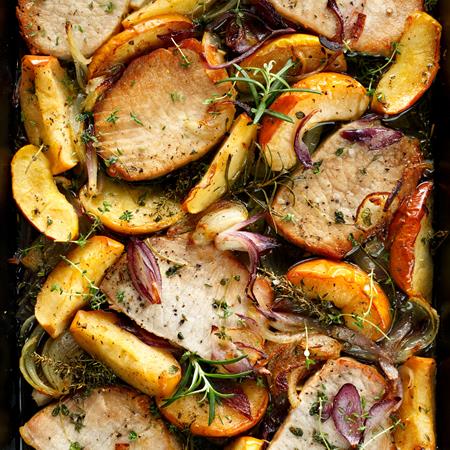 Glazed and Confused
There is nothing confusing about making this gourmet glaze. It's your guests who will be bewildered by its incredible taste. This well-balanced glaze is sweet and savory, with a mild tang from the balsamic vinegar. It effortlessly coats every inch of this easy sheet pan meal and makes this dish that much more mouth-watering.
Let's talk about spices! If you want to really spice things up in the kitchen, grinding your own spices versus buying pre-ground makes a world of difference. The aroma of freshly ground cinnamon and nutmeg is unmatched. Whole spices will last longer and can be easily blended in a small coffee or spice grinder. Understandably, most use pre-ground spices which are perfectly acceptable. Already ground spices should be used within a two to three month period and stored in a cool, dry place to make sure they maintain their potency.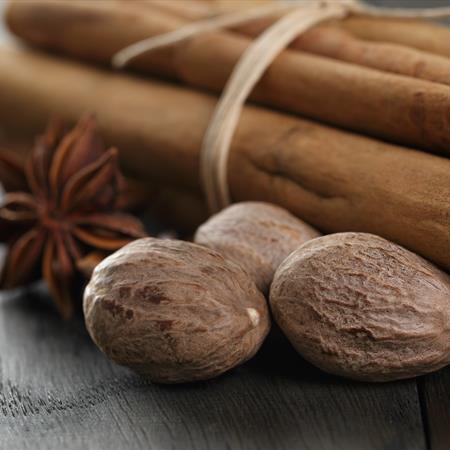 The glaze candies the pecans in such a way that makes them irresistible and the perfect finishing touch to the cooked pork chops. You'll find these surgery nuts to be a hot commodity and might want to consider doubling the recipe. They not only complete this dish, but they also work beautifully in salads, ice cream sundaes, and on their own as a sweet snack.
Nothing says fall quite like apples. Pork and apples are a classic pairing that you can never go wrong with. Granny Smith is the apple of choice for this recipe, and it balances out this flavor-packed dish beautifully. They are the perfect apples for baking and their firm crisp texture and tart taste marry with the pork chops extremely well.
Making the Cut
Pork chops are cut from the loin of the pig. There are a couple of options out there when choosing your perfect pork chop. Depending on where on the loin the meat is cut determines which kind of chop will result. Some of the more common chops include the center-cut rib chop that comes from the rib end of the loin, the sirloin chop that comes from the leg end, and then there are the prized loin chops that contain a small portion of tenderloin.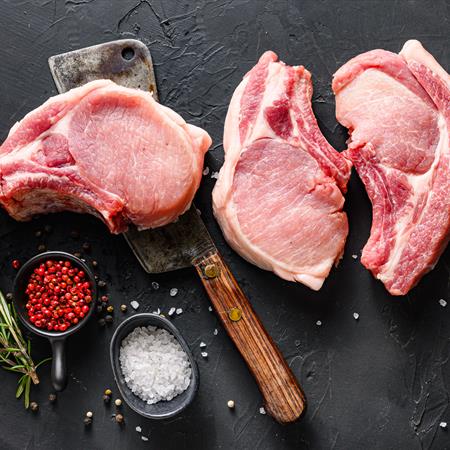 When choosing your chops look for ones that are solid pink in color and void of any white streaks running through them. The presents of those streaks signify connective tissue which can become tough and unpleasant when cooked.
While it's not typical for home cooks to cut their own meat, it can save a considerable amount of money in the end. A whole pork loin will be cheaper per pound than already cut chops. Some other added benefits to trimming the meat yourself are all the things you can do with the scraps. You can make stocks and sauces and overall just utilize every part of the animal. So if you're feeling adventurous, by all means, roll up your sleeves and have at it.
How to Cook Pork
Cooking pork chops is a relatively delicate process. It's a very lean cut of meat that cooks quickly and therefore is prone to overcooking and dryness. However, cooking pork doesn't need to be an intimidating process. It's important to trust your instincts as well as a thermometer in order to obtain the perfect result. When using a thermometer, the internal temperature of the pork chops should read 145 ºF. According to USDA guidelines, this is the recommended cooking temperature that will yield a safe, tender, and juicy chop. Keep in mind the thickness of your pork chops will determine if more or less cooking time is required.
Once you hit that perfect temperature, it's always crucial to let your meat rest before cutting and serving it. There is something called carryover cooking that takes place even when the food is removed from the heat source. That residual heat causes the food to continue cooking while it's resting. The critical resting time allows for the juices inside the meat to redistribute so when you slice into it they don't all seep out and leave the meat dry. Resting the meat is just as important as achieving the proper cooking temperature to ensure the best outcome.
Seasoning your chops is an extremely important step to enhancing the overall flavor of the meat. So don't be shy here! While salt and pepper are often considered the most fundamental of all the spices, they have the opportunity to bring out the best flavor in the food when added prior to cooking. If you were to add these seasonings after the meat was cooked it wouldn't absorb properly and the result would be an overwhelmingly unpleasant salt and pepper flavor. It's also key to apply the salt and pepper separately. This will allow you the most control and the ability to apply an even coating across the meat.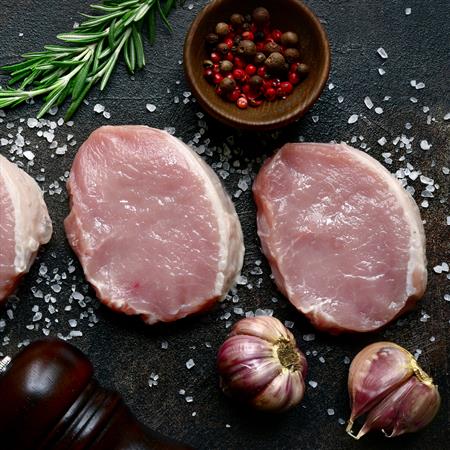 Cooking Tips
Toasting the pecans brings out their oils and simultaneously their rich flavor. The toasting process happens very quickly, so it's important that you watch the nuts carefully as they can burn in a heartbeat.
If you're looking to get creative and take some liberties with this recipe, consider brining the pork chops for the juiciest result. Whenever you're working with lean meat such as pork or poultry, brining can be a great way to ensure the meat stays juicy and flavorful. Some of the simplest brines combine salt, water, and sugar, but the sky's the limit to what other spices and seasonings you wish to add. The meat absorbs the liquid and spices of the brine to make it juicy and well seasoned throughout.
A Simple and Easy Orginal Recipe from BigOven Kitchen
Sheet Pan Maple-Pecan Glazed Pork Chops with Apples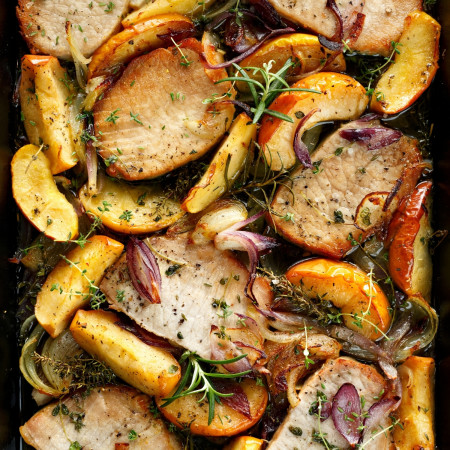 Consider completing this meal with some sides to match the season. Roasted sweet potatoes or Brussel sprouts would make great accompaniments to this dish.
Recommended Side from the BigOven Kitchen
Crispy Smashed Brussels