Spring-inspired Pesto Pasta and How to Make It
Spring-inspired pesto pasta is the perfect entrée or side dish to add to your menu for backyard barbecues and picnic lunches. Even if you aren't dining al fresco, this pasta recipe is versatile and can be enjoyed as a satisfying lunch, dinner, or side dish any time of year.
We recommend using in-season produce to bulk up the vegetable content of this springtime recipe. Asparagus, leeks, and peas peak in spring months, which means they can usually be found in abundance at reasonable prices and are loaded with flavor at this time of year. The vegetables are good sources of several vitamins, minerals, and fiber. They also add extra green color and texture to this refreshing recipe!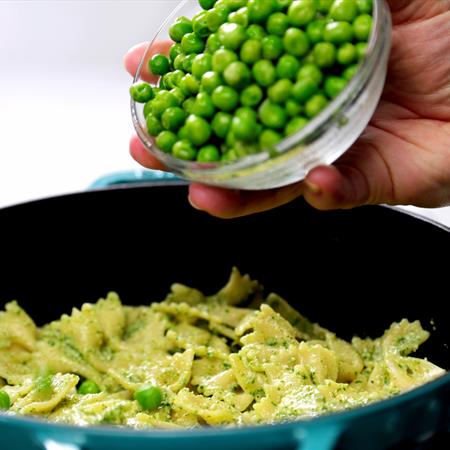 If you can't find fresh asparagus, leeks, or peas or they aren't in season, you can often find them in the freezer aisle. Or, try swapping other vegetables like broccoli for the asparagus and shallots, onion, or scallions for the leeks.
How to Clean Fresh Leeks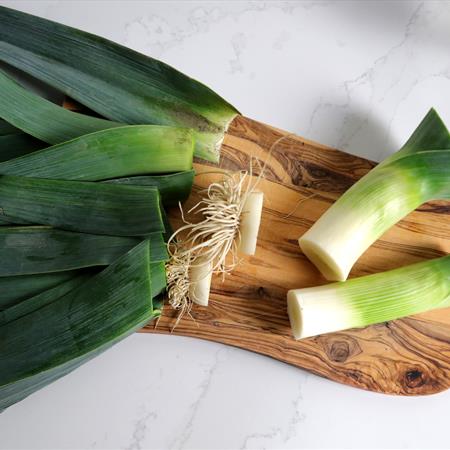 Fresh leeks need to be cleaned before you can cook with them. The soil and sand they're grown in tends to accumulate between the layers. Luckily, it's a simple process. To clean fresh leeks, begin by rinsing them under cool water. Then, cut off the root end and several inches of the dark green leafy tops and discard. Slice the remaining leek in half lengthwise, then chop each half crosswise into small pieces, similar to how you'd slice a carrot or stalk of celery.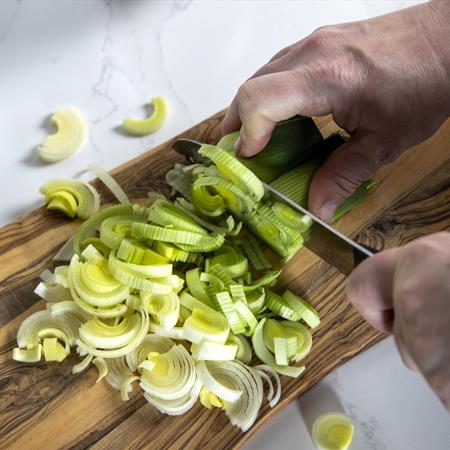 Place the chopped leeks into a bowl of cold water and stir the leeks to help remove trapped dirt. The dirt will float to the bottom of the bowl.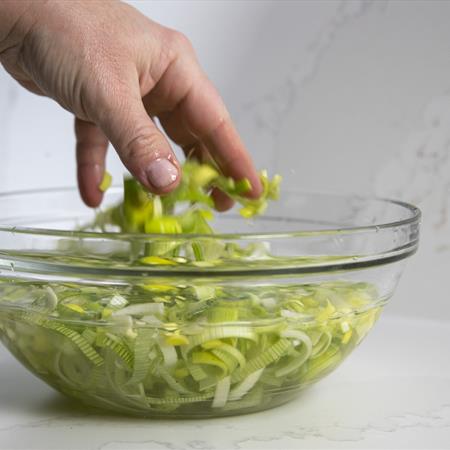 Use a slotted spoon to transfer the leeks from the dirty water to a colander. Rinse again with cool water and then the leeks are ready to cook with.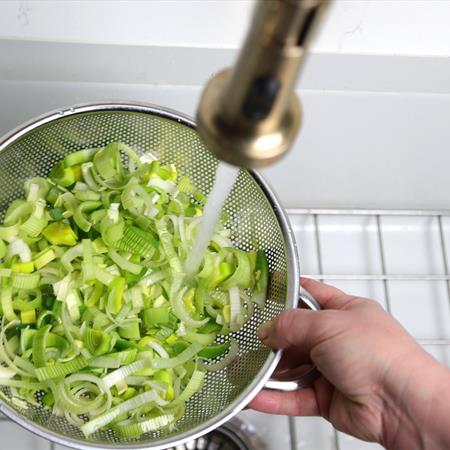 Perfecting Pesto
Pesto sauce is loaded with antioxidants from greens and garlic and heart-healthy polyunsaturated fats from nuts and extra-virgin olive oil. Making your own pesto is an easy way to use up fresh herbs and leafy greens that are starting to wilt. It's also one of the easiest recipes to adapt to whatever ingredients you may already have on hand.
Traditionally, pesto is made with fresh basil and pine nuts, but adding extra greens like spinach gives the sauce a more vibrant green color and a little more fiber. Plus, it's an easy way to add extra vegetables. We used walnuts in our Pesto Pasta with Spring Vegetables recipe, but you can also try almonds, pecans, or pistachios.
You can also make pesto with any other leafy greens you have on hand -- like kale, Swiss chard, or arugula. You're also not restricted to making pesto with just basil, either. Try making pesto with fresh cilantro or parsley for a variety of flavor combinations.
Lemon juice helps preserve the green vibrancy of the pesto sauce while the acid helps cut through some of the richness of the olive oil and saltiness of the Parmesan cheese. If you prefer a bit of spice, you can also add a pinch of red pepper flakes to the pesto sauce as well. Pesto sauce can be made ahead of time and stored in the refrigerator for two to three days, or even frozen into ice cube trays and dropped into soups and stews for added flavor during colder months. Just be aware some of the flavors may mellow the longer it's stored.
Once you have the pesto made, don't worry if you sneak a taste and the sauce seems too strong. On its own, pesto can be overpowering but it's going to be tossed on a full pound of pasta.
Pasta + Pesto = Perfection
For pesto, we recommend bow tie noodles, also called Farfalle, it is the perfect pasta shape for capturing thicker sauces like pesto. They offer more surface area than long, thin noodles, like spaghetti, which is ideal for "holding" the ricotta cheese and pesto sauce for maximum flavor in each bite. Plus, the shape adds visual interest and the smaller size is easy for children to enjoy.
The pasta is tossed in the residual warmth of the pan with the bright vegetables, creamy ricotta cheese, and tangy pesto to help cut down on dishes while also enabling the ricotta cheese to become fully integrated into the sauce.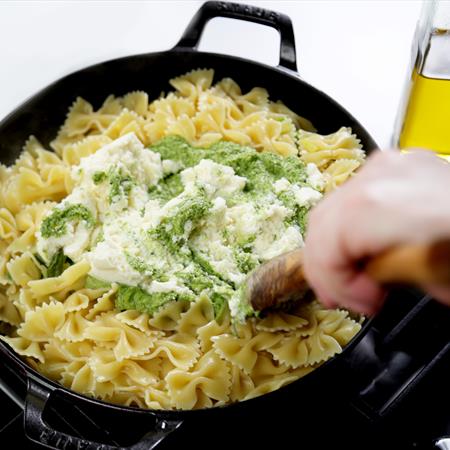 Pesto pasta recipes are quite versatile and make excellent leftovers. They can be served warm, at room temperature, or chilled as a cold pasta salad. A spring-inspired vegetable pesto pasta can work as a vegetarian-friendly entrée or it can be paired with grilled chicken or steak as a side dish. However you dish up this pasta, we recommend serving it with a generous sprinkling of Parmesan and lemon zest on top.
Try the BigOven Kitchen Original Recipe:
Pesto Pasta with Spring Vegetables