Spring Soup for a Dogwood Winter
A comforting bowl of chicken soup can be enjoyed any time of year. The addition of lemon and fresh dill in this recipe helps make this the perfect soup for transitioning into the spring season. This is the soup to make when you're ready for the bright and fresh flavors that come with warmer months but still dealing with days chilly enough to crave a warm bowl of soup.
This chicken soup is a simple, one-pot recipe. You don't need any special equipment and it's made from ingredients typically kept on hand in most kitchens. And, it all comes together fast enough that it can be an easy dinner on busy weeknights.
The soup begins with what is known in the culinary world as mirepoix—sautéing chopped onion, carrots, and celery in olive oil.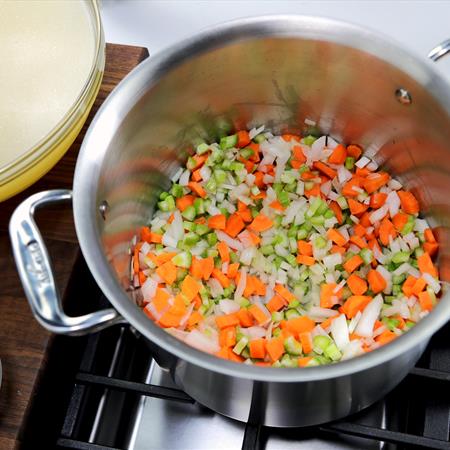 Then, you add chicken stock—homemade if you already have some on hand or feel like making it from scratch, but a store-bought version you like the flavor of works well, too.
Once the stock is simmering, you'll add a couple of whole boneless, skinless chicken breasts to poach, and then, remove them once cooked, to be shredded.
Not all Internet hacks are created equal, but one cooking tip that's completely changed the way we shred chicken is using a mixer for the job. The method works with either a handheld or stand mixer, as long as you're using the beater attachments.
The beaters make quick work of shredding the chicken (we're talking mere seconds here). The best part? You won't risk burning your fingers or having to deal with the tongs of a couple of forks scraping against each other and getting stuck together.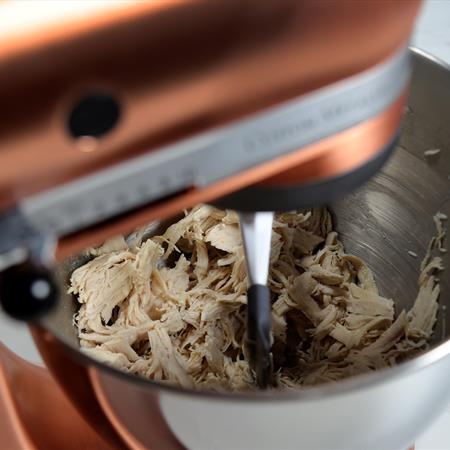 If you're really working to get dinner on the table in a snap, you could shred a store-bought rotisserie chicken and add it to the soup. But, poaching the chicken in the soup broth helps add extra depth of flavor and makes the soup taste more homemade.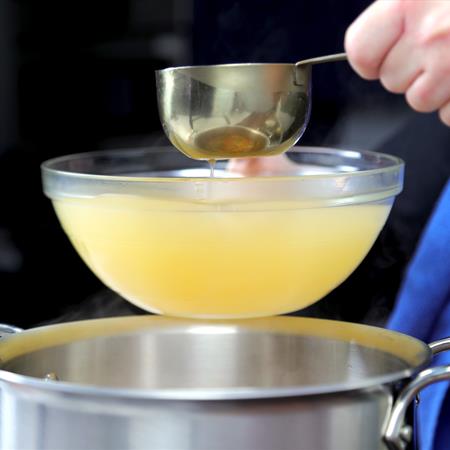 In this recipe, we stuck to the classic flavors of traditional chicken soup. If you're looking for ways to incorporate more vegetables, soups are a wonderful vessel to do so. You could increase the amount of carrots and celery in this recipe or add additional veggies, like broccoli, green beans, peas, corn, or even diced potatoes to simmer in the stock.
Chopped dill and parsley make a lovely garnish for this soup and add fresh flavor. It's also a great way to use up an oversupply of fresh herbs from a garden.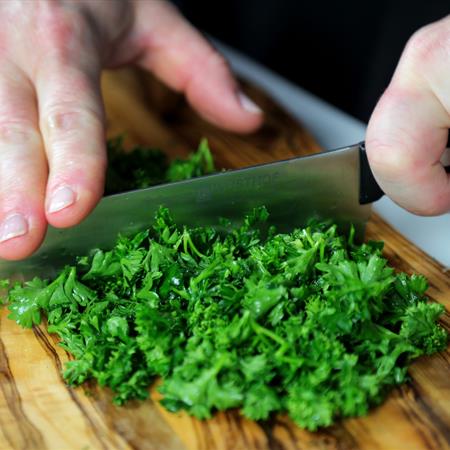 A couple tablespoons of butter and the lemon are added just before serving. The butter adds just a touch of richness and the lemon brightens the cooked flavors of the soup.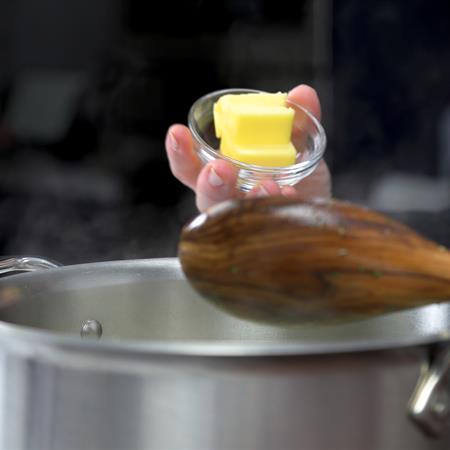 Adding a splash of an acid, like lemon juice, at the end of cooking helps balance and pull together all the cooked flavors. This little acid trick is a favorite of professional chefs and works in any recipe with a long simmer time, like soups and stews. The most common acids added at the end of cooking are citrus juices and vinegars.
If you love the flavor of lemon, zest your lemon with a fine grater or Microplane before juicing and stir both the zest and juice into this soup for extra lemony flavor. The zest contains essential oils that have a more concentrated lemony flavor than the lemon juice.
If you like a soup that's more broth, serve this as soon as the rice is cooked and tender. For a thicker, almost porridge-like soup, let the soup continue to simmer another 10-15 minutes after the rice is cooked through and the rice will continue to absorb liquid and help thicken the broth.
Brown rice will also work in this recipe, but it takes longer to cook than white rice so you'll need to increase the amount of time you let the soup simmer. If you don't eat rice or other grains, you can leave out the rice and use potatoes, quinoa, or rice or pasta made from lentils instead.
If you have any leftovers, they make a great next-day lunch and can be stored in an airtight container in the refrigerator for three to four days. The soup will continue to thicken in the fridge, so you might want to add a bit of water or additional chicken stock when you reheat it to thin it back out.
We recommend serving this chicken soup with crusty bread or crackers or pairing a bowl of soup with a side salad or sandwich.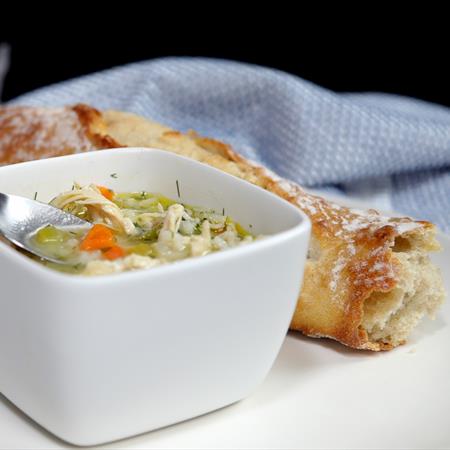 Try our BigOven Kitchen Orginal: Lemony Chicken and Rice Soup