Planning Thanksgiving for Every Eater (Vegan, Gluten-Free, Keto, and Paleo Options)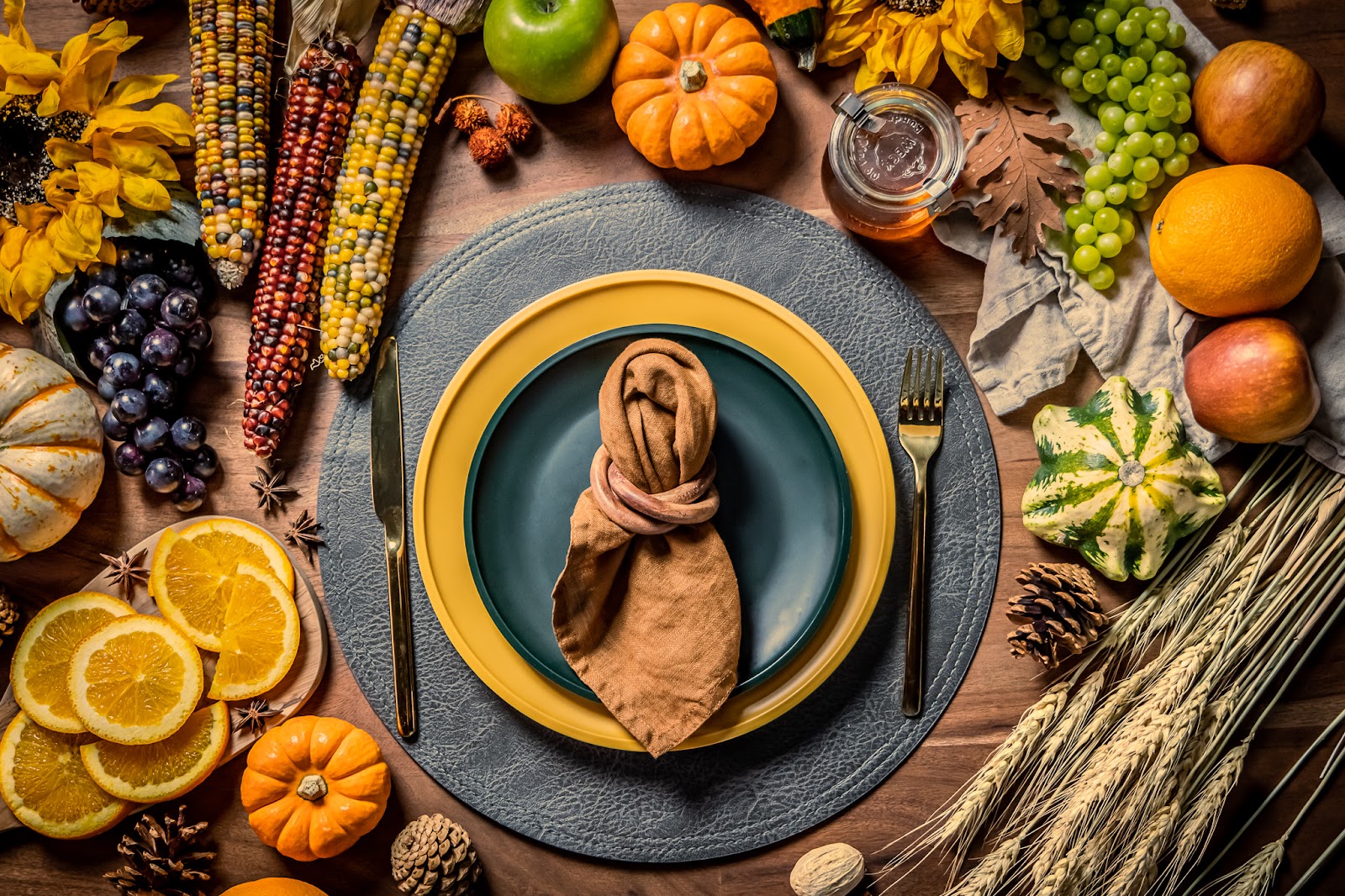 Creating a Thanksgiving dinner menu that accommodates every variety of eaters, from vegan to paleo, doesn't need to be challenging. You may think you'll have to skip classic dishes, like sweet potatoes, green bean casserole topped with French fried onions, mashed sweet potatoes, and sweet potato casserole, but that's not the case. By curating a grocery list beforehand and deciding on menu options that accommodate each attendee's dietary needs, you can have a festive holiday with a table full of happy eaters.
Whether your niece is a vegetarian, your uncle follows a strict keto diet, or you know you'll have a table full of picky eaters, the below guide will aid you in prepping for the holidays. We've compiled a list of traditional Thanksgiving dishes that you can either split and prep multiple ways or dishes that require an alternative.
Don't forget to label the dishes so those with dietary needs can find the appropriate menu items!
Appetizers for a Thanksgiving Meal:
The below appetizers are what you'll typically find on a Thanksgiving table and how to alter them to accommodate various diets.
Deviled Eggs
You can't have Thanksgiving without a plate of freshly made deviled eggs. This appetizer is naturally vegetarian, as most vegetarians typically eat eggs. However, they're made with mayonnaise, which contains eggs and dairy.
Mayo is neither paleo nor a great option for those who maintain dairy-free diets. Unfortunately, eggs are not vegan, so this is one option where you'll want to consider offering another vegan alternative, like this Chilled Eggplant Appetizer.
On the plus side, deviled eggs are naturally keto-friendly and gluten-free (assuming any hot sauce you add is free from gluten).
Paleo/Dairy-Free Diet Swaps
You can easily swap the mayo with mashed avocado to make the recipe paleo-friendly and dairy free. If you're only concerned about making the recipe dairy-free, you can also use store-bought vegan mayonnaise as a replacement.
Salad
Salad is an easy appetizer to make allergen and dietary needs-friendly. Combine the vegetables in a large bowl and keep the toppings and dressing options on the side. Vegetables are keto, paleo, vegan, vegetarian, and gluten-free friendly.
What makes this dish not friendly for food allergies is the toppings. For example, bacon bits are not vegan or vegetarian-friendly. Creamy dressings are typically inappropriate for vegans or those with dairy allergies (unless stated on the bottle).
Dairy-Free/Vegan-Friendly Options
Add chopped nuts, dairy-free/vegan dressing options, and non-dairy-based cheeses to the side so vegans and those with dairy allergies can create a filling salad. A gluten-free dressing on the side will help keep this dish appropriate for those with gluten intolerances.
Main Dishes for Thanksgiving
There's one main dish that's associated with Thanksgiving – the turkey. Here's how you can make turkey more allergen friendly.
Turkey
We'll cut to the chase; there's no way to make turkey vegan or vegetarian, so you'll need a separate main dish for those who don't eat meat. Here's the good news – this Thanksgiving turkey recipe is naturally gluten-free, dairy-free, paleo-friendly, and good for a keto diet. Just make sure to defrost your frozen turkey beforehand.
Vegan/Vegetarian Swap
There are many meat-less roasts that you can purchase as an alternative to a regular turkey. You can even purchase roasts that come with stuffing. Most vegan and vegetarian roasts require you to bake them in the oven until heated. Then, you'll have an excellent main dish option for those who don't eat meat.
Sides for Thanksgiving Dinner
Side dishes for Thanksgiving are equally important as the main entrée. Here are a few of the most popular side dishes with substitution options.
Mashed Potatoes
Mashed potatoes are another must-have for a holiday dinner. The typical recipe includes potatoes, butter, and milk. Starchy vegetables are not keto-friendly in larger quantities. So, guests on the keto diet can enjoy a small serving of this dish. Though, you can make it more keto friendly. Butter and milk are not ideal for vegan or non-dairy eaters.
Vegan/Non-Dairy Swaps
Using non-dairy milk and butter will help turn this dish into a vegan, dairy-free side dish. Most grocery stores offer multiple options for non-dairy milk. Any unsweetened and unflavored option will do.
Alternatively, you can follow this recipe for a Cauliflower Potato Mash, which is vegan and dairy-free.
Keto Swap
To make a keto-friendly dish, you can make cauliflower mash instead of mashed potatoes. Cauliflower is lower in calories and is considered a staple in a keto diet. This way, keto eaters can enjoy as much (or as little) as they'd like.
Gravy
Along with mashed potatoes, gravy is a necessary side. Unfortunately, gravy is one of the Thanksgiving must-haves that is not dietary-friendly. It's high in carbs and gluten and usually includes a meat-based broth. Here are some swaps to help make a diet-friendly version at home.
Gluten-Free/Keto/Paleo Swap
Simply using gluten-free flour instead of standard flour will help turn this recipe into a viable option for those who are gluten intolerant or on a keto/paleo diet. This Gluten-Free Gravy recipe offers a great option for flavorful homemade gravy.
Vegan/Vegetarian Option
Instead of using chicken or beef broth, use vegetable broth as a base. Using mushroom broth is also a great option. Also, you'll need to skip the turkey drippings and tidbits to keep this a vegan and vegetarian option. However, you can add sliced mushrooms for extra flavor. This Vegan Gravy recipe is also a great solution for meat-free attendees.
Cranberry Sauce
Cranberry sauce is naturally a winner for those who eat a gluten-free, dairy-free, vegan, or vegetarian diet. Cranberries themselves are paleo and keto-friendly. However, the high amount of sugar in store-bought cranberry sauce options makes cranberry sauce a no-no for keto and paleo dieters.
Keto/Paleo-Friendly Option
This keto cranberry sauce recipe includes a lower-sugar option that works well for keto and paleo diets. It uses erythritol as a sweetener, which works for both diets. If you prefer a cranberry sauce that's more on the tart side, you can use this recipe instead of a store-bought version, as it works well with most diets (even gluten-free).
Thanksgiving Dessert
Like main dishes, one typical dessert comes to mind when people think of Thanksgiving – pumpkin pie.
Pumpkin Pie
Pumpkin pie is a classic Thanksgiving dish. The main issue with pumpkin pie is the crust, which contains butter and flour. These two ingredients make pumpkin pie an issue for dairy-free, gluten-free, paleo, and keto dieters.
A simple solution includes creating a crustless pumpkin pie. This will resolve most dietary concerns, especially with an eggless recipe.
Keto Recipe Swap
If you're using gluten-free flour, it's likely also keto. Unfortunately, this type of flour does not translate over to the keto diet as well. Instead, you'll need to purchase a separate keto flour to use. You can make a smaller pie or a few individual pies for attendees on the keto diet. This way, you can easily substitute gluten-free flour for a keto-friendly option.
For additional recipe inspiration, check out our Featured Recipes Collection. Here, you can browse recipes based on dietary needs. You'll be planning out a dietary-friendly and picky eater-friendly Thanksgiving feast in no time!