Make Ahead Garlic Mashed Potatoes and Tips for a Stress-Free Thanksgiving
By Valerie Brunmeier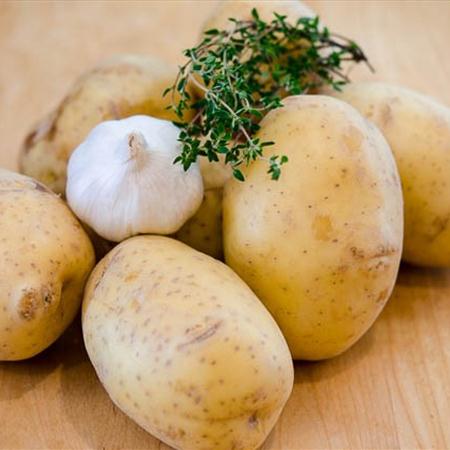 My mom cooked the Thanksgiving meal every year for our great big family. I have wonderful memories of waking up late on Thanksgiving morning to the glorious, familiar aromas of homemade stuffing and roast turkey coming from our kitchen. By the time I rolled out of bed, she had a large majority of the work done. It seemed effortless for her, or at least that's how it appeared to me. She had this thing down! I knew that one of these days it would be my turn and I pictured myself throwing the meal together for my future family with that same finesse.
And, then it happened, I cooked my very first Thanksgiving dinner and as soon as the last guest left I plopped myself down, utterly exhausted, and thought "How in the world did she do it?" What I didn't realize was that by the time I came along, Mom had prepared countless Thanksgiving meals and had a solid bank of valuable knowledge that comes only from years of experience. Over the years I've learned some important lessons about how to make the process less stress inducing and far more enjoyable.
Thanksgiving is a holiday that puts some pretty intense culinary expectations on the generous soul who has offered to prepare the meal. It also presents us with tasks we don't do often, if ever, like roasting a 17 pound bird and making sure it's ready at the same time as an assortment of other dishes. It's a challenge of skill, timing, patience, and endurance, but with some advance planning and a little organization we can pull it all together and look good doing it. Just like Mom.
My tips for a stress-free Thanksgiving:
The Menu Plan
Start the planning early and have a solid menu plan at least two weeks ahead. Try to include as many make-ahead dishes as possible so that you can stagger your cooking and get a lot of it done before Thanksgiving Day (more on that below).
Gather your recipes and make two grocery lists - one list should have non-perishable items you can purchase right away, and the second should include the fresh items that need to be purchased a day or two before.
Nix the heavy appetizers and cheesy dips. The emphasis should be on the meal, not the starters so go light and don't plan for anything that takes more than a few minutes to put together. After all of the work you put into this meal, you want your guests hungry and ready to feast. Opt for a simple tray of cut veggies with dip or an antipasto platter filled with sliced deli meats, cheeses, sliced baguette, assorted olives, and grapes.
Roasting a frozen turkey this year? You can pick up the frozen bird several weeks ahead of time if you have enough freezer space. For more turkey tips, take a look at my post on choosing, prepping and roasting a turkey HERE.
Check Your Ingredients
When did you purchase that poultry seasoning in the pantry? Dry seasonings and spices have a shelf life that can range from one to four years but will lose potency if you hang on to them much longer than that. Give them a sniff to make sure they are still fresh and fragrant and check use by dates on all your other pantry staples.
Check your kitchen inventory for each item included in your recipes, even those items that you're so sure you've got on hand. There is nothing worse than reaching for a vital ingredient when you're smack in the middle of mixing everything together to find out you're missing something and then sending your husband out to find a store that is open on the holiday. Not that this has ever happened to me or anything.
Make it Ahead
This is the single most important thing you can do to ensure a smooth and stress-free holiday. It should be your goal to have as many dishes as possible prepared and oven-ready a day or more ahead so that you can take a deep breath and enjoy your guests instead of furiously running around your kitchen, juggling everything at once. Most Thanksgiving side dishes and many desserts can and should be made ahead.
Homemade cranberry sauce tastes even better after sitting in the refrigerator for a couple of days.
Most stuffing and sweet potato recipes can be made a day in advance and refrigerated until ready to bake. Even the mashed potatoes can be made the day before.
Pie crust can be made, wrapped in plastic wrap, and refrigerated for several days. Pies should be prepared and baked the day before.
Cheesecake is also a great dessert choice and should be prepared a day or two in advance for best results.
Take care of as much prep work as possible in advance. No matter how small the task, that time will become precious on the big day.
Table Setting
How many guests are you seating? Round up extra folding tables and chairs, if necessary.
Make sure tablecloths are clean, wrinkle free, and ready to go.
Do you have enough large serving dishes to accommodate all of your recipes? I have a wonderful neighbor who has anything and everything on hand for serving a big group and I often turn to her to borrow a dish or a few folding chairs. Ask friends, family members, or neighbors if there are items you'll need to borrow.
Make Use of Your Slow Cooker
Even with two ovens, I don't have enough oven space for a great big turkey, stuffing, sweet potatoes, and rolls. Free up valuable oven space by using your slow cooker.
Every year I do my mom's Traditional Bread Stuffing that I adapted for the slow cooker and it has become my all-time favorite method.
My recipe below for Make-Ahead Garlic Herb Mashed Potatoes includes directions for both an oven and slow cooker method.
Delegate
If you have a dependable friend or family member that enjoys cooking, ask them to bring a dish. Be specific about what you'd like them to bring so that you can plan around it. It can be especially helpful to ask guests to bring dessert.
Here is a peek into my kitchen and the steps involved in making creamy, delicious mashed potatoes that can be prepared a day or two in advance and reheated in either the oven or slow cooker on the big day.
Yukon Gold potatoes have a natural buttery, creaminess which makes them my potato of choice for mashed potatoes. You'll also need 4 cloves of garlic and some fresh herbs, like the thyme pictured above. I love thyme in potato dishes but both rosemary and sage would also be good choices.
Peel and quarter your potatoes and place them in a large pot or Dutch oven. Cover them with cold water and let them soak for 30 minutes to an hour. Soaking the potatoes before you cook them will help draw out some of the starch which means it will be less likely you'll end up with gluey, sticky potatoes. Honestly, this is a step that I skip on an average night but when it is a special occasion, I like to do everything I can to ensure a good result.
Drain that starchy water and refill your pot with fresh, cold water.
Add 4 whole cloves of garlic to the pot. They will cook, right along with the potatoes and become soft, creamy, and wonderful.
Cook over high heat until the water comes to a good boil. Reduce the heat, cover the pot, and let it simmer for about 25 minutes or until the potatoes are fork tender - not falling apart tender, just fork tender.
There is more than one acceptable method for mashing potatoes. My mom and every other mom on our block used an electric mixer to whip up their mashed potatoes so if that's the method you prefer, do it. Just don't whip them until they resemble wallpaper paste. If you've had a bad experience with gummy potatoes in the past, I recommend mashing them by hand with a potato masher. I actually feel I have more control when I do it this way. Whichever method you choose, the garlic will be so soft and creamy it will just melt right into the potatoes.
The secret to making mashed potatoes that will reheat to a nice, creamy consistency is to add some nice creamy ingredients. First, some sour cream. I always use light sour cream to save some fat and calories that I will absolutely make up for in pie.
Next, add 4 ounces of Neufchatel cream cheese and 6 tablespoons of sliced butter. Again, I'm saving some fat and calories by using a reduced fat cream cheese. It's my feeling there is no noticeable difference and I want pie.
Back to mashing.
The final step is to stir in about 1 cup of warmed milk. You can adjust this amount to your liking depending on what consistency and creaminess you'd like. Warm the milk slightly in the microwave so you don't shock those beautiful, creamy potatoes. Warm milk is one more way to help reduce the likelihood of the sticky, gluey situation.
This is looking pretty good to me.
Sprinkle in the salt, pepper, and fresh thyme.
Transfer the potatoes to a lightly greased baking dish and just to make things pretty, sprinkle a little more fresh thyme over the top. Cover the dish with plastic wrap and pop it in the fridge. The mashed potatoes are ready for the oven and you can check one item of your list. On Thanksgiving Day, pull the dish out of the fridge and let it sit on your kitchen counter for about 30 minutes to take the chill off.
The potatoes bake at 375 degrees, covered with foil for about 45 minutes. I like to remove the foil and set the oven to broil for a couple of minutes to crisp up the edges and give them a nice golden hue.
Here's to a festive, stress-free holiday filled with family, friends, and of course, delicious food.
Make-Ahead Garlic Herb Mashed Potatoes
Prep Time: 1 hour 15 minutes
Cook Time: 30 minutes
Total Time: 1 hour 45 minutes
Yield: 10 Servings
Ingredients:
5 pounds Yukon Gold potatoes, washed, peeled and quartered
4 whole cloves garlic, peeled
1/2 cup light sour cream
4 ounces Neufchatel or regular cream cheese, softened
6 tablespoons cold butter, sliced into pieces
2 teaspoons fresh thyme, rosemary, or sage finely chopped (or 1 teaspoon dried), divided
1-1/2 teaspoons salt, or to taste
Fresh ground pepper, to taste
1 cup milk, or as needed, warmed slightly in the microwave
Instructions:
Coat a 13" x 9" baking dish with non-stick cooking spray. Set aside.
Add potatoes to a large pot or Dutch oven and cover with cold water. Let them soak for 30 minutes to 1 hour and then drain well and return to the pot. Add enough water to cover the potatoes and toss in the 4 cloves of garlic. Bring to a boil over high heat then reduce heat to medium, cover the pot, and cook at a low boil for 25 to 30 minutes or until potatoes are fork tender. Drain potatoes and return to empty pot over low heat. Warm the potatoes just until dry and them remove from heat.
Use a potato masher to break up the potatoes and garlic. Add sour cream, Neufachtel cheese, butter, thyme (reserving a pinch or two for later), salt, and pepper. Mix until well combined and then add as much of the warmed milk as needed to reach desired creamy consistency. Taste and adjust seasonings as needed. Transfer to prepared baking dish and sprinkle with remaining thyme. Cover tightly with foil and refrigerate for up to 48 hours.
Remove potatoes from refrigerator and allow to sit out for 30 minutes to take the chill of before baking. Meanwhile, preheat oven to 375 degrees. Bake, covered with foil, for 30 minutes or until heated through. Remove foil and place under broiler till lightly golden brown around edges.
Crock-Pot Instructions: After mashing, instead of transferring to a baking dish, transfer potatoes to a removable slow cooker insert that has been coated with non-stick cooking spray. Cover and refrigerate for up to 48 hours. Remove from refrigerator and heat on HIGH for 2 hours. Remove cover and stir potatoes until creamy. Cover, reduce heat to LOW and cook for an additional 30 minutes or more, until ready to serve.
See the recipe page for Make Ahead Garlic Herb Mashed Potatoes HERE.
About the Author: Valerie Brunmeier started her cooking blog From Valerie's Kitchen in 2011 to document the recipes her four sons have grown to love, so they could easily recreate the dishes they grew up on for their own families once they flew the coop. Valerie's focus in her kitchen is simple, seasonal home cooking. She shares all of her adventures in her kitchen, from creating new recipes, menu planning, hunting and gathering, meal preparation, and serving the hungry carnivores in her home.