3 Tips for the Juiciest Burger
Grilling season is here and that means you have the perfect excuse to finally master the art of making the juiciest burger imaginable. Because when it's your turn to host the next barbeque – you want to grill up a real crowd-pleaser.
There are hundreds of tips and tricks to make the perfect burger out there, but today, we're going to focus on the 3 ones that make the most impact.
No need to worry about expensive ingredients or fancy utensils. You just need a few simple techniques and a big appetite!
1. Season Ahead of Time
The simplest and most impactful step you can take to really elevate your grilling skills to the next level is to season the patties ahead of time. You can add your spices the night before or even just 2 hours in advance. Either way – the wait is so worth it.
All you have to do is give the patties a good rub with some salt and pepper a few hours beforehand. That will give the meat plenty of time to absorb the seasoning and really enhance the flavor.
Of course, this step takes just a touch of planning, but it makes a HUGE difference. Set yourself a timer or a calendar alert if you know you'll be breaking out the grill – you'll thank yourself for it.
2. Don't Press Down
We know – it's just so satisfying to watch the juice come out and sizzle on the grill. But you're losing flavor!
That delicious nectar of the gods is going to waste when you press it all out. So make sure you resist the temptation and don't press down on the burger.
Be gentle when flipping and don't apply too much pressure. You'll keep all that tasty goodness inside and it will maintain that tall, show-stopping appearance.
3. Let it Rest
This is going to be the most difficult step to take, especially when your belly's rumbling. But patience is a virtue.
Once you masterfully cook the burger to perfection, set it aside to rest for around 5 minutes. This will let it finish cooking slightly on the inside, but it also gives the juices time to move around.
Just like a Michelin-star steak, letting the meat rest for a few minutes guarantees that those little pockets of savoriness are spread evenly throughout the burger. So when you take that first bite – you're in heaven!
Go Clean Your Grill
Using your outside grill this summer? Here's a bonus tip – go clean it! Even if you cleaned it before stowing it away for the winter months, you don't want all that lovely dust flavor on your 5-star burgers. But if you're ready to become a grillmaster today, make sure you follow step 1 first! You can clean the grill in the meantime.
If you're looking for the perfect burger recipe to go along with your newfound techniques, check out our original recipe for Firecracker Umami Smashburgers. They are the best way to have a stellar start to this grilling season. Two stacks of juicy goodness topped with caramelized onions and a simple homemade sauce, this thin-pattied and crispy take on a traditional burger might become your new tradition.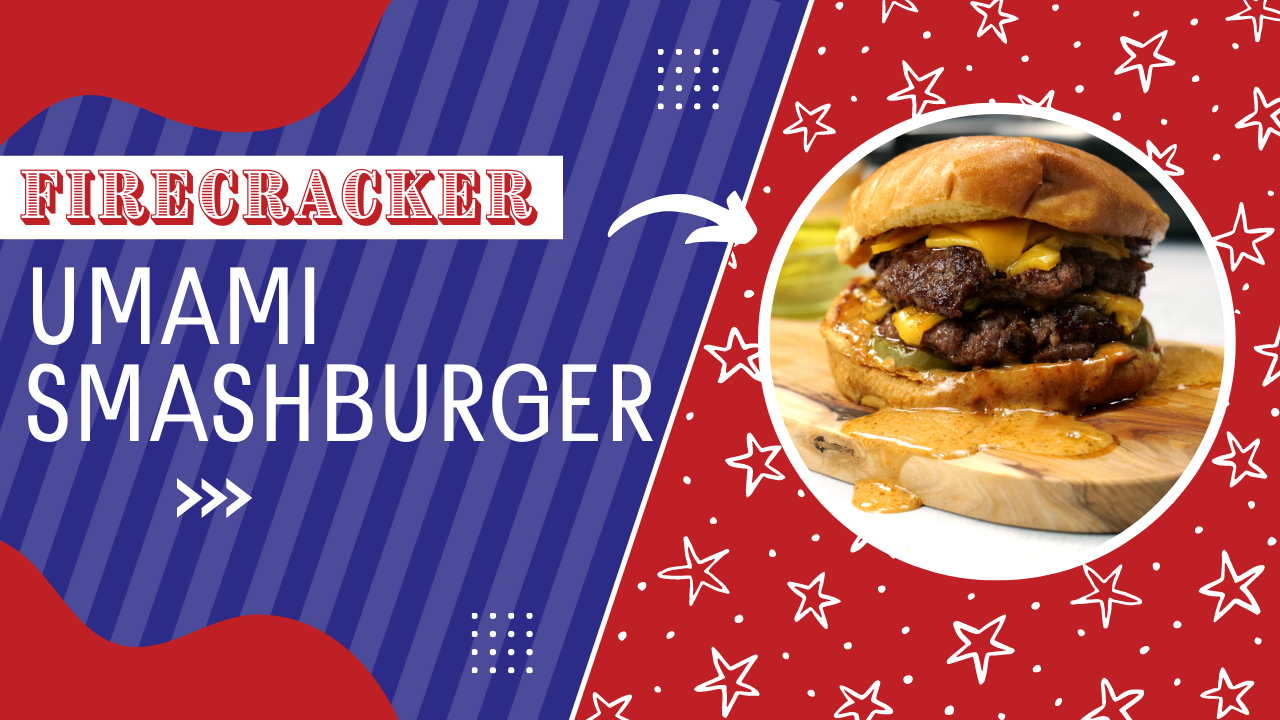 Follow these tips and have your stomach thank you all year round!