Tortilla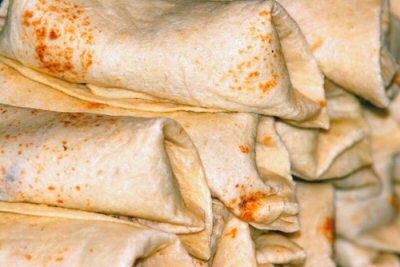 Mexico's everyday bread can be yours too. Available in so many flavors and varieties, tortillas can be wrapped around traditional taco fillings as well as scrambled eggs, deli meats and salads.
The thin, round, unleavened tortilla is Mexico's everyday bread. Handmade from corn flour (masa) or wheat flour, they are traditionally baked on a griddle called comal. Fresh tortillas can be eaten plain, used as a plate, or wrapped around various fillings to make sandwiches, burritos, tacos and enchiladas.
Varieties and Buying Tips
Tortillas are available at the supermarket, either on the shelf or in the refrigerated section. They are made in various sizes, typically small (6-inch), medium (8-inch) and large (10-inch).

Their popularity as a bread alternative has led to an ever-increasing variety of choices. In addition to traditional corn and flour, you'll find more health-conscious fat-free, low-carb and multigrain versions, as well as gourmet flavors like honey wheat, spinach, sun-dried tomato and chipotle chile.

With our recipes, you can also make your flour tortillas or corn tortillas at home.
Storage Tips
Keep tortillas refrigerated in a plastic bag for up to one week or check the stamped date on the package. Tortillas can also be frozen for up to three months. Place a sheet of wax paper between each so they'll separate easily.
Usage Tips
Wrap hot dogs, Sloppy Joes, and chicken or tuna salad sandwiches in tortillas instead of bread slices or buns.
Top with pizza sauce and shredded mozzarella and cook under the broiler to make a tortilla pizza.
Wrap and roll up your favorite Caesar or Greek salads.
Fill with scrambled eggs, chopped bell peppers and salsa for a tasty breakfast burrito.
To warm tortillas, wrap a stack in foil and bake at 350ºF for 5 to 10 minutes.
• Make your own tortilla chips.

Try one of our favorite tortilla recipes:
Antijitoes
Stir-Fried Beef Salad in Tortilla Cups
Chocolate Chimichangas