Turmeric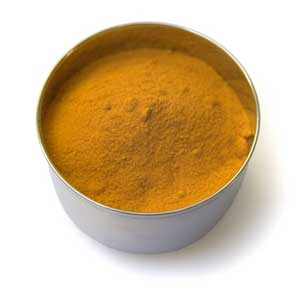 Turmeric adds a beautiful yellow color to dishes along with the familiar "bite" found in curry powder.

Turmeric is a root relative (Curcuma longa) of ginger that is widely used in Indian, Middle Eastern, and Asian dishes. As a spice, it is most commonly found in ground, dried form and sometimes referred to as Indian saffron.
The flavor hints at bitterness and its best asset may be the yellowish-orange color that it imparts to foods. Common prepared mustard receives its distinctive hue from turmeric, as does curry powder.
Buying Tips
provides the largest portion of commercial turmeric, which is considered superior. Ethnic markets will typically carry rootstock and a wider range of ground brands.
Purchase in small quantities when possible, although as an inexpensive spice, it is tempting to buy large containers. Turmeric becomes unpalatable when used past its shelf life. It will also develop an unpleasant smell.
Storage Tips
As with all spices, ground turmeric will remain usable about six months if kept cool, dry, and away from heat and light. It is best stored in a glass or tin container. Fresh roots should be well-wrapped and kept refrigerated.
Usage Tips
• When handling fresh turmeric root, wear gloves and protective clothing as the meat will stain. Even the powder, when moistened, acts as a dye.
• Fresh root is boiled or steamed and then dried for use as a powder. It is also grated like gingerroot and included in sauces.
• Turmeric becomes stronger when cooked and should be added with caution.
• Add deeper color to deviled eggs and potato salads with a hint of turmeric.
• Make homemade curry powder and add to dal or soups such as Mulligatawny (mulligatanni).
• Add to fish stews to reduce the "fishy" taste.
• 2 Tablespoons dried is equal to 1/2 ounce.
Substitution Tips
• Dry mustard in equal portions.
• Although the more expensive saffron is just as colorful, it is not a good substitute (or vice versa).

Try one of our favorite turmeric recipes:
Sambar
Chicken Tikka Kebabs
Falafal Patties

Suggested Pairings
Beef, fish, eggs, lentils, potatoes, poultry, rice, shellfish, sour cream, squash