Daikon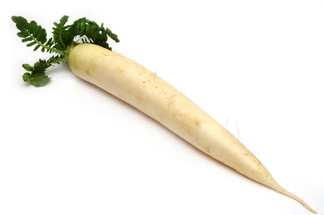 Milder than red radish, daikon has a crisp, juicy texture and a sweet, slightly peppery bite. Add it to fresh salads and relish trays or cook in simmering soups and stir-fries.
Also known as mooli, this large Asian radish is essential to Japanese, Chinese and Korean cuisines. Daikon can have black or cream-colored skin, and the inner flesh is white, crisp and juicy. Milder than red radish, daikon has a pleasant, sweet and slightly zesty flavor similar to watercress. In Japan, it is cooked into stewed dishes, used as a garnish or pickled and made into relish. It is also an important ingredient in Chinese dim sum and Korean kimchi.
History
Daikon is thought to have originated in the Mediterranean. It reached Japan, by way of China, about 2,000 years ago. Today, more land in Japan is devoted to the cultivation of daikon than any other vegetable. In one form or another, daikon appears at almost every Japanese meal. Its name is derived from the Japanese words dai (large) and kon (root).
Varieties
Many varieties of daikon are cultivated in different regions. The three main types include the Korean, which has a cone shape and green coloration; the Chinese, which is similar in shape but completely white; and the Japanese, which is more cylindrical.
Daikon ranges from six inches to three feet in length. Those usually available in the U.S. are about one foot long and two to three inches in diameter, but some exceptional varieties are as fat as a football.
Buying Tips
Daikon is available year-round. It is available at some supermarkets, but you're more likely to find it at Asian specialty markets. Look for radishes that are firm, unwrinkled and free of cracks and bruises.
Storage Tips
Wrap in a plastic bag and refrigerate for up to one week. When cut, fresh daikon will be crisp and juicy, like an apple.
Usage Tips
Daikon is a versatile vegetable that can be prepared in the same ways as radish. Before using, slice off the roots and leaves and wash under cold running water. (Note: the leaves are worth saving as they're rich in vitamin C, iron and calcium. Sauté or add them raw to salads). Drain, peel the skin off (like a carrot) and chop or grate as desired. Daikon can be eaten raw or cooked (even for long periods of time) without losing its taste or texture.

• Add raw daikon to fresh salads.
• Cut into strips or chips for relish trays.
• Dip raw into sour cream or yogurt-based dips.
• Simmer in miso soup.
• Cook in a stir-fry.
• Julienne and cook in a stir-fry.


Try one of our favorite daikon recipes:
Daikon and Carrot Salad
Myong's Kim Chee
Lobster Daikon Spring Rolls & Coconut Lime Dressing
Related Recipes
View BigOven's daikon recipes