Raclette Cheese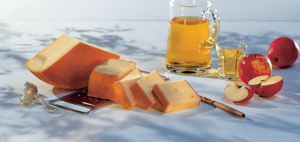 Mellow, nutty and semi-firm, raclette is wonderful served cold or melted over vegetables, meat and seafood.

This semi-firm cow's
milk
cheese from Switzerland is similar in texture and flavor to Gruyere. Pale yellow in color, it has a mellow, nutty flavor and a smooth texture dotted with holes. Though it may smell quite strong when opened, the cheese has a pleasant, slightly tangy taste with overtones of
wine
.
Raclette can be served cold, but it's most often used to add creamy richness to cooked recipes. When heated, the cheese becomes stringy, stretchy and nuttier in flavor. A traditional dish (simply called "
Raclette
") involves melting and serving the cheese over broiled
potatoes
.
History
In the past, it was a common European tradition to entertain friends by gathering around the fireplace with a wedge of raclette cheese. As the cheese warmed and melted, the guests would scrape it from the top, enjoying it with potatoes, pickled vegetables,
sausages
and crusty dark breads.
Today, the joy for this communal dining experience is being renewed, with major kitchen manufacturers like Cuisinart and T-Fal producing countertop "raclette party" grills. The grills allow guests to cook their own meat, seafood and vegetables while the cheese bubbles on a warm tray below.
Buying Tips
Raclette cheese is available at fine cheese shops, better supermarkets and gourmet retailers online.
Substitution Tips
French Morbier is a good substitute for raclette. It's delicious melted and also serves well on grilled foods.


Try one of our favorite raclette cheese recipes:
Onion Soup with Raclette Cheese Croutons
Escargot and Chanterelle Pizza
Raclette (Swiss Melted Cheese with Potatoes and Pickles)
Suggested Pairings
asparagus, beer, crab, gherkins, ham, mushrooms, onions, peppers, potatoes, scallops, shrimp, wine
Related Recipes
View BigOven's raclette-cheese recipes