It is the end of summer, but we are still enjoying fresh food and the taste of garden grown tomatoes. However, with the coming of the cold, I also like some warm food. This healthy grilled cheese is the perfect meal for that!
Good ingredients are really important to make this healthy grilled cheese. You need a good quality feta cheese. Feta reminds me of a summer I spent in Greece. It was so beautiful and warm. I think back to that blue water! What a perfect place!  I always buy feta in a block and not crumbled. I prefer to make my pieces. This cheese does not really melt but it blends very well with the other ingredients. By the way, because we like the "melted" cheese in this hot sandwich, I decided to include some finely shredded mozzarella cheese. The combination of these two cheeses is great and delicious.
Now let's add some freshness. Adding salad may sound strange but it's definitely amazing for the final taste! I love adding greens in my food, it's healthy and fresh. My favorite is arugula, very tasty. But you can also choose spinach or any kind of salad. Last but not least: sun-dried tomatoes! This ingredient adds zing, you don't need lots of them to have a nice flavor. In addition, don't add too many sun-dried tomatoes or it won't be great.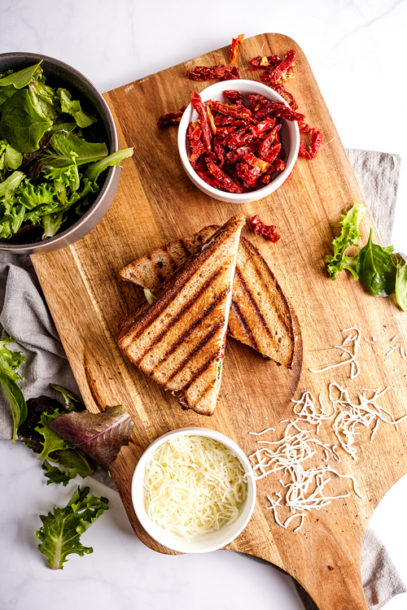 This feta grilled cheese is great with a delicious gazpacho, a cold soup with tomatoes, cucumber and bell peppers. If you are in a fall/winter mood, choose a hot tomato soup, the combination with sun-dried tomatoes is spectacular. This is also very delicious with a simple salad, like an authentic Greek salad.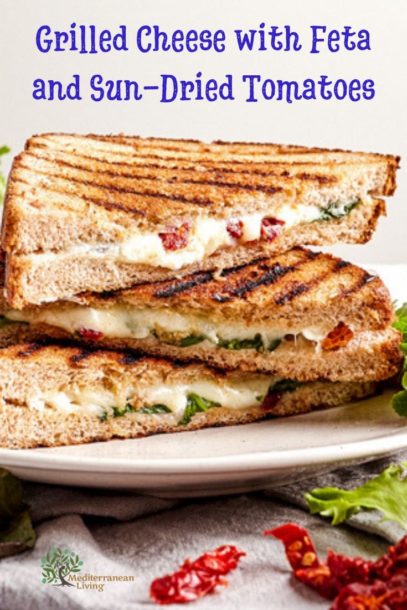 I really hope you will love this fresh feta grilled cheese! Don't forget to choose delicious ingredients! You can make simple food amazing with good select ingredients.
For more of Mary's recipes and her amazing food photography go to www.tastyandfrenchy.com.