Herbes de Provence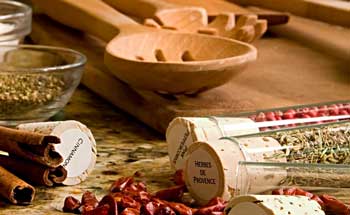 Herbes de Provence is a classic French blend of many naturally-grown plants with a notable element of thyme and hints of lavender.

Also known as Provencal
herbs
, these special dried blends refer to plants grown in Southern France's region. It is one of the essences of French cooking, along with
fines herbes
and
bouquet garni.
The various combinations are added to a wide range of dishes that include
soups
,
sauces
, and
stews
. They are also used as a coating for fish and
potatoes
before
grilling
.
Varieties and Buying Tips

Herbes de Provence is typically sold in bags or containers that will range in size and contents. The traditional mixture is thyme, summer savory, lavender, basil, rosemary, and marjoram. (Thyme is the dominant herb while lavender adds a unique fragrance.)

In addition to the basic herbs, a combination can include mint, bay leaves, chervil, oregano, sage, tarragon, orange zest, fennel, and peppercorns.

Freshly dried herbs are recommended if available. Otherwise, jarred varieties can be used, but they will not yield the same flavors.
Storage Tips
Treat as any herb – store in airtight container in a cool, dry place.
Usage Tips
The most basic combination can be made at home with:
• 4 parts thyme
• 4 parts summer savory
• 2 parts lavender
• 1 part rosemary
Herbes de Provence is not typically used as a garnish, but should be added during the cooking process.
• Add to oils and vinegars for coating and marinating or use as a dry rub.
• If fresh herbs are available, create a blend and add directly to any food on the grill.
• Sprinkle on pizza before baking.


Try one of our favorite herbes de recipes:
Couscous Provencal
Quiche Nicoise
Smoked Sausage Cassoulet


Suggested Pairings

Beef, fish,