Poppy Seed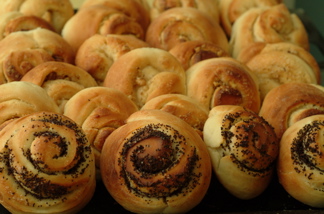 Poppy seeds are a popular topping for baked goods like rolls, breads and pretzels. They're also added to cakes, dressings and a variety of cooked dishes from central Europe, India and the Middle East.

Poppy is the dried seed of the annual
Papaver Somniferum.
Although it's hard to tell from their tiny size, the seeds are actually kidney-shaped. They have a slate blue color and a crunchy, nut-like flavor and aroma.
History
Poppy seeds have been cultivated for over 3,000 years. They were mixed with
wine
and
honey
by the Romans and fed to the athletes who competed in the first Olympic games.
While the small seeds come from a plant that produces opium, the opium is found in the pod and not in the seed itself. The botanical name for the poppy flower means "sleep bearing," and poppies were used in the "Wizard of Oz" to put Dorothy to sleep.
Varieties and Buying Tips
Poppy seeds can be purchased whole or ground at most supermarkets. They're produced in various countries including Australia, Romania and Turkey, but seeds from the Netherlands are considered the best quality. Noted for their uniform slate blue color, these Dutch seeds comprise most of the imports to the U.S. There are also beige and brown poppy seeds available at Asian or Middle Eastern markets.
Storage Tips
All seeds have a relatively high oil content, which makes them prone to rancidity. Store your poppy seeds in an airtight container in the refrigerator for up to six months.
Usage Tips
• Add to
sugar cookie
dough.
• Add to
lemon pound cake
batter.
• Toss with buttered noodles or rice.
• Add to fruit salads and
dressings
.
• Sprinkle over rolls and breads before baking.
• Use as a garnish for vegetables.
The flavor of poppy seeds is enhanced by toasting. To do this, cook them in a dry skillet over medium heat. Stir frequently for about 5 minutes or until golden brown.

Try one of our favorite poppy seed recipes:
Lavash (Flat Bread)
Lime Kissed Fruit
Fluffy Orange Cake