Queso Fresco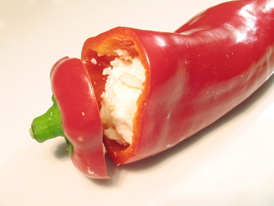 Queso fresco warms and softens (but doesn't melt) when heated. It's a favorite filling for chili peppers, enchiladas and tamales.
One of the most favorite Mexican cheeses, queso fresco is a fresh white cheese made from cow, sheep or goat's milk. With a texture similar to farmer's cheese, it has a mild and pleasantly salty flavor with a hint of fresh acidity.

Queso fresco is firm enough to slice, but crumbles readily between the fingers. And when heated, the cheese warms and softens but does not melt or run. It's an excellent choice for topping salads, soups and beans or stuffing enchiladas, quesadillas and chiles rellenos.
Varieties
A variety called queso fresco de oveja is made solely from sheep's milk, creating a custard-like texture and somewhat smoky flavor. Often used as a garnish or sandwich cheese, it is also available flavored with herb or garlic seasonings.
Buying Tips
Queso fresco is available in cottage cheese-style tubs at Latin markets and many supermarkets.
Storage Tips
Tightly cover, keep refrigerated and use within one week.
Usage Tips
• Slice and serve with refreshing tropical fruits.

• Crumble and stir into refried beans while cooking.

• Cut into large cubes and throw onto a hot frying pan until browned on all sides. Enjoy plain as an appetizer or dipped in powdered sugar for dessert.
Substitution Tips
When queso fresco is not available, substitute another fresh Mexican cheese such as queso blanco or Panela. You can also try the salty, crumbly Greek Feta.


Try one of our favorite queso fresco recipes:
Grilled Vegetable Salad with Queso Fresco and Red Pepper
Enchiladas Verdes (Green Chicken Enchiladas)
Soft Fried Tortillas