Tomato Paste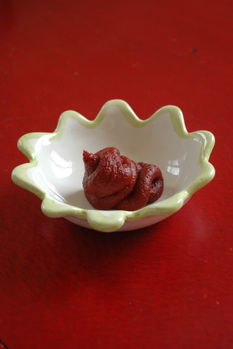 Tomato paste can be used to inexpensively thicken, color and enrich the flavor of semi-liquid dishes.
Tomato paste is made by cooking skinned, seedless ripe tomatoes until most of their water has boiled away and they can be strained into a thick, flavor-rich concentrate.
History
Tomato paste started as a homemade concoction in Italian kitchens, spreading across other Mediterranean countries. Though recipes for homemade tomato paste can be found, it is now almost exclusively produced and purchased commercially.
Varieties
Tomato paste is available canned and tubed, or can be made using home recipes if you're interested in putting in the extra time.
Buying Tips
Check the labels of cans and tubes to make sure that the only ingredient is tomatoes.

If seeking especially intense flavor, shop at Italian delis or other specialty stores for imported "double-strength tomato concentrate."
Storage Tips
Tubed paste can be kept up to a month. Unused canned tomato paste can be refrigerated for several days, or frozen for longer.

Two tips for freezing canned paste:
Use a can opener to open both ends of the can, but remove only one. Wrap the whole can in plastic wrap, freeze for several hours, and then use the remaining end to push the paste out the other side. Wrap this can-shaped unused portion and remove slices as needed, keeping it frozen for up to three months.
Spoon tablespoons full of paste onto a cookie sheet and freeze, then gather frozen tomato paste into a ziplock bag and freeze.
Usage Tips
Tomato paste can be used to inexpensively thicken, color and enrich the flavor of tomato sauces and other semi-liquids such as soups and stews. Be careful not to add too much, which can result in an overpowering tomato flavor or give the sauce too much of an acidic edge.

It is also used commonly as a pizza base.
Substitution Tips
Though made by a similar process, tomato puree and tomato sauce are thinner and less flavorful than tomato paste, and thus don't make adequate substitutes.
Nutrition Notes
Tomato paste is an excellent source of the antioxidant lycopene.
Try one of our favorite tomato paste recipes:
Beef and Macaroni Casserole
Gourmet Pizza Sauce
Spicy Taco Chip Dip