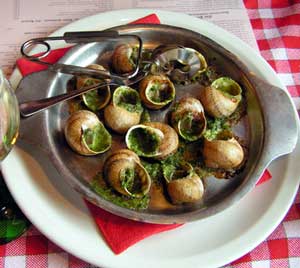 Escargots (snails) make a delicious appetizer served with garlic and butter.

Escargot is French for garden – or land - snails. They are typically served as an appetizer in a garlic and butter sauce. Like other mollusks, there are many species, but only a few dozen are considered commercially edible.
Snails are usually gutted and boiled first in a court-bouillon, then prepared according to specific recipes. They can also be blanched, rinsed, and then baked.
Varieties
Edible snails are from the Helix family. The following are most commonly served or sold commercially.
• Helix aspersa Muller – also known as French petit-gris, small grey snail, La Zigrinata, escargot chagrine.
• Helix pomatia Linne – called La Vignaiola, escargot de Bourgogne, Burgundy snail, gros blanc, Weinbergschnecke (German).
• Helix lactea – known as vineyard snail, Spanish snail, milk snail.
Buying Tips
Seafood markets often carry fresh escargot. Always request the arrival date and if they have been "purged," meaning they have spent several days fasting to clear the digestive tracts. Many larger grocery chains carry canned and packaged products.
Snails are sold by size, typically small (petits), large (gros), extra large (extra gros), and sometimes medium (moyen). When alive, they will respond when touched, although if cold, the reaction may be slowed.
Storage Tips
Refrigerate live snails. They may last as long as two days, but should be consumed soon after purchase.
Usage Tips
• If in doubt about the cleanliness of a snail shell, wash in a baking soda/water solution, rinse well, and boil.
• Be sure that all are alive before cooking. A single dead snail will ruin the entire batch. Live escargots are slightly orange in color; when deceased they are brighter.
• Snails are typically served with tongs and a special fork. A plate with small "wells" can hold the bodies along with the garlic butter and sauce.
• Shells from farm-raised snails are often too fragile for serving as they will break up. Purchase packaged (and sterilized) "presentation" shells made for that purpose instead.
• Beurre d'escargot is the traditional garlic butter served with snails.
• Even though many land snails are edible, catching them wild in the garden is unwise. They may have been exposed to insecticides and their feeding habits are unknown.


Try one of our favorite escargot recipes:
Gros Escargots De Bourgongne
Escargot En Croute
Proscuitto Escargots