Spread Irish cheer by cooking with beer and use our four-leaf tips to do it right!
"For the whole world is Irish on the Seventeenth o' March!"
~ Thomas Augustine Daly
Ireland is an enchanting mix of culture, language, and history -- from its ancient Celtic heritage to its revolutions; one thing that has been a constant on the ever-changing Emerald Isle is its love of beer and Saint Patrick! With more Irish being out of the country than in, and American's fondness for the shamrock shore, especially on March 17th, we thought we'd invite you to join us as we celebrate with a taste of tradition this St. Patrick's Day. So, to help you tap into your Irish side -- whether it runs in your blood or just from your affinity for Irish stouts, we're here to help you navigate cooking with beer while making the traditional Irish dish of Beef-Stout Pot Pie!
Let get Craic-'n:
First Leaf: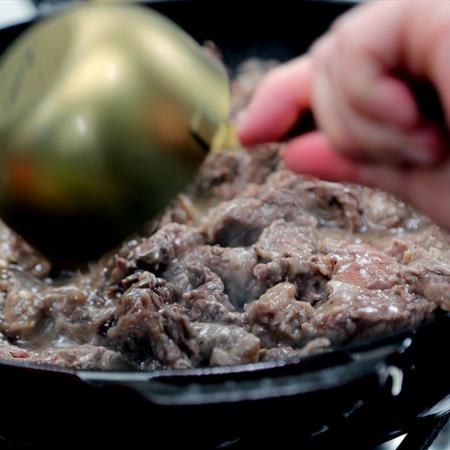 When cooking with beer, there are three different ways in which you can incorporate it into your meal. You can use it as a marinade to soak the meat, usually overnight in the beer, and, in doing so, tenderize it. You can use it in place of water when simmering; by doing this, the alcohol evaporates and leaves subtle signature tastes while locking in flavors from the other ingredients that might otherwise have gone unnoticed. Or, you can roast, boil, or bake it with your dish as we will do in our Skillet Beef-Stout Pot Pie.
When taking this route, the beer acts as a baster of sorts and locks in the meat's moisture, and creates the signature pot pie gravy.
Second Leaf: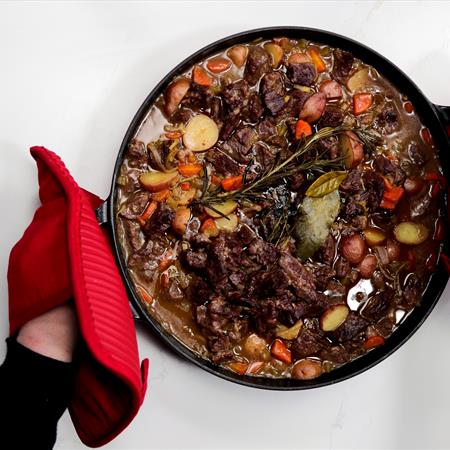 Now that we know what we can do to cook with beer, and a little of how it affects a dish's outcome, it's important to think of the type of beer you'll use. When cooking with beer, it is important to choose one that complements the dish. Light beers pair well with delicate dishes, IPAs go well with herb-infused meals due to their earthy taste, and finally, dark beers pair well with heavier, more flavorsome dishes, like our Beef-Stout Pot Pie! In honor of the Irish holiday, and of their long beer lineage, we suggest strong Irish brands like Guinness, Black Rock, or Murphy's for the choice of stout!
Third Leaf: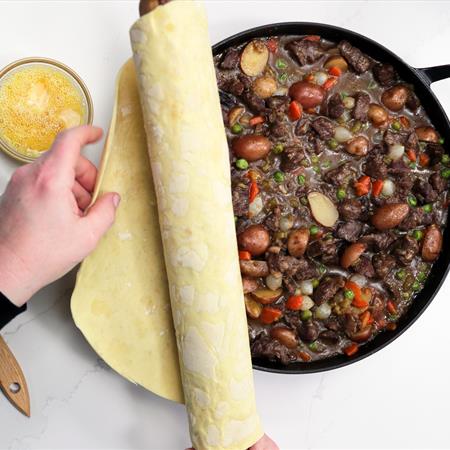 Now, let's get cooking! When deciding the amount of beer to add, it is important to recognize and factor in the alcohol by volume, or ABV, of your chosen beer. In the case of our Beef-Stout Pot Pie, we can anticipate a fairly high ABV typical of a darker stout. If ABV is a concern, try reducing it before cooking or simply limit the amount. While our recipe calls for a moderate cup of Irish stout and is simmered out over a fairly extended period of time, cook at your own risk because even though a lot of alcohol is cooked out, remnants could remain.
Fourth And Luckiest Leaf: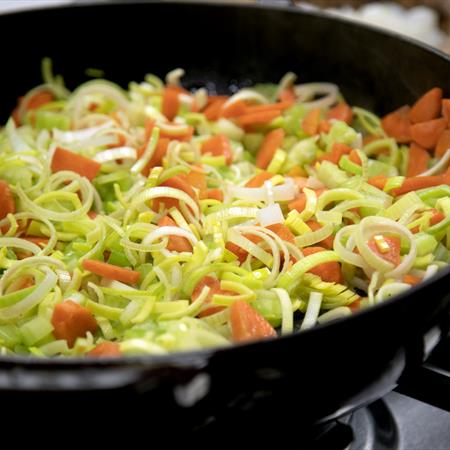 Cooking with beer makes veggies taste GOOD! That's right; when cooking veggies, particularly sweeter ones, with beer, their taste is accentuated and gives a richer and more nuanced flavor. Not to harp (Ireland's national symbol) on beer's transformative cooking benefits, but not only does dark beer make our meat more tender and retain its moisture, but it helps create a luxurious, velvety gravy, while also giving the vegetables a more complex flavor. No wonder the Irish not only know how to drink their beer but know how to cook with it, too. And now… so do you! Happy St. Patrick's Day and, as the old Irish saying goes, "may the best day of your past be the worst day of your future!
Try our new original recipe from the BigOven Kitchen.
Skillet Beef-Stout Pot Pie with Irish Cheddar Crust