Bread Machine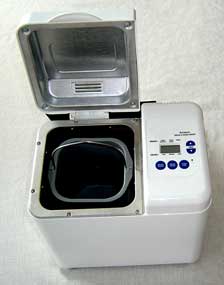 Bread machines allow busy cooks to enjoy the fresh-baked aroma of perfectly browned loaves, along with a host of other treats.
Bread machines have revitalized a love for the aroma of fresh-baked loaves. By replacing the process of
proofing
and
kneading
by hand, they have become as favored in many kitchens as
blenders
and microwaves.
They are also flexible. It's possible to automatically create dough for many types of breads as well as pizza crusts, soft pretzels, sweets, and even meatloaf (in some models). There is no real cost savings in owning a bread machine, but the real fun lies in serving up delicious homemade goods.
Varieties
Most bread machines are similar in the basics. Ingredients are added to a metal pan with a blade. Controllable settings activate the yeast, knead the dough, let it rise, and repeat the process. If desired, the dough can be removed and baked traditionally. If not, the machine will complete the process, resulting in a crusty finished loaf. Machines are designed to create either upright or horizontal loaves.
Several types of bread machines are available. Each will have its own "bells and whistles" for a variety of needs. Here are some features to consider:
Capacity requirements
• Single or double loaf capacity
• Loaf sizes - 1(8 servings)/1.5(12 servings)/2 (16 servings)/2.5 (20 servings) pound
Types of items to be baked
• White bread
• Whole Wheat bread
• Italian and French breads
• Sweets (with the additions of fruits and nuts, for instance)
• Rapid-rise and quick breads
• Jam
• Pasta
When the bread will be served
• Timer for starting (ready for breakfast or dinner – just add ingredients and set for "delay")
• "Keep warm" and "cool down" settings
Skill level
• Standard settings
• Advanced controls for recipes not generally used with bread machines
Buying Tips
Some machines feature extended baking times. This option allows bread to rise more slowly giving the finished loaf improved texture and flavor. At the opposite end, quick-bake controls allow for a complete loaf in under an hour. Quick baking may sacrifice yeast interaction.
Inspect the "floor model." Make sure it has a removable baking pan that is easy to clean. Controls and programming area should have no nooks and crannies to collect dirt.
Usage Tips
• Unless otherwise instructed, use wate