Celeriac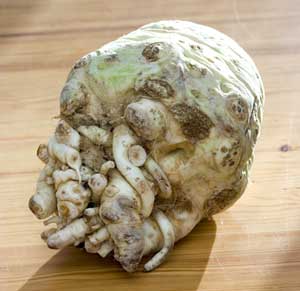 Celeriac is an interesting root vegetable with a strong celery taste and the texture of a potato.

Celeriac may not be the most attractive of the root vegetables, but when peeled, it delivers a wide range of uses. It's a type of celery specifically grown for the tuber rather than the stalk or leaves. The taste is similar to celery (minus the strings), while the texture is more like a potato. Treat it like a radish and prepare it fresh, baked, steamed, fried, mashed, or pureed. You can also use it as a thickener for soups and stews.
Tasty Tidbits
The French developed a classic celeriac remoulade and the vegetable remains popular across Europe, , the Middle East, and .
Varieties
Celeriac may be difficult to find in many regions. It's known by numerous names: knob celery, celery root, celeri-rave, and turnip-rooted celery. The most popular varieties include Ibix, Diamant, , and Kojak.
Buying Tips
Look for small-to-medium sized roots (about 4" in diameter after trimming) with fewer knobs. Older varieties will be fibrous and may be hollow.
Storage Tips
Kept cool and moist with plenty of airflow, celeriac can last several months.
Usage Tips
• Slice off the ends, rinse well, and remove the remaining outer layer. The flesh will begin to turn brown unless kept in lemon water.
• Celeriac is a great casserole ingredient. For convenience, cut in chunks, blanch, and freeze for ready use.
• Thin slices can be fried and served as "chips."
• Boil with potatoes, mash, and serve as a side dish topped with butter.
• Grate and use in coleslaw as a cabbage substitute.

Try one of our favorite celeriac recipes:
Celeriac Potato Cake
Apio
Celeriac And Mussel Soup