Cinnamon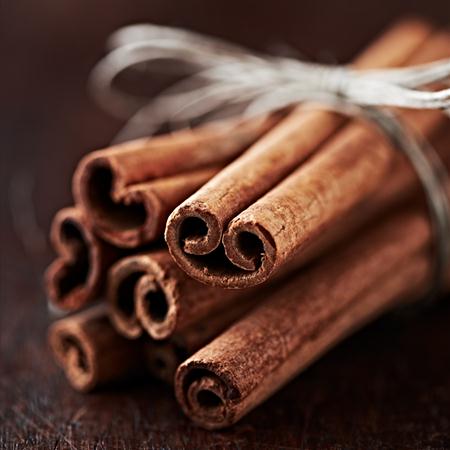 Spicing up everything from Middle Eastern stews to Mexican hot chocolate, cinnamon offers a unique combination of "heat" and sweet.
Cinnamon is a spice that comes from the inner bark of tropical evergreen trees. Stripped off and put in the sun, the bark curls into long quills as it dries. The quills are then cut and sold as cinnamon sticks or ground into a cinnamon powder.
A Little Bite of History
An age-old spice, cinnamon is often mentioned in the Old Testament and there's indication it was used in Egypt as far back as 3000 B.C. Today cinnamon remains a symbol of good luck in the Far East, and in Indonesia, a drink flavored with cinnamon is traditionally given to newlyweds.
Varieties
True cinnamon, or Ceylon, comes from the young shoots of a white-flowered shrub called Cinnamomum Zeylanicum. Considered to be the variety of better quality, this cinnamon is pale tan in color and mildly sweet in flavor. You may need to shop at a local spice store or ethnic market to find it.

Cassia, a close relative of Ceylon, is what's commonly sold as ground cinnamon in many countries, including the U.S. It has a darker, reddish-brown color and a more pungent, slightly bittersweet flavor.
Buying Tips
Cinnamon contains a eugenol, the same chemical compound that gives cloves their distinctive, fragrant aroma. Commercially ground cinnamon loses its flavor and aroma rather quickly, so buy it in small quantities. Better yet, but whole cinnamon sticks and grind them yourself as needed. The flavor is much more intense.
Storage Tips
Cinnamon should be stored in an airtight container, in a cool, dark place. Ground cinnamon will keep for about six months, while the sticks will keep for up to one year. Cinnamon that doesn't smell sweet is no longer fresh and should be discarded.
Usage Tips
With a warm, exotic flavor, cinnamon adds richness to sweet desserts and savory dishes alike. Add a pinch to meat marinades, stews, curries and casseroles or sprinkle a little on black beans when making burritos or nachos. Use cinnamon sticks as swizzle sticks for hot drinks like cider, cocoa or hot buttered rum, or simmer the sticks with soy milk and honey for a deliciously comforting treat.

Instead of buying cinnamon sugar in bottles at the supermarket, save money and make your own. Simply combine 1/2 cup granulated sugar with one tablespoon ground cinnamon. Store in an airtight container and it's ready to sweeten your coffee, fruit and toast or decorate your cookies and cakes.
Substitution Tips
In a pinch, substitute 1/4 teaspoon of allspice or nutmeg for 1 teaspoon of cinnamon.

Try one of our favorite cinnamon recipes:
Brown Bag Apple Pie
Spiced Beef with Wine Sauce and Roasted Potatoes
Hawaiian Bread

Suggested Pairings
apples, bananas, bread, butter, caramel, carrots, chicken, chile peppers, chocolate, cocoa, coffee, couscous, cranberries, curry, ginger, honey