Classic Summertime Strawberry-Rhubarb Cobbler with a Keto Twist
Strawberries and rhubarb go together like peanut butter and jelly. This classic fruit and vegetable duo come together to form a perfectly balanced sweet and tart keto dessert.
Kick up your keto recipe repertoire with this simple and easy mouth-watering keto dessert. We'll go through all the key components of this summertime classic dessert with a keto twist.
The Filling
Rhubarb is an incredibly tart vegetable that is typically paired with sweet fruits to create a well-balanced dessert. It's affectionately referred to as the pie plant because of its propensity to end up as a pie filling. It looks very similar to celery, but its long stalks are red instead of green. An interesting fact about rhubarb is that the leaves that grow out of the stalks contain large amounts of oxalic acid which make them poisonous and therefore should never be eaten.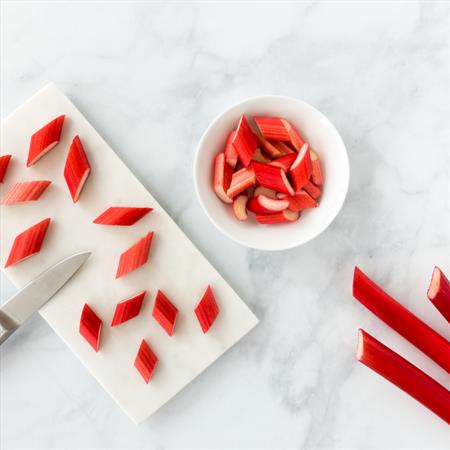 When choosing the perfect rhubarb you should look for colorful, firm, thin stalks without imperfections. The larger thicker stalks tend to be stringy and tough, so if you find your rhubarb to be stringy, simply use a vegetable peeler to remove the outer layer. Be sure to store your rhubarb in the refrigerator and use it within a few days after purchasing it. If you don't use it right away, you can easily chop it up into smaller pieces and store it in the freezer for later use.
Naturally sweet strawberries play off of the sour tartness of the rhubarb perfectly, but if you find you aren't a fan of rhubarb, feel free to substitute your favorite berries. Raspberries, blackberries, and blueberries would work beautifully in this recipe. Customize it to your taste. Similar to the rhubarb, all berries freeze well also. If you find you have excess berries or you just aren't ready to start baking yet, preserve them in the freezer for later use.
Keto-Friendly Sweeteners
Let's sweeten the deal with some keto-friendly sweeteners! For this recipe, we use Swerve to add sweetness to the dish. Swerve is made from ingredients found in different fruits and starchy root vegetables. It is created without any artificial flavors, ingredients, or preservatives. Swerve also has no calories, it's low glycemic, and because it doesn't affect blood glucose or insulin levels, it's safe for those with diabetes.
We really like using Swerve because it easily substitutes for sugar by measuring cup-for-cup. It also has the ability to brown and caramelize just as regular sugar would.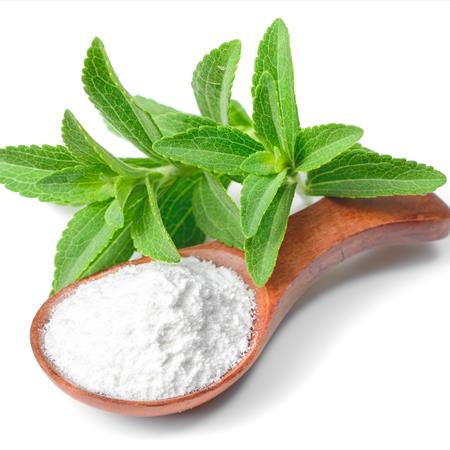 Feel free to substitute your favorite keto-friendly sweetener in this recipe. Some of the most common keto sweeteners on the market today are stevia, erythritol, and monk fruit.
Stevia comes from the stevia rebaudiana plant. It's incredibly sweet and can have a bitter aftertaste to it. Due to the intense sweetness of stevia, it's not used cup-for-cup as a sugar substitute. It requires being used in combination with other alcohol-based sweeteners.
Erythritol is a sugar alcohol made from corn and it's only about seventy percent as sweet as sugar. It's also one of the ingredients in Swerve. When used on its own, erythritol is known to have a cooling effect in the mouth and can affect the color of some baked goods.
Monk fruit is derived from the juice of a small green melon originating in China and Thailand. Monk fruit must also be used in combination with alcohol-based sweeteners just like stevia. It's more common to see monk fruit already packaged with a sugar alcohol sweetener, so it makes it easier to use as an equal substitute for sugar.
Keto-Friendly Flours
One of the most commonly used flours for keto cooking and keto desserts is almond flour. It's made by blanching almonds to remove the skins, then finely grinding the nuts down into the flour. It offers a great texture, it's packed with many vitamins and minerals, and it has a tasty nutty flavor. Almond flour can work great on its own as a substitute for breadcrumbs or in recipes where eggs are used to provide the necessary structure. For this recipe, we use coconut flour in harmony with almond flour to create the perfect consistency for the cobbler topping.
Coconut flour is simply made by grinding up dried coconuts. It lends a helping hand in this recipe by providing a dry but absorbent foundation, and when mixed with the almond flour, it yields the best result.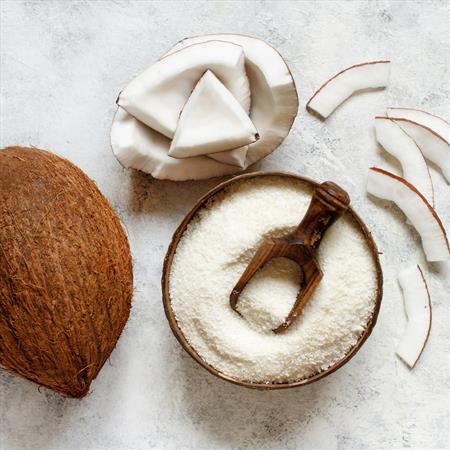 There are a host of other flours the keto cooking community uses such as flax meal, chia flour, oat fiber, and psyllium husk powder. Each of these flours is useful in their own way and perform better in certain circumstances. We prefer almond flour and coconut flour for this particular recipe because of the resulting taste and texture.
The Topping
Now that we have our flour and sweetener selected it's time to top this cobbler off! Some may argue that the best part of the cobbler is the mouthwatering topping. Unctuous butter comes together with bright fresh lemon zest, spicy cinnamon, and aromatic vanilla to put the finishing touches on this flavorful keto creation.
You'll start by combining all the wet ingredients into a bowl, then gently folding in the almond and coconut flour until a crumbly dough forms. Then, generously sprinkle the crumb mixture over the fruit, breaking it into pea-sized clumps, and lightly pressing it evenly over the entire surface.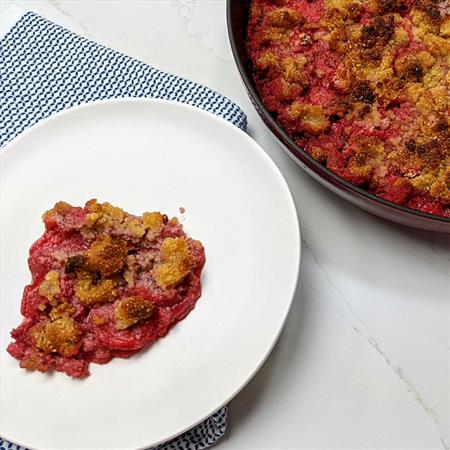 You can experiment with this recipe by adding some chopped pecans to the topping, swapping out the lemon zest for orange zest, or even adding some ground ginger in there as well.
Cooking & Serving
This deliciously effortless dessert can be cooked in a large cast-iron skillet to be served family-style or prepared in individual ramekins to offer your guests their own personal portion size.
Bake for 20 minutes, or until the crust is golden and the fruit is bubbling around the edges. Let it cool slightly and serve with a dollop of unsweetened whipped cream or your favorite keto ice cream if desired. You can also let it cool completely and serve at room temperature. The cobbler is best the day it's made, but any leftovers can be quickly and easily reheated in the microwave.
Try Our BigOven Original Recipe
Keto Strawberry-Rhubarb Cobbler