Fall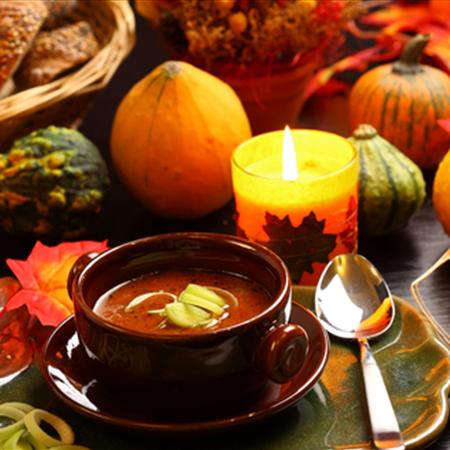 As the leaves change from green to vibrant shades of orange and red and the last long days of summer fade into memories, thoughts turn to chillier nights and warm, satisfying meals to share with friends and family. Although many of the vegetables and fruits of summer are dwindling in the produce bins, there are autumn selections that enhance a variety of slow-roasted and braised meat and poultry dishes and add unique flavors to breakfast and lunch.
Starting the Day
Since autumn temperatures vary so widely, keep a wide range of fall breakfast foods on hand to match the weather and your mood. Apples and pears are abundant in the fall and add texture and flavor to hot cereals sweetened with sugar or honey. A dollop of homemade applesauce turns simple pancakes and waffles into a breakfast treat. If Indian summer brings warm mornings to your area, make a fruit salad with fresh grapefruit sections, grapes, cranberries, and kiwi. Let some bananas get dead ripe and bake a loaf or two of hearty banana bread, a satisfying breakfast choice when lightly toasted and topped with peanut butter.
Lunch Ideas
Whether you're eating in or packing brown bag lunches for the family, hearty sandwiches are always welcome for fall lunches. Start with slices of sturdy multigrain bread to hold up to fillings and put a lettuce leaf on each side to keep the bread from getting soggy. Fill the sandwiches with leftover roast chicken or roast beef, add a thin slice of your favorite cheese and a smear of mustard or mayonnaise, and you have a filling and delicious sandwich eaten fresh or hours later. Add a Clementine or orange as a naturally sweet accompaniment. A cup or small thermos of homemade vegetable soup is a good sandwich mate on chilly days, as is chicken and rice soup with a silky homemade broth.
Dinner Entrees
Take the edge off cool fall evenings with slow cooked fall dinner entrees. Pot roast cooked in a slow cooker or in a 300 degree oven for several hours becomes fork tender and if you add chunks of potatoes, carrots and onions to the pot, you have a complete meal. Slow roast a pork butt roast riddled with garlic cloves and enjoy a pulled pork dinner with sides of cole slaw and twice-baked potatoes. Stuff a chicken with lemons and onions and roast it at 400 for a couple of hours until the skin is crisp and the flesh is juicy and succulent. Add a side of garlic mashed potatoes and green beans with almonds to complete the meal. Dig out your old family recipe for meatloaf and serve it with cheesy au gratin potatoes and buttered peas for a comfort food meal.
Salacious Sides
Fall vegetables are easily transformed into tasty fall side dishes with minimal time and effort. Bak