Eggcellent Way to Eat Healthily with Shakshuka
One of the most underrated items in a person's fridge is the delicate ovum that comes packed in with 11 other friends. Eggs are often thought of as an end-to-the-means ingredient instead of the main course, but the truth is they are one of the most nutritious and important foods you can incorporate into your diet. This palm-sized, fragile superfood has a wealth of nutritive substances packed into a tiny shell and contains just about every nutrient you could need for optimum health! Not only that, it is considerably low in calories while boasting a higher protein profile -- thus making it a great meal option to lean on for those trying to lose weight healthily!
That being said, the way in which you prepare your egg changes the nutritional value, so we have a great recipe that gives the incredible, edible egg its well-deserved turn at center stage. Enter Shakshuka, Stage Right. Our favorite eggs-for-dinner (or eggs-for-anytime) dish is a special one with obscure origins. Some believe it comes from Israel, others Morocco, but either way, it's packed full of health benefits with a delicious flavor profile.
Let's get cracking: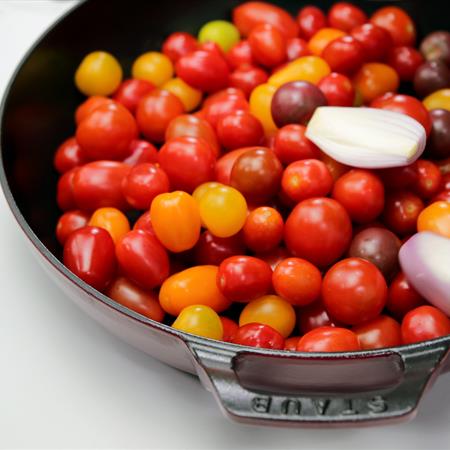 The base ingredient in our Shakshuka is cherry or grape tomatoes, though any variety will do. When you plop the tiny red bubble-like fruits into a pan or pot, you are actually adding a great source of antioxidants and vitamins. Tomatoes have been proven to reduce the risks of heart disease and fight certain types of cancer. They also contain a great source of potassium, vitamin C, vitamin K, and folate!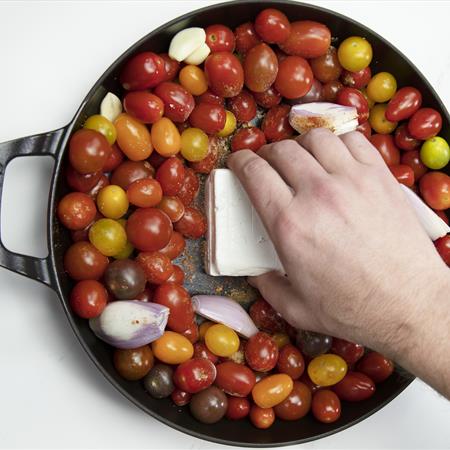 Next up, we create a well in the center of the tomatoes and place a block of feta that has been soaking in a glorious salty brine. (Just take care not to over-salt the dish as feta lends a great deal of salt naturally.) Feta has been touted as one of the healthier cheeses as it is lower in calories, contains negligible carbs, and is packed with protein. It is especially a great source of fatty acids that help improve gut and intestinal health and is known to protect and fight against E. coli and salmonella, which makes it a perfect addition to our Shakshuka for those worried about the use of egg!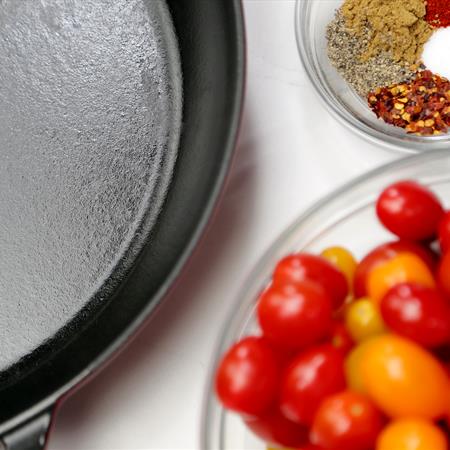 In the traditional aspect of our Shakshuka, we add powerful yet pungent spices, cumin, and paprika. Cumin has a history of improving gut health and adding a great source of iron to any dish! Paprika, with its nutrient-packed nature, has been proven to help regulate blood sugar, reduce cholesterol levels, and reduce inflammation.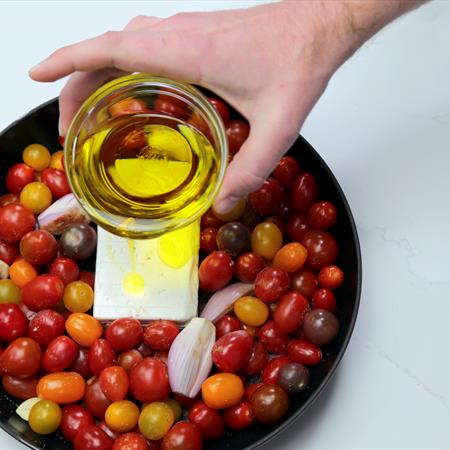 Before baking in the oven for the first time, it's important not to forget the olive oil. Known for its heart-healthy properties and antioxidant-rich makeup, olive oil has also been linked to reducing risks of cancers, Alzheimer's, and Type-2 Diabetes.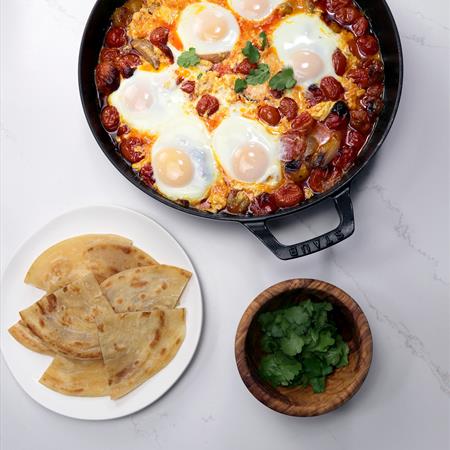 Now that you've baked together all those tasty risk-fighting ingredients, it is time to crack open our star, the egg. With shakshuka, take care to keep the yolk intact -- more for presentation than anything else. Once you've nestled your eggs on the simmering surface, it's time to return the pan to the oven until you reach your preferred level of desired doneness. For some, the residual heat of the tomatoes and cheese is enough. For others, a quick, 3-minute broil is necessary. No matter how it's cooked, you're guaranteed a healthy, wholesome, and quick one-skillet meal with minimal effort and clean up.
Try our BigOven Kitchen-approved Recipe for Baked Feta Shakshuka-Style