Masa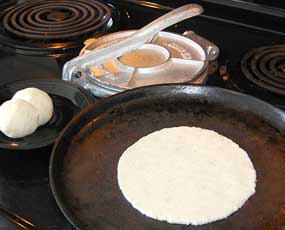 Masa (meaning dough in Spanish) is the main ingredient in corn tortillas.

Masa is the corn-based dough that is used to make tamales, sopes, empanadas, and many other Mexican and South/Central American recipes.
Masa harina – or dough flour - is not the same as cornmeal, which is rougher in texture (and not to be used as a substitute). The term "masa" means dough in Spanish, although it also refers to corn flour in many regions. To make the dried flour, corn kernels are first soaked in caustic limewater (calcium oxide) to release the outer skin. The remainder – called "nixtamal," is rinsed, then dried and ground.
Varieties
• Corn flour – masa harina or instant masa - is stocked at many supermarkets, but may be less readily available in northern U.S states and internationally. Online retailers also stock this product.
• Fresh masa (dough) is available at some Mexican markets or at local tortilla factories.
Storage Tips
• Freshly made dough can be refrigerated overnight, but will begin to lose its elastic properties. Do not keep longer than three or four days.
• Because making tamales is such a labor-intensive process, it is advisable to make the dough ahead of time and freeze it for up to one month.
• Dry (masa harina) flour will remain fresh at least twelve months, if not longer, in a dry, tightly sealed package.
Usage Tips
• When making dough, add chicken broth or stock instead of water for improved taste.
• Some recipes may require lard as an ingredient in the dough. Use vegetable oil as a healthier alternative.
• When pressing dough on a tortilla press, cover both sides of the ball with plastic wrap to prevent sticking.
• When cooking corn tortillas, use a cast iron griddle for best results.
• Masa harina is frequently used as a thickener in soups, sauces, and dessert drinks such as atole, which is thick like a milkshake.


Try one of our favorite masa recipes:
Chicken Enchilada Soup
Spicy Chorizo Rellenos
Shredded Pork Tamales