Overnight Eggnog French Toast Casserole with Streusel Topping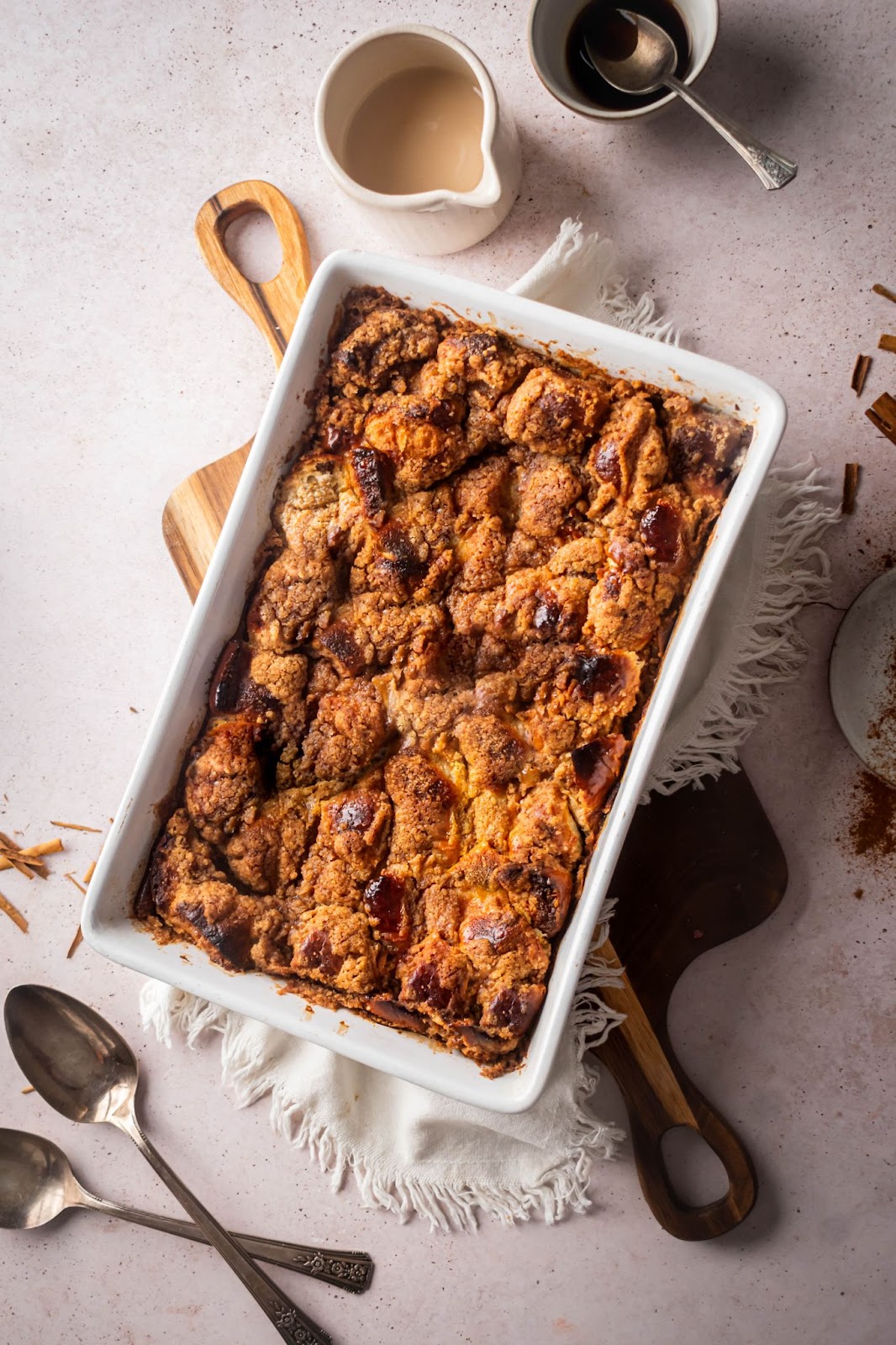 With the holidays rapidly approaching, and undoubtedly out-of-town family and friends being welcomed into your home, you'll want to have something easy and delicious to serve them come morning.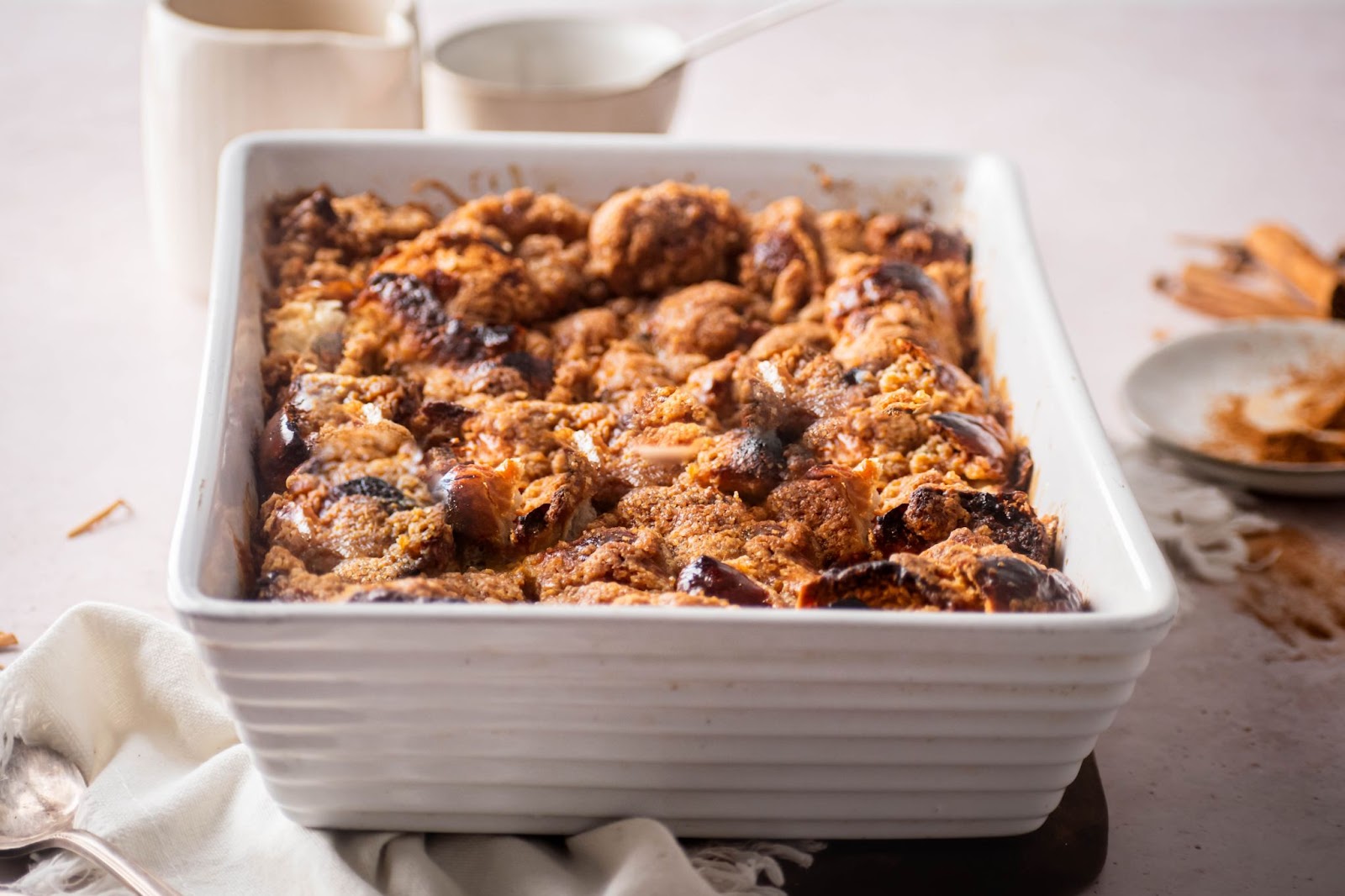 We should caution you that after devouring this irresistible eggnog French toast, there is a good chance your guests might overstay their welcome.
Breaking Bread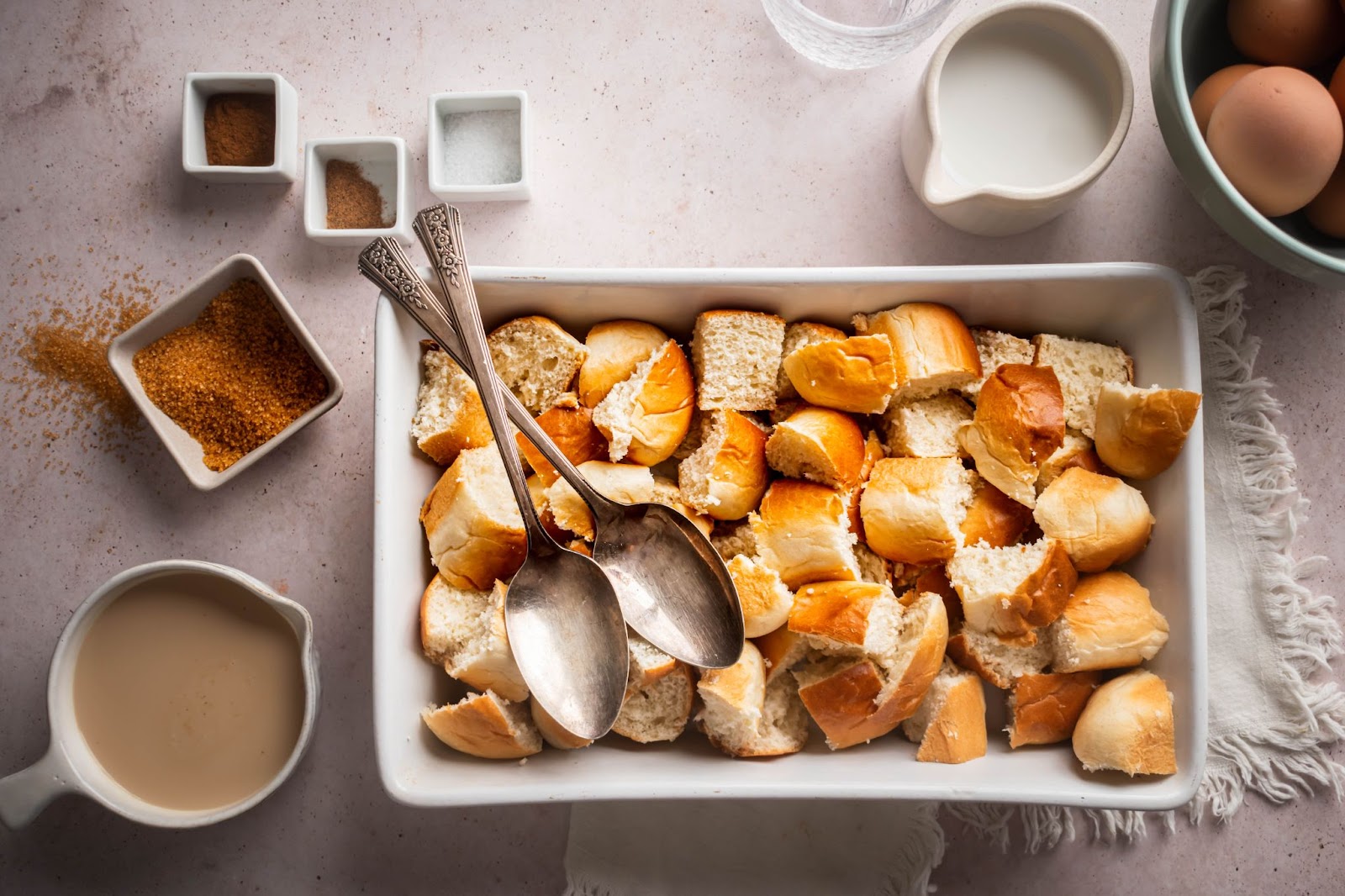 There are few things in this world more comforting than the taste, smell, and texture of delectably divine bread. We have a brioche bias when it comes to making this rich eggnog French toast recipe. Brioche is what is referred to as an enriched dough, which means that it contains ingredients with the presence of fat. The most common ingredients containing fat used in an enriched dough are butter, oil, and even milk. The substantial amount of fat used to make brioche bread, or any enriched dough, results in a perfectly tender crust and what is referred to as a soft crumb, which is just a fancy way of saying the inside of the bread. Sugar is also an important part of enriched breads. The sugar helps to encourage a quicker fermentation process, as well as contributing to a beautiful golden brown crust.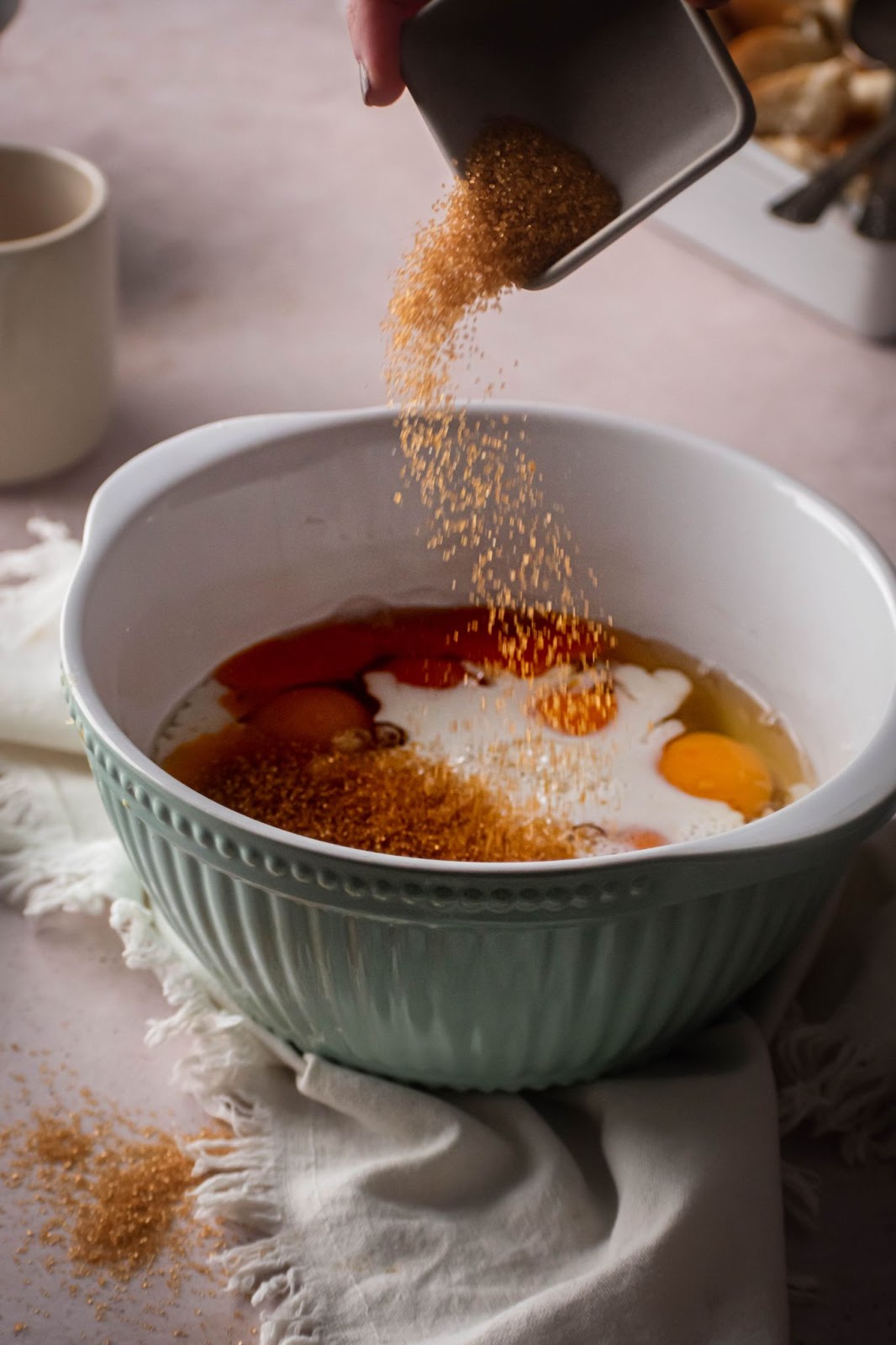 Brioche's reputation for being rich truly precedes itself. The exorbitant ratio of butter to flour can be fifty percent or higher when making this bread. There are also a significant amount of eggs in a brioche bread recipe which just adds even more lusciousness to the mix. There are many variations of this bread out there, and the differences in those variations lie within the ratio of butter to flour and percentage of yeast. Interestingly, the ratios of flour to fat to sugar make brioche similar to pie dough. Since that's the case, it's very common for French bakers to use brioche dough in place of pie or tart dough for their creations.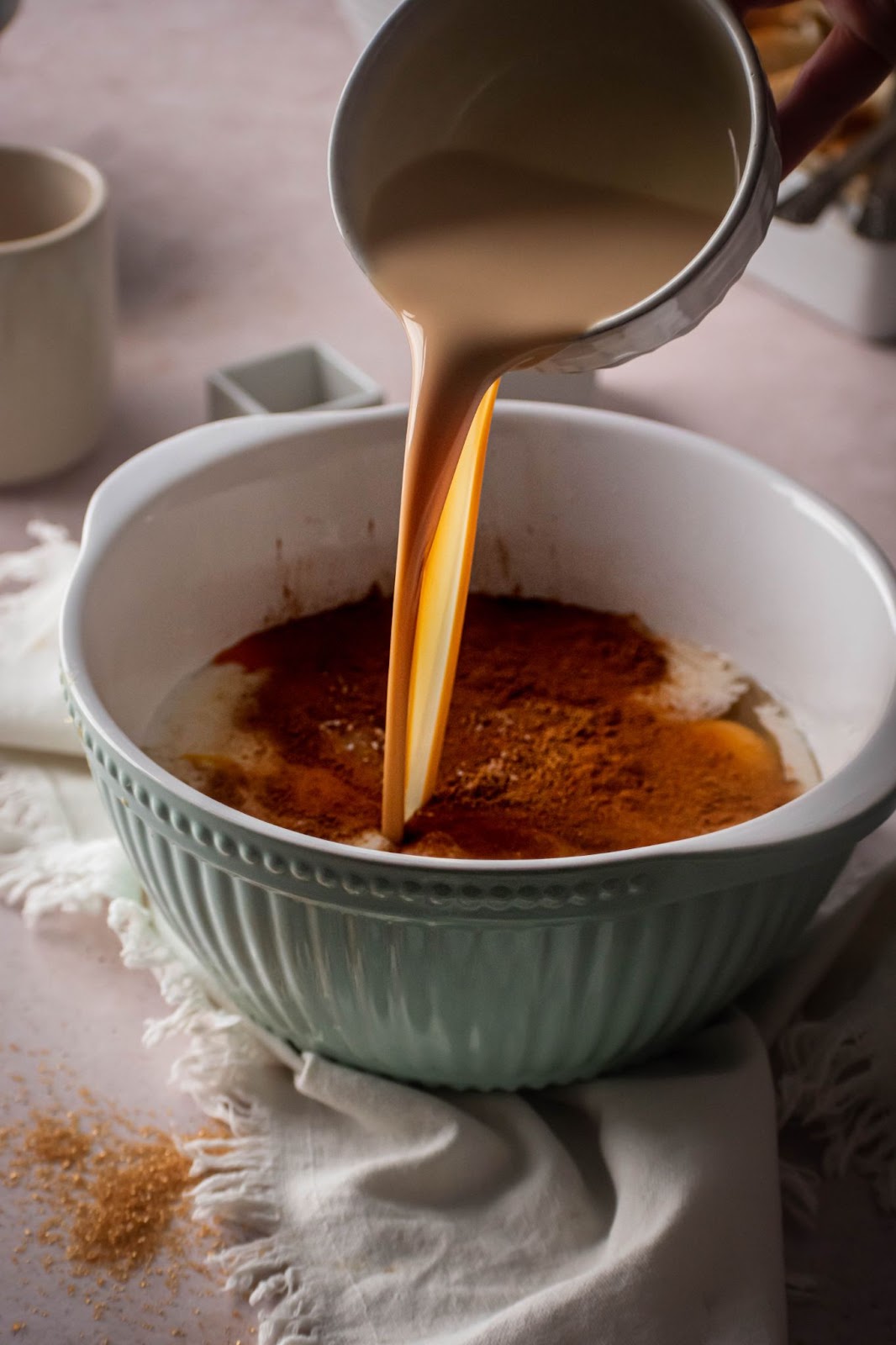 Holla for Challah! Let's not forget about the other delicious bread option for this French toast recipe. Challah is equally as excellent a choice to use here to soak up all that custardy eggnog goodness. Challah is an enriched dough just like brioche, which means it has that great cake-like quality and similarly golden brown crust. When you think of challah, a beautifully braided loaf of perfection probably comes to mind. Traditionally, there are twelve braids that are said to represent the twelve tribes of Israel. Whether you choose the brioche bread or braided challah route for this recipe, you really can't go wrong!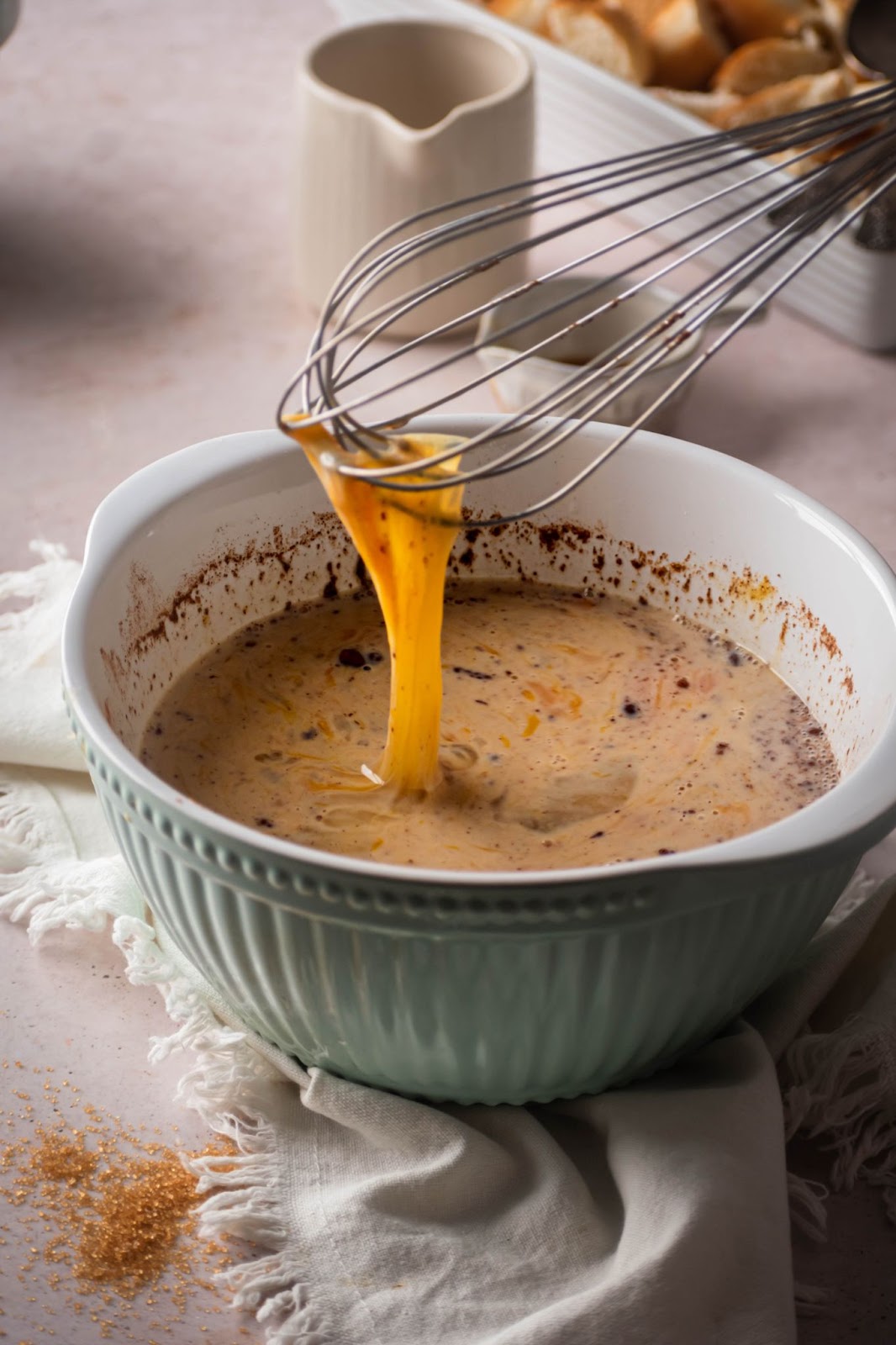 Streusel Topping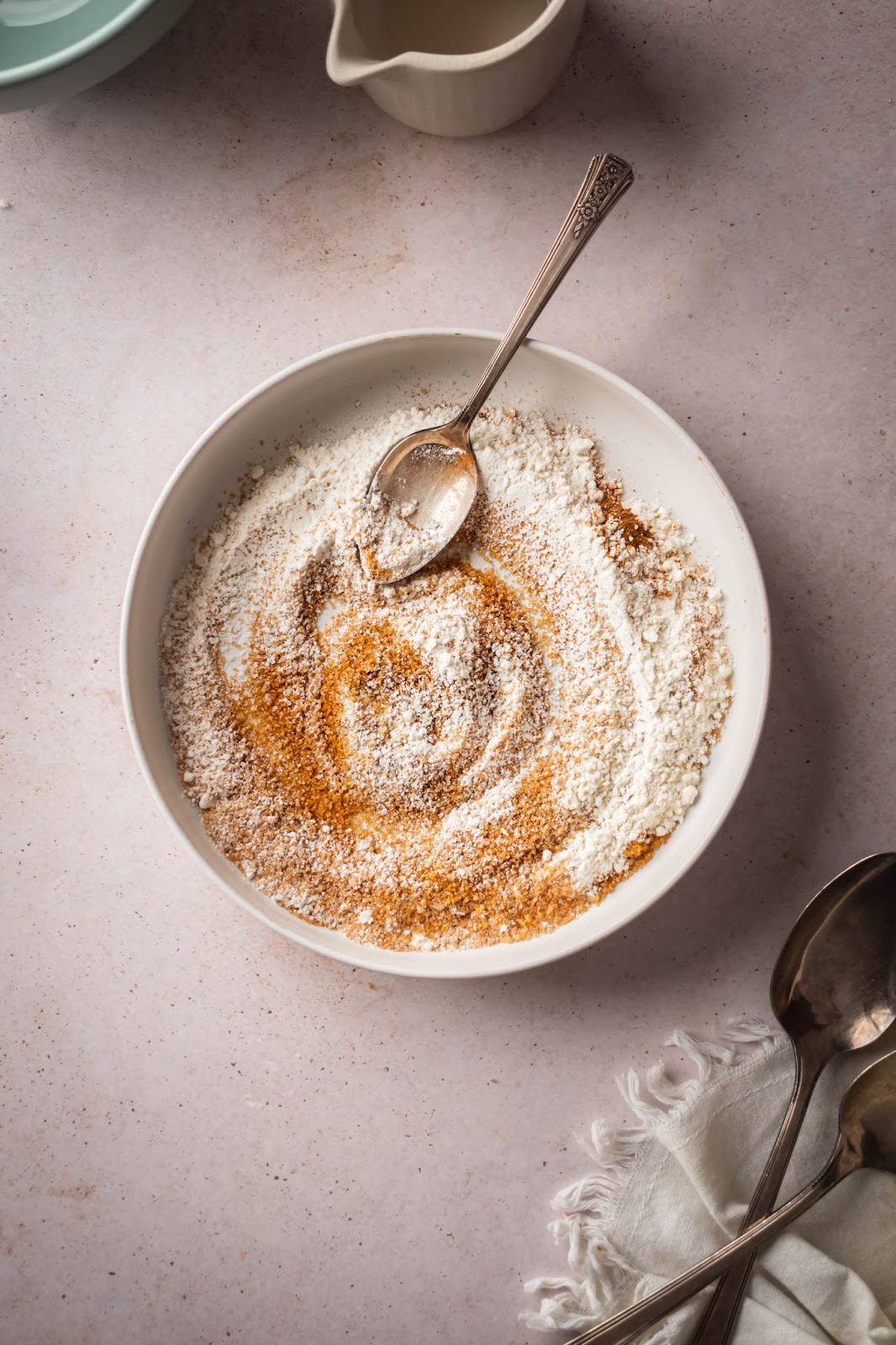 The word streusel is German in origin and actually means sprinkle or strew. That translation makes so much sense, as you will literally be sprinkling this tasty topping with reckless abandon all over the surface of your French toast for the perfect finishing touch. You have probably also seen streusel topping commonly used to top coffee cakes and even muffins.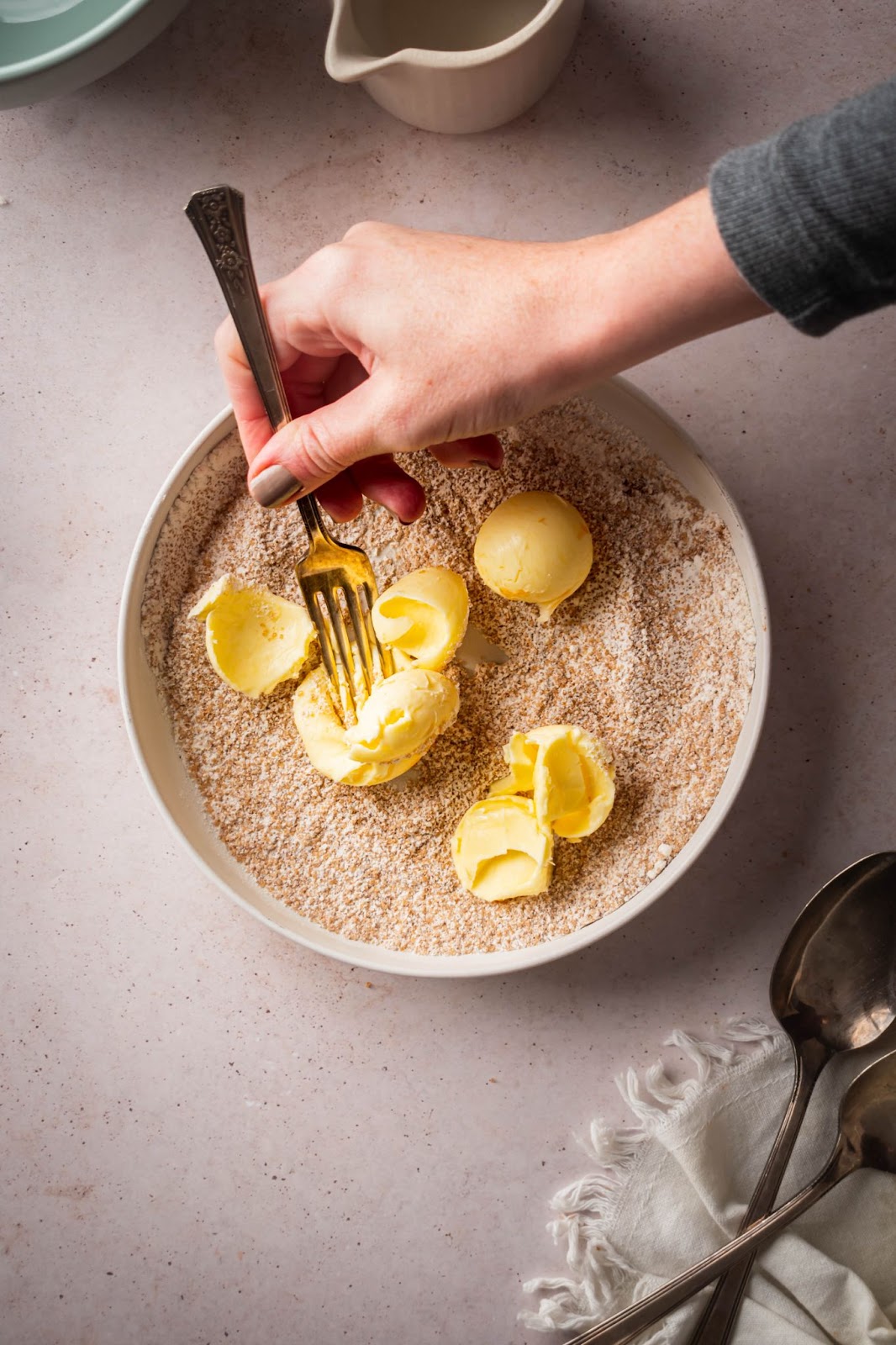 One of the simplest ways to add great texture and additional flavor to this eggnog French toast recipe is through the addition of the streusel topping. The ingredients are simple and they quickly and easily come together to form an exceptional finishing touch to this dish.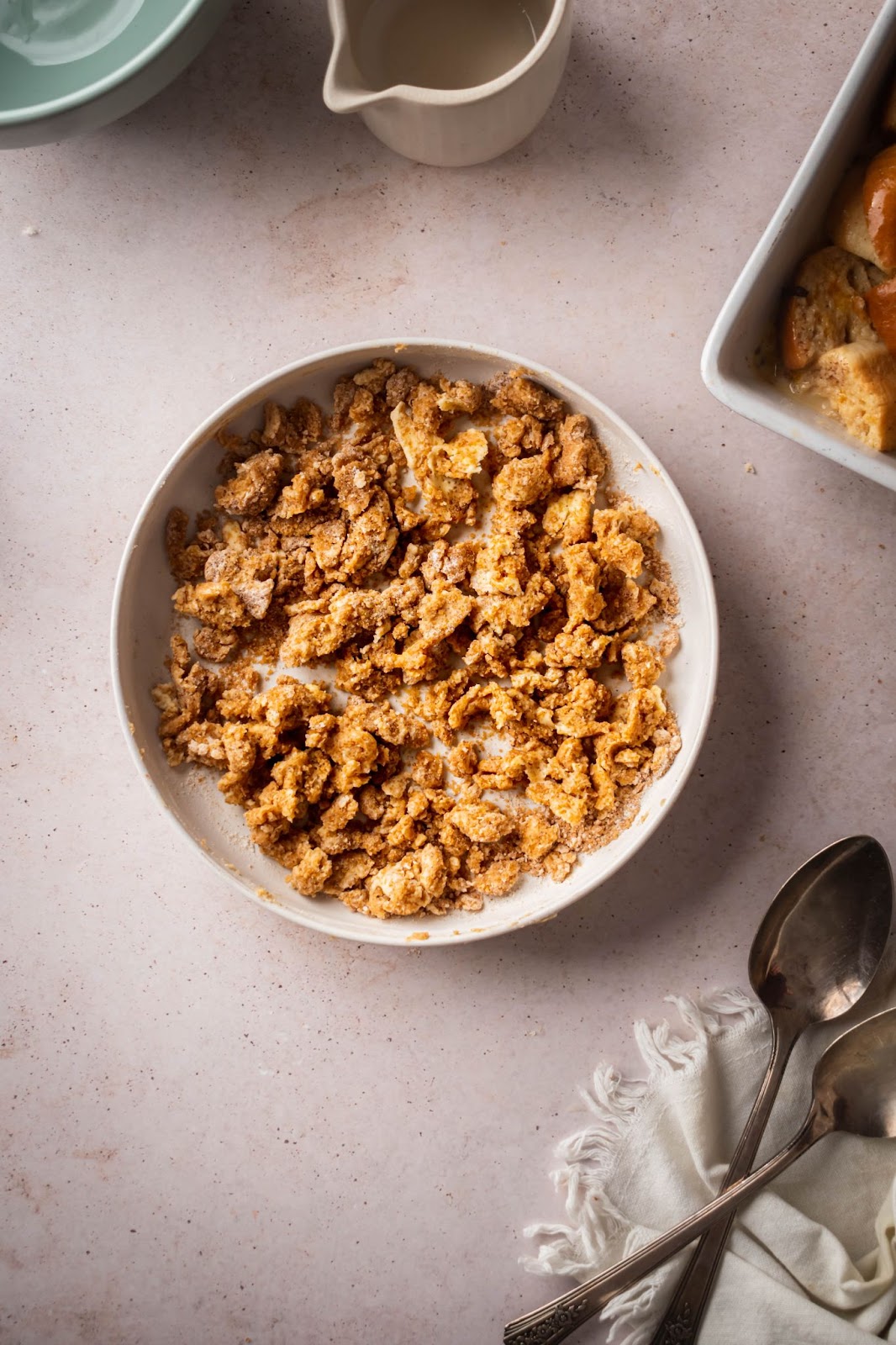 You'll want to combine all of the dry ingredients in a bowl and then cut in the cold, cubed butter with a fork, pastry cutter, or even, your fingers until the streusel mixture resembles a pebble-like crumb consistency. Cutting in simply means that you are breaking down the butter into these small pea-size pieces that become coated in all of the dry ingredients. This method of cutting in butter is used for other applications like buttermilk biscuit dough and pie dough. For those recipes, this method is crucial for creating that highly sought-after flaky result. For our streusel topping, cutting in the butter to the dry ingredients results in a crispy crunchy coating that's evenly distributed across the top of the French toast.
.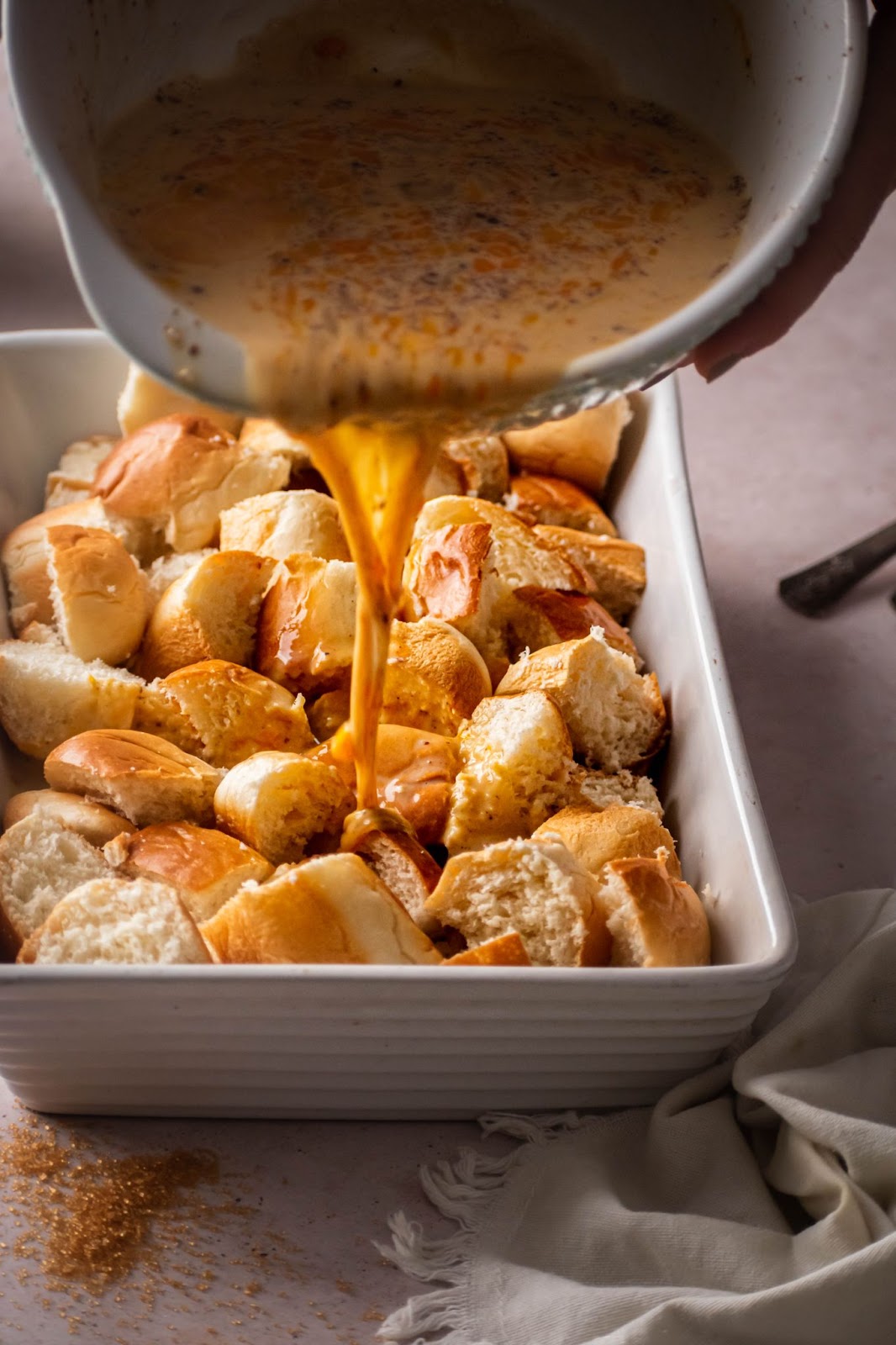 How to Make French Toast
It's heavily debated about the actual origin of French toast. Some say that a man named Joseph French originally created the sweet breakfast treat in 1724. Others say it started in Rome, Italy where they affectionately call it pan dulce which literally translates to sweet bread. Seems fitting! The French refer to the dish as pain perdu, meaning lost bread because the dry, day-old bread comes back to life or is revived through the process of making the French toast.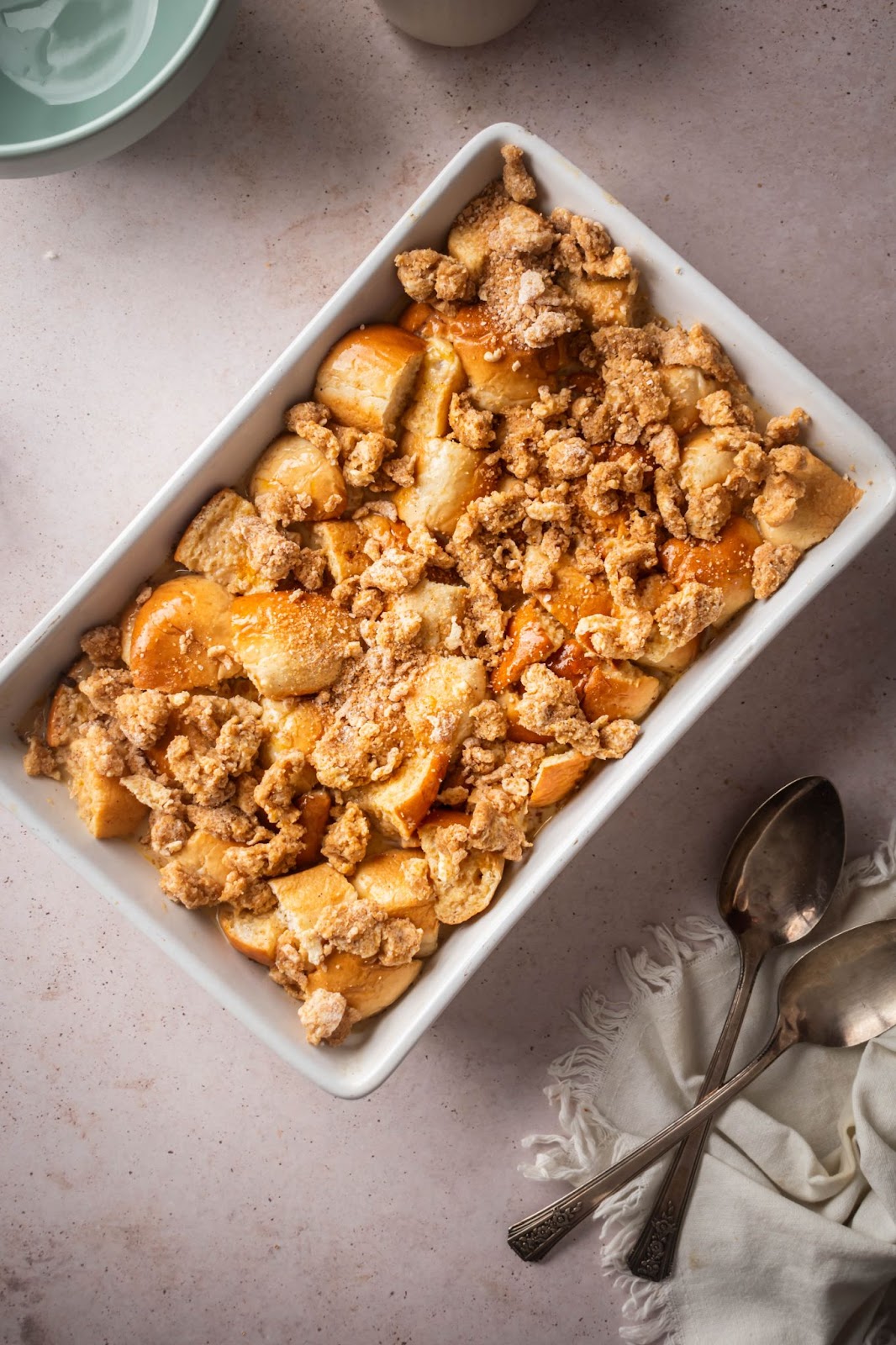 Traditional French toast is made by dipping day-old bread into a custard mixture of milk and eggs. It's then fried up in a pan on both sides until beautifully brown and caramelized. Typically, it's then topped with maple syrup, powdered sugar, and even jams or jellies. Our spin on this classic breakfast treat turns it into an easy overnight casserole with a little added flair.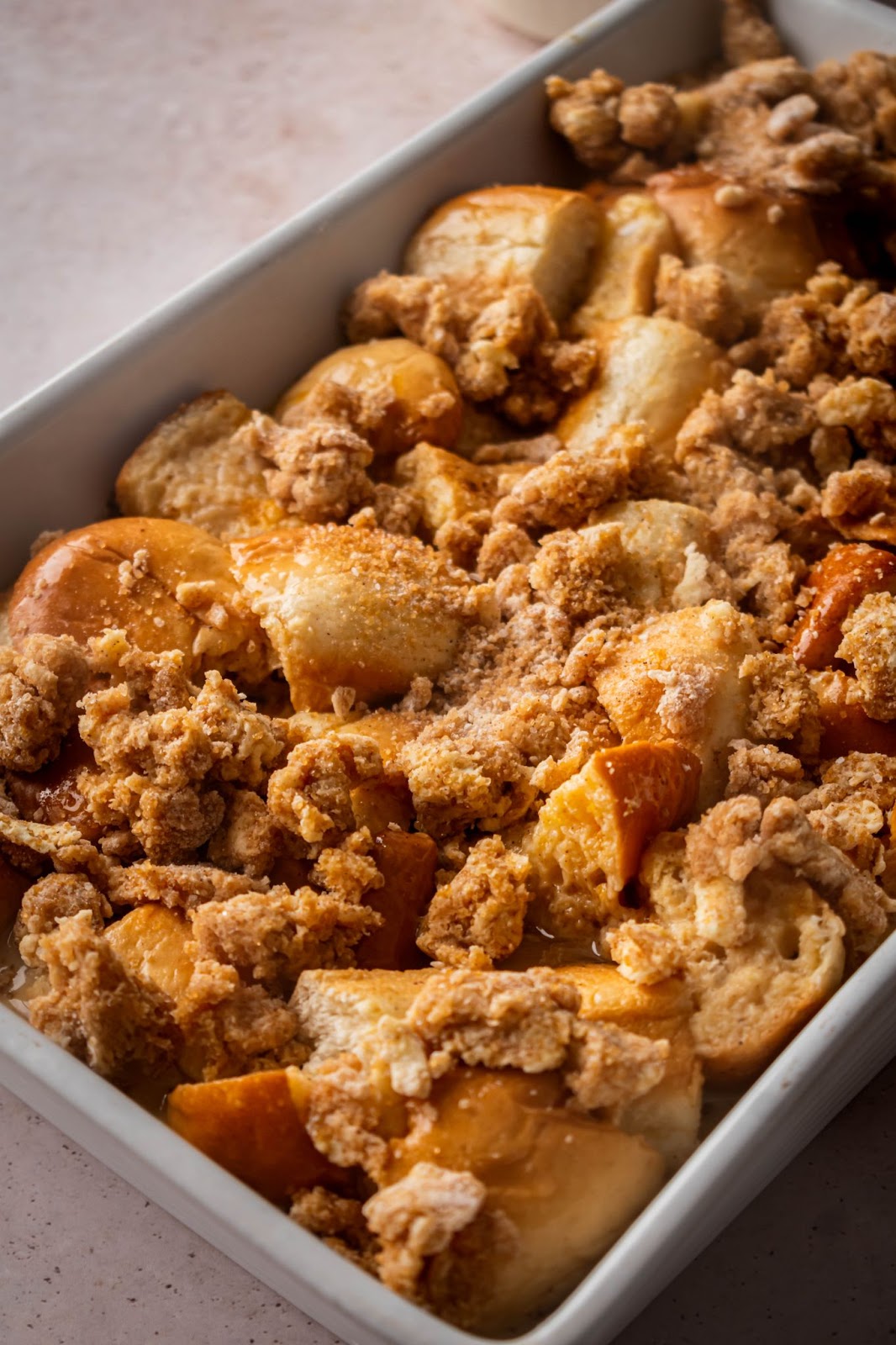 Instead of a quick soak in the creamy custard mixture, you will be soaking your bread of choice overnight. This method results in a more bread pudding-like texture when finished baking. The addition of the eggnog adds a whole other flavor profile to the dish that sets this French toast apart and is the perfect nod to the coming holiday season. For an additional punch, we recommend using vanilla paste, if possible, because it has a more intense vanilla flavor than just the extract alone. Both work well here, but if you are looking for a stronger vanilla flavor, paste is the way to go!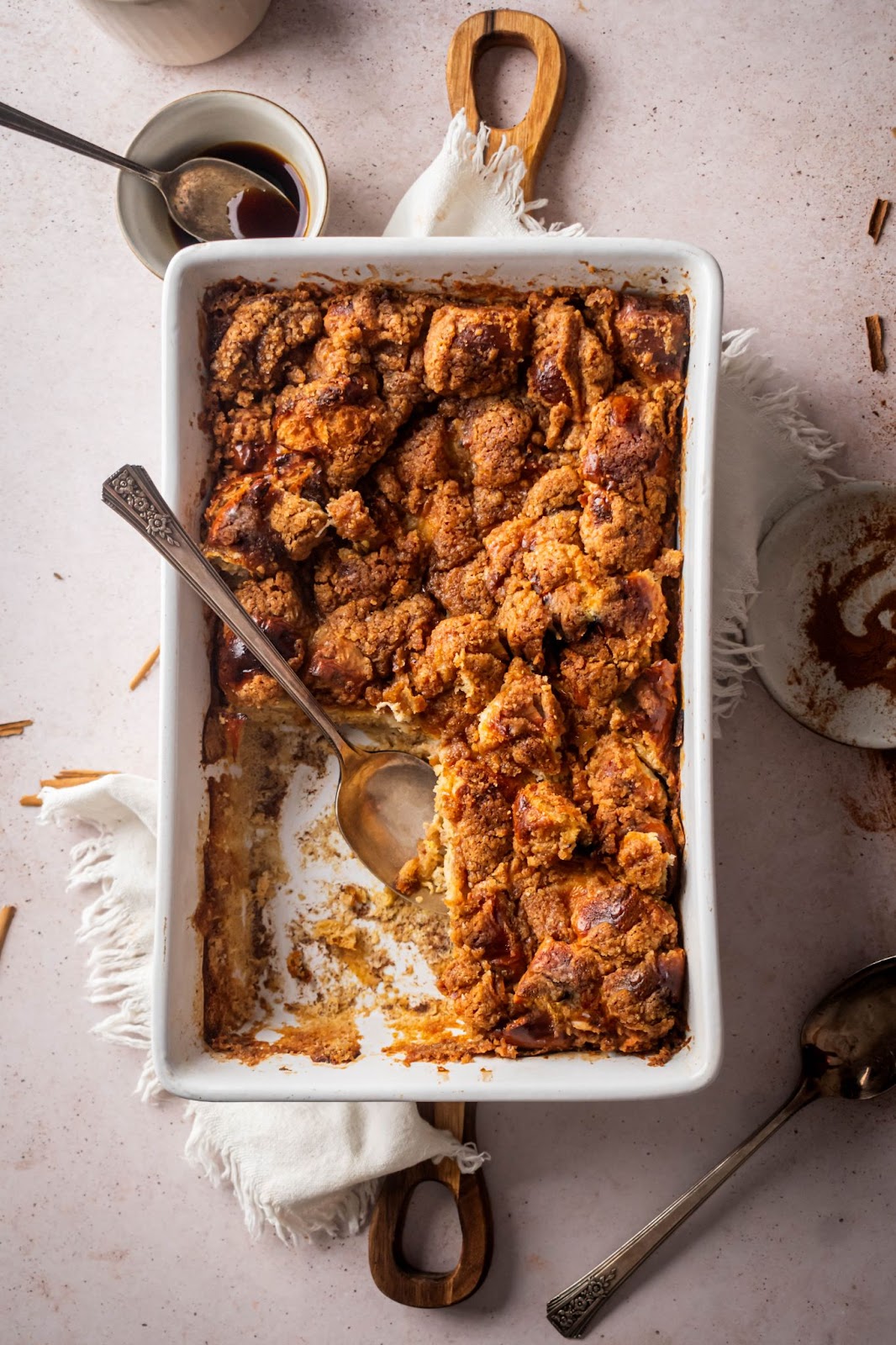 Tips & Tricks
Feel free to serve the hot French toast straight out of the oven with a dusting of powdered sugar or a drizzle of maple syrup. Crème anglaise, otherwise known as vanilla sauce, would be another great accompaniment to drizzle over the top of the finished eggnog French toast. Its delightfully rich and creamy texture combined with the subtle yet distinct vanilla flavor would complement this custardy eggnog French toast recipe beautifully.
You can easily build upon this mouth-watering eggnog French toast recipe by adding a few sides and turn this lone dish into a full-blown brunch extravaganza. We recommend at the very least cooking up a platter of crispy bacon as an exceptional accompaniment. You could also add your favorite style of eggs, fresh fruit, and even crunchy hash browns to the morning meal spread.