Port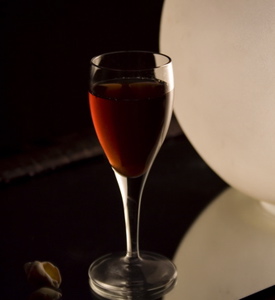 Velvety-rich port is the perfect ending to a dinner shared with friends. Meant to be sipped and enjoyed slowly, it's often called "the wine of philosophy."
Port is a sweet but complex fortified
wine
that originated in Portugal about 300 years ago. It is named after Oporto ("Porto" to the locals), a coastal Portuguese city at the center of the wine's trade.
Today there is a specific region in the country's Douro Valley that has exacting regulations for producing quality port wines. In other countries, port is a generic term used to describe wines made in the image of the Portuguese originals.
Varieties
There are four basic categories of port:

Vintage—The best and most expensive, these bottle-aged ports are made from grapes of a single vintage, and only from the best "declared" (considered superior) vintages. They must be bottled within two years and the very best can age for up to 50 years.

Tawny—Ready to drink when bottled, these tawny-colored wines are made from a blend of grapes from several different years. They can be aged as long as 40 years. Low-priced tawnies are usually blends of white and ruby ports.

Ruby—Generally the least expensive, rubies are made from lower-quality wines and aged in wood for about two years. Bottled when young, they are fruity and bright red in color.

White—These ports are made from white grapes and the drier versions go through longer periods of fermentation. Quite popular in Europe, they can be difficult to find in the U.S.
Within the above four categories, there are numerous types, including:

Single Quinta Ports—Essentially vintage ports made in nondeclared years, they are still considered excellent.

Second Label Vintage Ports—These are produced when the vintage is quite good, but not quite good enough to be declared.

Late Bottled Vintage Ports (LBV) and Colheita Ports—These are made from single vintage grapes that aren't as high quality as those used for vintage.

Crusted Ports—Made from a blend of two or three wines from different vintages, these are aged for three to four years before being bottled.

Vintage Character Ports—Essentially high-quality ruby ports, these are made from several different vintages and wood-aged. They are the lightest and fruitiest of all ports.
History
Centuries of tradition demand that port always be served to guests in a clockwise fashion. The bottle or decanter is placed in front of the host who first serves the guest on his right, then himself, and then the guest on his left. The port is passed all the way around the table to the left and is once again set in front of the host.
It's considered poor manners to ask for the decanter. So if by chance an errant guest fails to pass the port, the host traditionally asks, "Do you know the Bishop of Winchester?" A guest well-versed in port etiquette will know to pass the port along. If the guest answers, "No," he or she is told, "He is an awfully good fellow – but he never passes the port."
Storage Tips
Port wines should be stored like all fine red wines: in a cool, dark place with medium humidity and no great temperature fluctuations. Vintage ports have driven corks and should b